Ceremony honours Dick McKee, Peadar Clancy and Conor Clune who were killed while in British custody at Dublin Castle.
President Eamon de Valera and Taoiseach Sean Lemass attend the annual ceremony at Dublin Castle for Brigadier Dick McKee, Vice Brigadier Peadar Clancy and volunteer Conor Clune.
The three men were killed at Dublin Castle on Sunday 21 November 1920. The same day 14 people were killed at Croke Park by the Royal Irish Constabulary and a network of British spies were killed by the IRA.The day became known as Bloody Sunday.
The President was met a guard of honour by the Dublin Brigade, Old IRA. The mass was celebrated by Rev T Walsh, Chaplain of the Dublin Brigade.
Following the mass, the President, the Taoiseach, family members of the three men watched a parade from the balcony at Dublin Castle.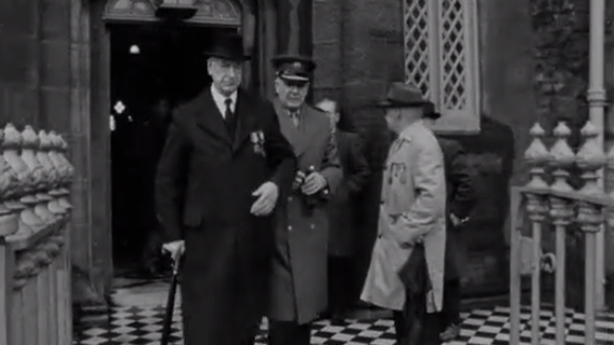 President Eamon de Valera at Dublin Castle (1965)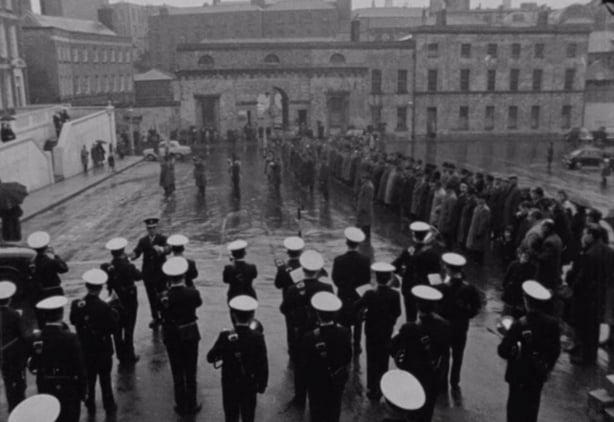 Parade at Dublin Castle (1965)
Three shots were fired by members of the Old IRA and Fianna as The Last Post played.
An RTÉ News report broadcast on 21 November 1965. The footage shown here is mute.