Galway born soldier and policeman Robert O'Hara Burke found fame as an explorer in Australia.
Ronnie Drew tells the story of Robert O'Hara Burke (1821-1861) and the Australian Great Northern Expedition of 1860 in the form of song.
This is the story of tragedy and defeat.
A story of heroism and foolishness.
A story of bravery and mismanagement.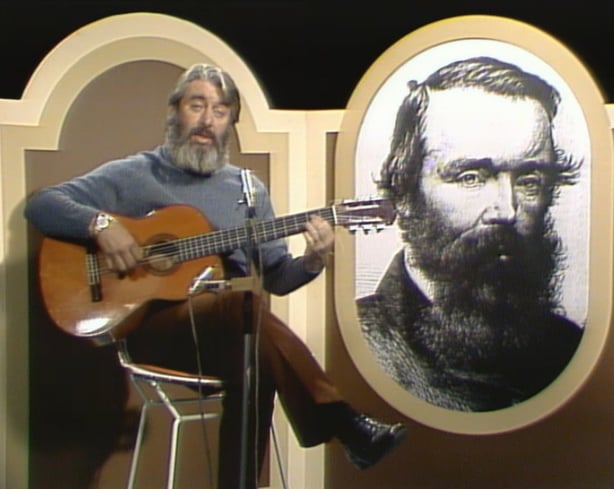 Ronnie Drew tells the story of Robert O'Hara Burke on 'Irish Men and Irish Women' (1975)
In 1860, Robert O'Hara Burke led an ill fated expedition along with William John Wills.The plan was to cross Australia from Melbourne in the south to the Gulf of Carpentaria in the north.
The party of 18 left Melbourne in August 1860. Halfway through the trip Burke and Wills along with two others decided to complete the journey without the rest of the party. They reached northern Australia in February 1861 but could not complete the trip fully as they could not penetrate the jungle between them and the Gulf of Carpentaria. Despite this, they are regarded as Australian heroes. Their success as explorers came at a high price as they both lost their lives from exhaustion on the return journey.
This episode of 'Irish Men and Irish Women' was broadcast on 16 October 1975. The presenter is Ronnie Drew.
'Irish Men And Irish Women' was a television series about notable people in Ireland's history, described by producer Joe O'Donnell as
Mainly unsung heroes...not unknown, but outside the orthodoxy of our national pantheon.
(RTÉ Guide, 19 September 1975).
First broadcast on RTÉ Television on 25 September 1975, it ran for three series until 1977.