The World Cup dream may be over but there is great pride in Burtonport for local man and Republic of Ireland goalkeeper Packie Bonner.
Italy may have ended the Irish dream in the quarter finals of the World Cup, but in Burtonport, County Donegal, pride in Republic of Ireland goalkeeper and Rosses native Patrick 'Packie' Bonner overcomes disappointment.
Supporters travelled from as far as Dublin, Belfast and Cork just to be in Packie Bonner's home place for the World Cup quarter final between Italy and the Republic of Ireland.
One man from Belfast has no regrets travelling to Kelly's Arran pub in Burtonport for the match,
It was worth it without doubt, the atmosphere in this place tonight was one of the greatest atmospheres you'll ever experience in your life.
The Burtonport fans feel the Irish team and Packie Bonner did the country proud. One man speculates that West Germany will win their match and he tips Cameroon to beat England in their quarter-final clash.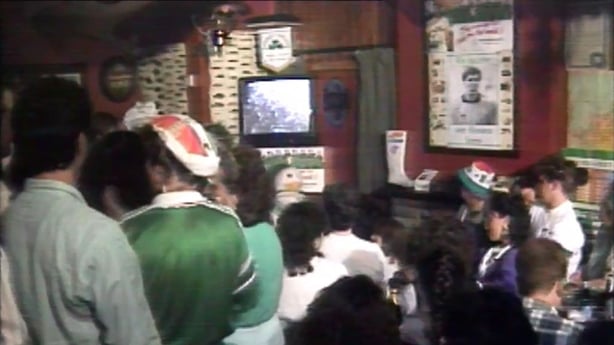 As the crowds celebrate all over the Rosses, Packie Bonner's mother Gracie and extended family watch the match at home in Cloughglass, near Burtonport.
Gracie Bonner is delighted the Republic of Ireland team made it to the quarter finals,
It was really very good you know, a wee bit disappointed they got that goal you know, but still Packie went off with a smile anyhow, he wasn't sad.
There is certainly no sadness in Burtonport and Packie Bonner's supporters are looking forward to welcoming home the goalkeeper from the Rosses.
An RTÉ News report broadcast on 1 July 1990. The reporter is Eileen Magnier.