Séamus Ennis recalls how he began to play the uilleann pipes and performs a slow air.
Séamus Ennis started playing the uilleann pipes at the age of 13 in 1932. His father also named Séamus had played the pipes for him when was still an infant.
My father was playing all the time at home even from my cradle up and when I was promoted to a bed upstairs from the cradle, I wouldn't go to sleep unless my father came up to play for me.
Séamus Ennis grew up in Jamestown, near Finglas in north County Dublin. While the area has since been developed, he recalls the Jamestown of his youth as,
Three quarters of a mile of country road, hedges and ditches.
His father won a flute championship in London in the early 1900s. With the prize money, he bought a bag of pipes from a pawn shop in London, brought them back to Dublin. The pipes were repaired and restored by John Brogan of Harold's Cross, a bricklayer by trade and a pipe maker by hobby. This is the set of uilleann pipes Séamus Ennis has been playing ever since.
Seamus Ennis plays the slow air 'An Gamhain Geal Bán' a song he learned from Eilis Cronin in Baile Bhuirne.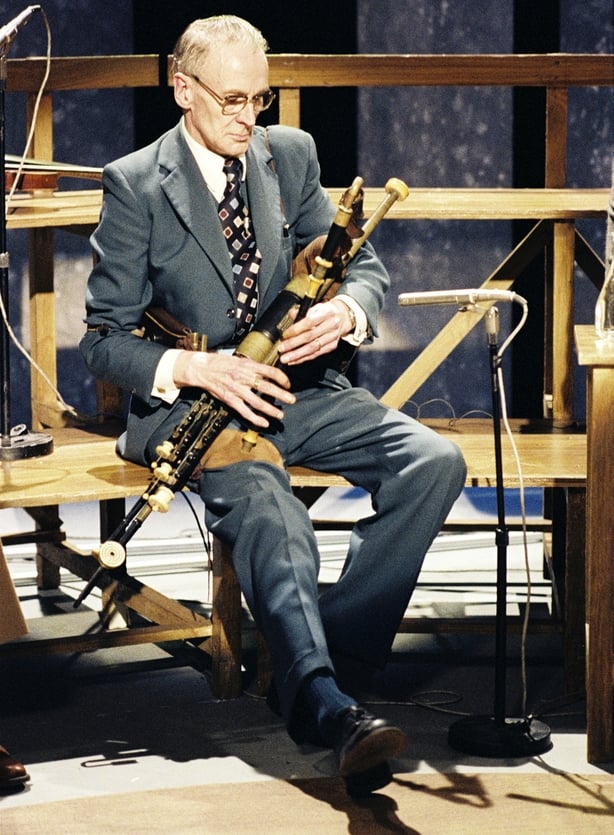 Séamus Ennis on The Humours of Donnybrook (1979)
Séamus Ennis was not only a talented musician but also a collector of songs. Between 1942 and 1947, Ennis travelled the country working for the Irish Folklore Commission.
This episode of 'Humours of Donnybrook' was recorded in August 1978 and was broadcast on 24 January 1979. The presenter is Ciarán Mac Mathúna.
During the programme, Séamus was also joined by musicians by his friends Dearbhaill Standuin on fiddle, Sean Keane on fiddle and tin whistle, Liam O'Flynn on pipes and singer Johnny MacDonagh.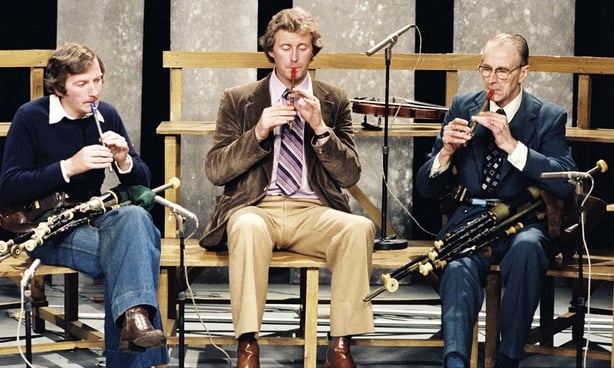 Liam O'Flynn, Seán Keane and Séamus Ennis all playing the tin whistle
'Humours of Donnybrook' was a series of traditional Irish music programmes presented by Ciarán MacMathuna and produced by Peter Canning.