Maureen Potter recalls appearing in the Abbey Theatre Dublin and sings about a tattooed lady.
The much loved actor and comedian Maureen Potter is delighted to be part of a special 'Late Late Show' marking the 100th anniversary of the Abbey Theatre.
Maureen is synonymous with the Gaiety Theatre pantomime and with her role as Maisie Madigan in the Gate Theatre production of Seán O'Casey's 'Juno and the Paycock'. Her only role at the national theatre was in the 1992 production of 'Moving' by Hugh Leonard, where she played Mary Quirke.
Maureen Potter came late to the Abbey Theatre but,
I never thought they'd ever ask me actually, to tell you the truth.
She was not at all dismayed she had never asked before as
Growing up the national theatre was a sort of icon, we never thought we'd aspire to it.
Maureen would love to work in the Abbey again. She half jokes about auditioning for another Abbey performance and sings a Cecil Sheridan parody that plays on the song 'Let The Rest of the World Go By'.
This was Maureen Potter's last public appearance. She died at her home in Dublin on 7 April 2004.
This episode of 'The Late Late Show' was broadcast on 16 January 2004. The presenter is Pat Kenny.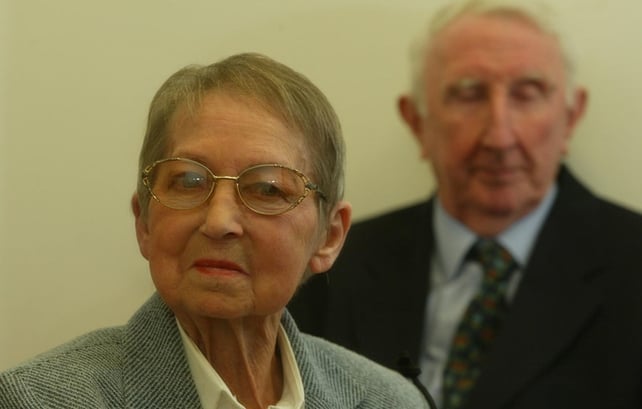 Maureen Potter with her husband Jack before her appearance on the 'Late Late Show' in 2004.