Ireland has many deserted buildings and derelict homes with few successfully adapted to modern use but a Roscrea building is getting a new lease of life
There are probably more derelict buildings in Ireland than in any other country of Western Europe.
The single storey cottage left alone on the hillside as a result of emigration or another economic reason is a familiar sight on the Irish landscape. However abandoned buildings are not exclusive to the hillsides and can be found in most Irish towns. Industrial buildings are no different and include mills, granaries, railway stations, churches, and schools.
The catalogue of potential useful derelict buildings is almost inexhaustible.
While the picture may be gloomy, there are some efforts being undertaken to give some of these buildings a new breath of life. In the centre of Roscrea, Co Tipperary sits Damer House, which is being given a new lease of life through the combined efforts of the Old Roscrea Society and the Irish Georgian Society. The plan is to create a museum and art gallery, and potentially accommodation for various cultural groups. Damer House is located within the grounds of a medieval fortress and is being completely renovated by a group of students and other public spirited people.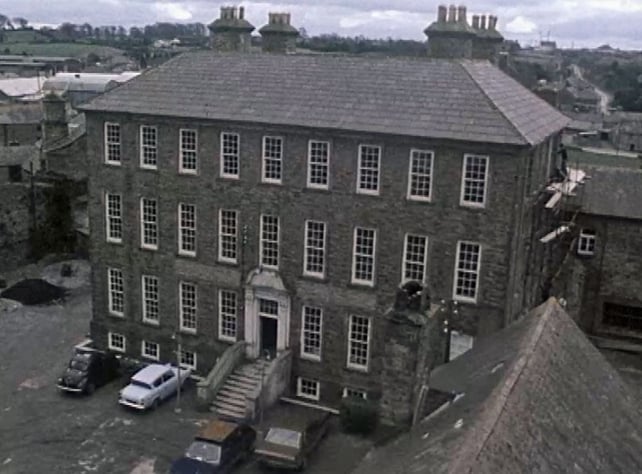 Damer House, Roscrea, Tipperary (1977)
One of the organisers of the restoration is George Cunningham, author of 'Roscrea and Neighbourhood' who provides a brief history of the early 18th-century house. In 1798 the house became a military barracks and in 1932 the house was taken over for use as a technical school. However, in 1956 a new technical school was built and Damer House remained unoccupied apart from a small library on the ground floor.
It remained derelict right through the late 50s and the 60s.
The council took the decision to demolish the house in 1973. However, the Old Roscrea Society and the Irish Georgian Society stepped in and proceeded with the restoration work.
When the house is restored, visitors will be able to see much of Roscrea's visual heritage including the Round Tower, St Cronan's Church of Ireland, the Belfry of the late 16th-century Franciscan Abbey, St Cronan's Catholic Church, and the Sacred Heart Convent.
Brian Molloy is the organiser of the house restoration. He describes some of the features of the house as the restoration work is taking place.
It's hoped within the next few months to open the house as a visual arts museum containing 18th and 19th-century pictures and furniture.
'We Live Here: Old Into New' was broadcast on 25 November 1977.
'We Live Here' was a series dealing with aspects of the Irish environment, in particular, that which is man-made.
This episode of 'We Live Here' was written and produced by Christopher Fitz-Simon. The Architectural Advisor was Seán Rothery.