A look at the long career of broadcaster and RTÉ radio DJ Larry Gogan.
Reporter Mary Fanning spends some time the man himself at his home from home in the RTÉ Radio Centre.
Music is his passion. A radio show that has wrapped itself around the artists, the young Irish bands, and glories in the success of newcomers. There's no agenda, there's no ego, there's no pretentiousness. It's just Larry and his music.
The 2FM DJ recalls saving up to buy his first record in a Rathmines record shop. While he always loved people like Elvis, he still loves to hear new music.
I love listening to new music and love playing the oldies as well.
Larry Gogan has seen many changes in the industry throughout his career. Artists have come and gone, and he has adapted to new technologies and formats. Radio production has also been transformed with fewer people now required in the making of a show. Larry also prefers to be called a DJ than a presenter.
A Disc Jockey is somebody who kind of jocks the discs.
Respected by both his peers and listeners, Larry Gogan became a household name with his show 'The Golden Hour' and everybody's favourite 'Just a Minute Quiz'.There is even a studio in RTÉ named after him, 'The Larry Gogan Suite' which opened in 1996.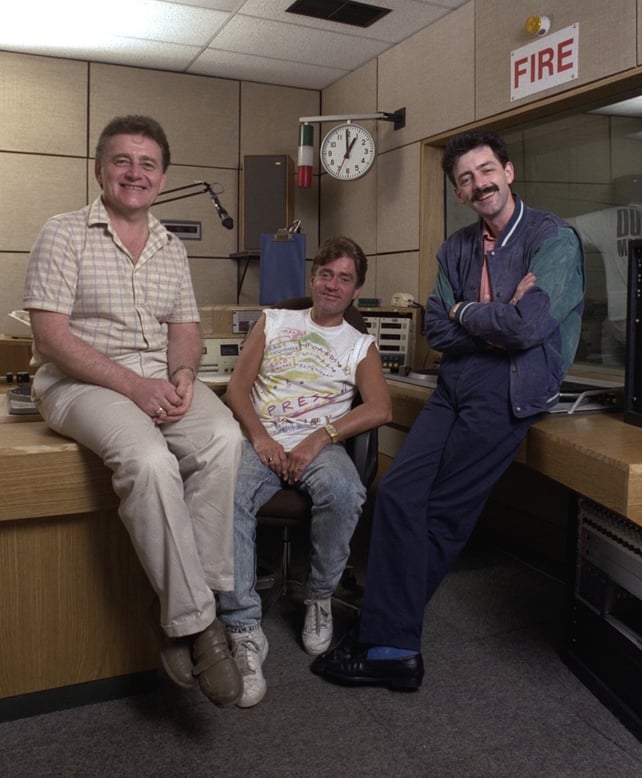 Larry Gogan, Jimmy Greeley and Mark Cagney (1987)
Larry was the toast of the recent Meteor Awards where he picked up the Outstanding Contribution to the Industry Award. Louis Walsh, who presented the award to Larry, paid tribute to the king of the airwaves.
Everybody knows Larry Gogan's voice. It's part of growing up in Ireland.
Ryan Tubridy describes Larry as warm, pleasant, funny and a gentleman, and Cian Egan of Westlife says Larry is a radio genius. Niall Breslin (Bressie) from the band The Blizzards says Larry is a legend who has always supported young Irish bands.
Possessing a seemingly bottomless knowledge of music and has a vast record collection. At his home, Larry shows Mary a selection of awards that he has received throughout his career.
It's always nice as a DJ to get a gold disc.
While Larry has had incredible success in his career as a working DJ, he is not concerned with fame or celebrity.
Summing up his career to date Larry says
I've enjoyed every single second of it.
Larry also pays tribute to his late wife Florrie, who he describes as his rock.
This episode of 'Nationwide' was broadcast on 12 February 2007. The reporter is Mary Fanning