In 1936 Irish Republican leader Frank Ryan left Ireland to fight in the International Brigade in support of the Republican side in the Spanish Civil War.
Irish republican, socialist activist, politician and writer Peadar O'Donnell speaks to reporter Joe Little on 'Day By Day' about his memories of Frank Ryan.
Peadar O'Donnell describes Frank Ryan's empathy with the oppressed.
Frank Ryan had identified that Ireland's role, or Ireland's struggle for independence was part of the world's struggle of subject nations and oppressed peoples.
O'Donnell also discusses Ryan's time in Spain during the Civil War and his role as an international representative.
Returning from Spain in 1937 Frank Ryan stood in the general election sharing a platform with Jim Larkin but only won 875 votes. He returned to Spain in 1938, was captured and sentenced to death.
A broad front was formed, including many of his political opponents, to save him from the death sentence. Frank Ryan was popular figure in the language revival movement and more gained the support of Éamon de Valera, who intervened on his behalf. While he did garner support, there were also a number of representations made to General Franco to shoot him. ]
However, Ryan avoid the firing squad and was delivered to the German authorities along the Spanish border. Frank Ryan died in Dresden under the Nazi regime in June 1944.
This episode of 'Day By Day' presented by Joe Little was broadcast on 22 June 1979.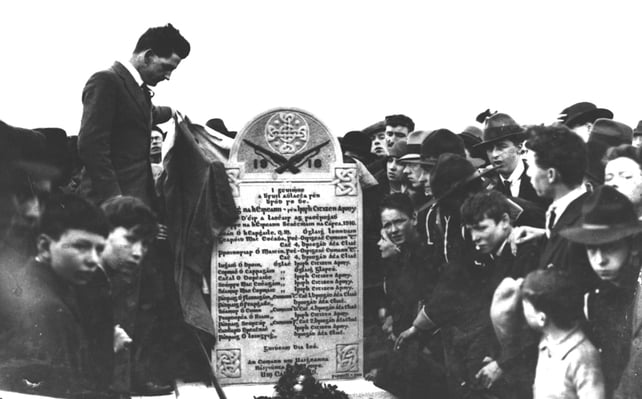 Frank Ryan unveils a gravestone at Glasnevin Cemetery (1929)
The accompanying photos from the Cashman Collection show Frank Ryan at the grave of Citizen Army and Irish Volunteers killed in the Easter Rising 1916, Glasnevin Cemetery, Dublin 31 March 1929.