Tomi Reichental, survivor of Bergan Belsen Nazi concentration camp tells his story.
Tomi Reichental is a survivor of the Nazi concentration camp Bergen Belsen. Born in Slovakia, Tomi came to live in Ireland in 1959.
In January 2012 following an interview on Irish national radio to mark Holocaust Memorial Day a listener confidentially contacted Tomi Reichental. This provided the catalyst for a remarkable journey told in the documentary 'Close to Evil'. Tomi discovers one of his former jailers - the SS Guard Hilde Lisiewicz - is alive and well and living in Hamburg. He is led to believe that she will meet him.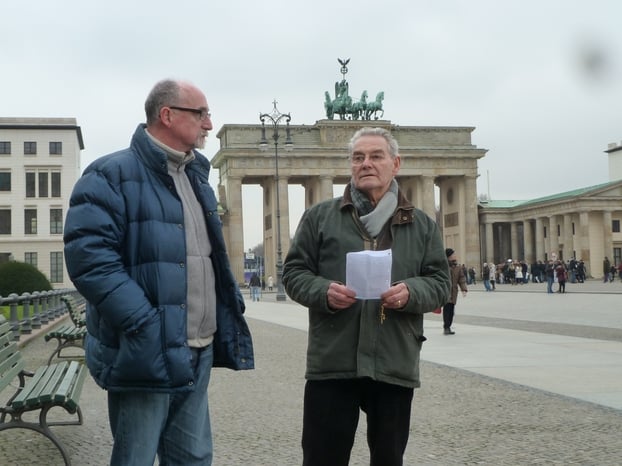 Tomi Reichental with Gerry Gregg, Director of 'Close to Evil'
As someone who speaks twice a week to school students all over Ireland about his boyhood experiences of persecution in Slovakia, Tomi is an advocate of reconciliation. He sets out to meet one of the women who held him in captivity in Belsen. Along the way, Tomi discovers that Hilde Lisiewicz is a convicted War Criminal.
In 1945, she and 30 others were found guilty of crimes against humanity. 11 were executed by the British Army. But in a remarkable, defiant interview, Hilde Michnia [as she is known as today] claims she is "a victim of victor's justice. She still refutes that she beat prisoners to death. Tomi's quest takes him across Europe and to Israel to investigate the SS woman's claims of innocence.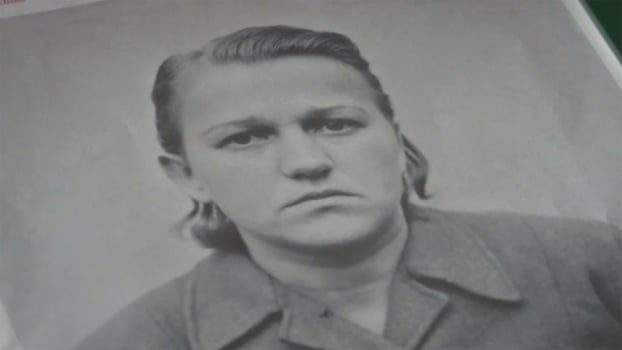 Hilde Michnia
He returns to Germany and, despite discovering that Hilde Lisiewicz was also a participant in a forced "Death March" of female prisoners from Gross Rosen Concentration Camp in Poland, Tomi is still prepared to reach out to the unrepentant perpetrator. He is rebuffed.
But his efforts are not in vain.
Alexandra Senfft, the granddaughter of Hanns Ludin, makes contact. Ludin was the Nazi Envoy to Bratislava. He had a hand in the deportation of over 70,000 Slovak Jews to the death camps. Tomi was one of that multitude. 35 members of his family perished in the Shoah. He is now confronted with an offer that puts him to the test. Will he meet Alexandra Senfft in Bratislava where Liudin was executed in 1947?
Tomi's odyssey ends where his story began back in his native village of Merasice. There the ghosts from his past are laid to rest. In Alexandra, Tomi encounters a kindred spirit. A German woman who honestly faces up to the terrible legacy of her grandfather.
Amid the ruins of the Reichental's old farm, Tomi embraces a woman directly related to the man who destroyed his family.
Today, there are no Jews in Merasice.
'Close to Evil' was broadcast on 1 September 2014. It is a Praxis Pictures Production in association with RTÉ. The director is Gerry Gregg.