When a Dublin photographer placed an advertisement in a newspaper looking for glamour models, 'Visual Eyes' decided to visit his studio to find out more.
Photographic models required for Calendar work.
After placing an ad in The Evening Press looking for models for calendar work, photographer Dave Cullen got over two hundred replies. However, when applicants found out what exactly was involved, half of them dropped out. From one hundred models, four were selected and 'Visual Eyes' met one of them, Julie Ross, who was recently featured in The Sunday World.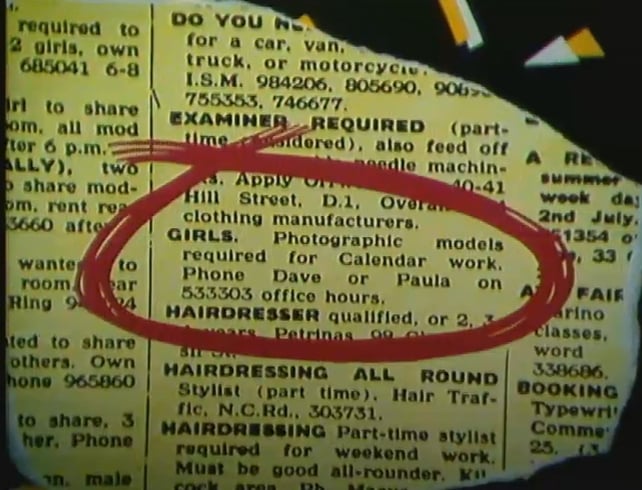 Glamour Model Ad in The Evening Press (1986)
Photographer Dave Cullen tells Dave Fanning why he has embarked on this project and what he was looking for from the applicants.
Irish girls have great faces but a person with a great face you see going by doesn't necessarily have a great body as well to go with it and you really have to have the curves to make these pictures work.
Model Julie Ross describes the difficult aspects of the job that people looking at the photos probably don't think about and says it is very much like an acting job. To those who have a moral problem with this kind of work, Julie says,
I really don't think there's anything wrong with the sort of topless modelling that we're doing... it's all very light hearted and it's all in good fun.
This episode of 'Visual Eyes' presented by Dave Fanning was broadcast on 30 July 1986.