American Congressman Daniel J Flood (Pennsylvania) led a delegation to present a statue of Robert Emmet to the people of Ireland at a ceremony in Iveagh House, Dublin.
Daniel J Flood was accompanied to Ireland by members of Congress Hugh Carey (New York), James A Burke and Thomas P O'Neill (Massachusetts).
Daniel J Flood referred to how Robert Emmet's rebellion of 1803 had been an inspiration to the youth of Ireland and to those of Irish descent all over the world.
President Éamon de Valera accepted the seven foot high bronze statue in the marble hall of Iveagh House from the congressmen on behalf of the donors, Mr and Mrs Francis J Keane of Washington DC to commemorate the 50th anniversary of the Rising.
In a speech to the distinguished audience President Éamon de Valera emphasised that Robert Emmet's motives had been vindicated and it was true that Ireland's name was now known among the nations but the day on which we can write his epitaph has not yet arrived.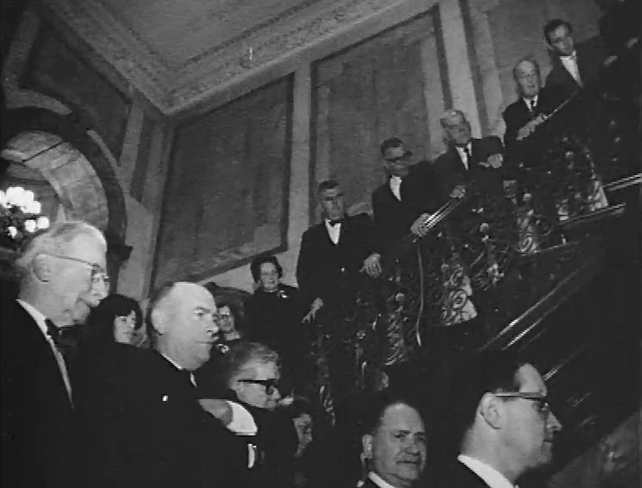 Guests at the Iveagh House Unveiling Ceremony (1966)
Present at the ceremony was Tanaiste Frank Aiken, Minister for Transport and Power Erskine Childers, American Ambassador Raymond Guest, and other prominent Irish Americans including Sean Nuan who was present when Éamon de Valera unveiled the Emmet statue in San Francisco in 1919.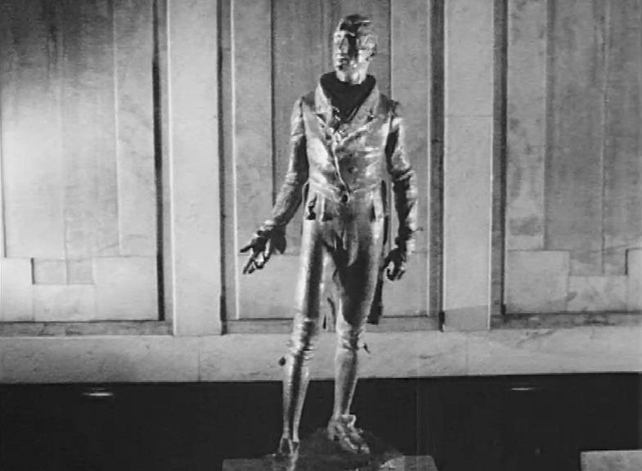 Robert Emmet Statue (1966)
The statue is the work of sculptor Jerome Connor, from Annascaul County Kerry and is one of three cast from the same mould. The other two statues were presented forty years earlier to the US National Gallery of Art in June 1917 and to the Golden Gate Park, San Francisco which was unveiled by Éamon de Valera in July 1919. This third Emmet statue was purchased by Mr and Mrs Francis J Keane for the people of Ireland.
An RTÉ News report broadcast on 13 April 1966. This footage is mute.