Cha (Frank Duggan) and Miah (Michael Twomey)  discuss the drinking habits of Munster people and the demise of the Cork gentleman.
Cha and Miah take to a park bench to discuss the drinking habits of the people of Munster and how Christmas is
Nothing more than a glorified booze-up.

They discuss the fact that the Irish can no longer handle their drink, especially when it comes to foreign concoctions. However, when Cork people drank alcohol made in Ireland
They were able to lap 'em up like mother's milk.
Gone are the days of the Cork gentlemen, who are described as a "vanishing race" as they slop their drinks down their shirts.
The golden age of drinking has come to an end.
This episode of Hall's Pictorial Weekly was broadcast on 18 December 1975.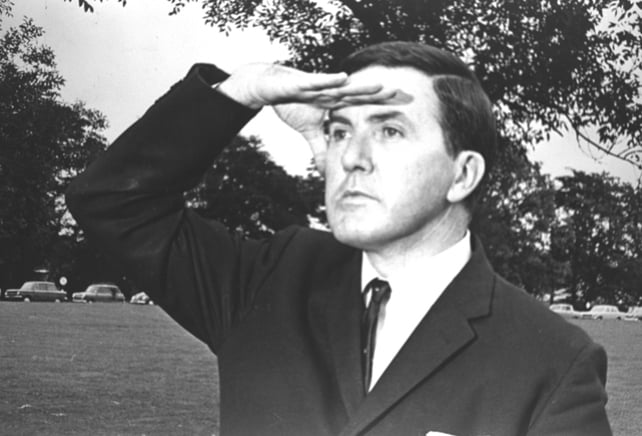 Frank Hall
Frank Hall's amusing and satirical series began on 29 September 1971 with the full title 'Hall's Pictorial Weekly Incorporating the Provincial Vindicator' which became known as 'Hall's Pictorial Weekly'. The series allowed Frank Hall to follow his own interest in the lives of viewers throughout the country.
Regarded as RTÉ's flagship comedy show, it featured satirical sketches on current news stories and popular culture, as well as parody songs, comedy sketches, re-edited videos, cartoons and spoof television formats.
The show ran for 9 series until 1980.
In the RTÉ Guide on the week of its first transmission, Frank Hall wrote,
The form and content of Hall's Pictorial Weekly should be impossible to forecast until the last moment. It should be as varied and absorbing as life itself.
He further commented
I have an inexhaustible interest in the lives and times of the people who live in our country towns and villages; no event is too small to capture my attention, no community too out of the way... This programme is intended to be about you, your town, your friends, your local interests.
(RTÉ Guide, September 24, 1971, Vol.8, No.9, p.2)