Limerick novelist and playwright Kate O'Brien speaks to Eamonn Andrews for the radio programme 'Microphone Parade'.
Kate talks about writing novels and plays, and the career of an Irish writer. She also talks about the state of the arts and literature in Ireland.
This episode of 'Microphone Parade' was broadcast on 24 April 1947.
Kate O'Brien was born in Limerick in 1897. She graduated from University College Dublin with a degree in English and French and worked briefly as a teacher in London. While working as a governess in Northern Spain, she began writing fiction. After returning to England she took up writing full-time and published a number of novels including The Ante-Room (1934). Much of her work dealt with issues of gender and sexuality with 'Mary Lavelle' (1936) and 'The Land of Spices' (1941) being banned in Ireland.
The Glucksman Library at the University of Limerick now holds a collection of O'Brien's writings, and a Kate O'Brien Weekend takes place every year in Limerick.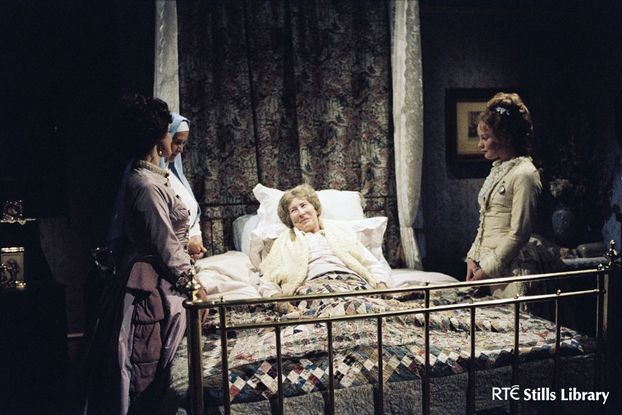 A scene from the RTÉ Television adaptation of Kate O'Brien's novel 'The Ante Room', during filming in October 1979. From left to right; Fidelma Murphy as Agnes, an unidentified actress playing a nun, Marie Kean as Teresa (lying in bed) and Kate Thompson as Marie Rose.
On 13 August 1974 Kate O'Brien died in Canterbury, England at the age of 76.