Mary Robinson celebrates her 70th birthday today. Ireland's first female president was born on 21 May 1944 in Ballina, Co. Mayo. She studied law at Trinity College Dublin, where she became Ireland's youngest law professor at the age of 25 when appointed Reid Professor of Constitutional and Criminal Law. She also represented the university in the Seanad from 1969 to 1989, campaigning for the right of women to sit on juries, contraception and the ending of the civil service ban on married women. She sat on Dublin City Council from 1979 to 1983. She played a prominent role in the campaign to save the Viking settlement at Wood Quay from destruction.
Robinson was elected Ireland's first female president in 1990. In her inauguration speech she said a new Ireland was emerging, one that would be more tolerant and inclusive. She worked to progress humanitarian issues and the peace process and lit a candle to Irish emigrants in the window of Áras an Uachtaráin. In this TV interview almost five years into her term, she talks to Brian Farrell about what her presidency has meant for women. This edition of 'Farrell' was devoted to Mary Robinson and broadcast on 4 June 1995.
Robinson resigned her office shortly before her term was due to finish in 1997 to become UN High Commissioner for Human Rights and continued in this role until 2002. She has been the first female Chancellor of Trinity College since 1998 and runs a climate for justice foundation.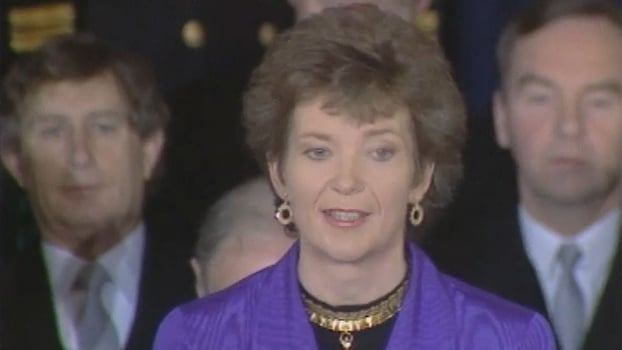 Mary Robinson First Female President 1990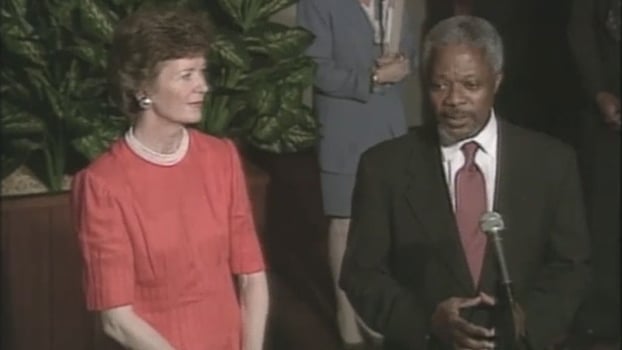 Mary Robinson to Resign From Presidency
In 2010 Mary Robinson appeared on the programme 'The Meaning of Life' where she spoke to Gay Byrne about her privileged upbringing, nearly becoming a nun, confronting the power and influence of the Catholic church, her Christian faith and moral vision. Watch the full programme on RTÉ Player.