This was the first art robbery from Russborough House near Blessington, County Wicklow. The paintings were stolen from the stately home of Sir Alfred and Lady Clementine Beit shortly after 9 p.m. on 26 April, 1974.
Tom McCaughren talks to Sir Alfred Beit who is accompanied by his wife Lady Clementine. Sir Alfred gives his account of the raid, how the raiders gained entry to the house, tied them up and took off with the paintings. Sir Alfred describes how they were listening to records in the drawing room when the raiders attacked. The raiders were armed and Sir Alfred received a blow to the head from one of the raiders.
The art collection included works by Goya, Ruisdael, Vermeer, Peter Paul Rubens and Thomas Gainsborough. 1974 was the first time the collection was stolen. Subsequent robberies took place in 1986, 2001 and 2002.
An RTÉ News report broadcast on 27 April 1974. The reporter is Tom McCaughren.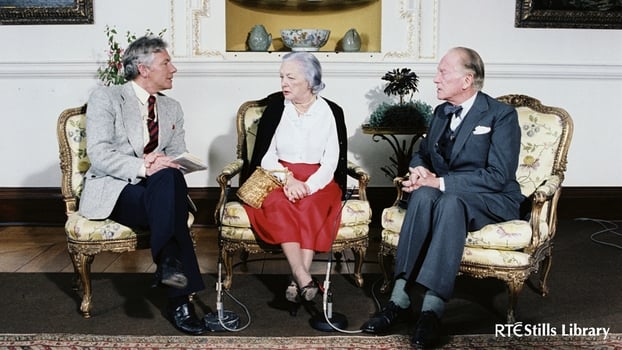 Sir Alfred and Lady Beit with Gay Byrne (1983)