A visit to the town of Carrick on Suir, County Tipperary.
Presenter, J.B. Malone, narrates a journey beginning at the river Suir and along the streets of Carrick. He describes the setting of the town and the activities that go on along the river Suir.
The town is characterised by busy streets with tall narrow houses, a picturesque clock tower, and the relic of the Castle of Carrick. The castle was originally built to receive Queen Elizabeth on a visit to Carrick that never happened.
According to the RTV Guide (now the RTÉ Guide), the castle is,
Gracious even in decay, displays the first stirrings of renaissance art to reach Ireland.
(RTV Guide, 30 August 1963)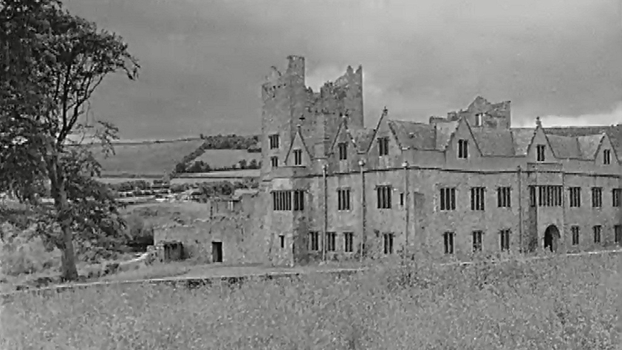 Carrick Castle (1963)
The series 'Mountain and Meadow' was produced by James Plunkett and was broadcast from 1962 to 1963. The RTV Guide described the programme as follows.
This episode of 'Mountain and Meadow' was first broadcast on 4 September 1963.
Each 'Mountain and Meadow' programme is a record on film of a journey which can be made on foot or by car, in the course of a day's tour from a given centre.

(RTV Guide, 5 July, 1963, p9)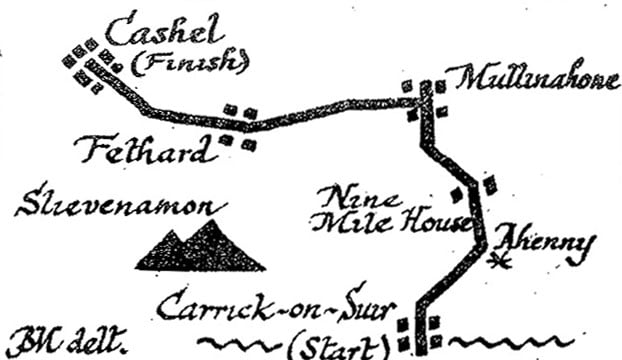 Map of the route that the programme took. (RTV Guide, 30 August 1963)