Nelson Mandela is 95 on 18 July 2013 and his birthday is celebrated as Mandela Day.
The day is a reflection on the 67 years that Nelson Mandela has spent fighting the anti-apartheid movement, Mandela Day is about dedicating 67 minutes of your time to help others.

As an anti-apartheid activist and leader, Mandela was imprisoned on charges of treason against the state. After 27 years as a political prisoner, on 11 February 1990 Mandela was finally released.
On 1 July 1990 Nelson Mandela arrived in Ireland for a two day visit. At a ceremony at the Mansion House Dublin, Mandela received the Freedom of Dublin. Two years previously, while still in a South African jail, Mandela became the second political prisoner ever to receive the Freedom of Dublin. (The first was given to Lord Mayor of Dublin Timothy Daniel Sullivan in 1887 for supporting the rights of Irish tenant farmers). Mandela had promised that some day he would come to Dublin to collect this honour. Mr. Mandela had his own words for the occasion.

You have given refuge and aid to so many South Africans. And for this, we are deeply grateful.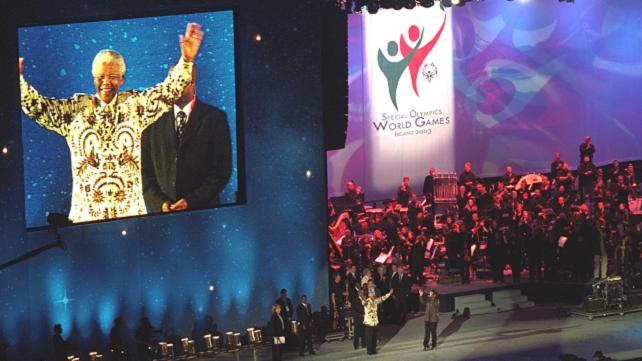 Nelson Mandela at Special Olympics Opening Ceremony, Dublin in 2003.
A RTÉ News report by Charlie Bird on 1 July 1990.