On the day RTÉjr is launched here is a look back at an early programme when radio was the platform of choice for children's entertainment. This photograph from RTÉ Archives shows Marion King recording the programme 'Art Adventures' with Cusahaboo and Sean Bunny in the Radio Éireann GPO Studios, Dublin. King was a popular presenter of children's programmes in the 1940s and 1950s.
The Marion King presented series instigated an annual exhibition of children's art, the first of which was opened by Minister for Posts and Telegraphs, Erskine Childers. The exhibitions were shown in Dublin and in other centres around the country. Sean Bunny proved so popular a character that he even got his own newspaper cartoon strip in The Irish Times.
This image was published on page 21 of the 1948 'Radio Éireann Handbook'.
Since the early days of children's programming, many changes have taken place on radio, television and now multi-platforms.
RTÉjr, a new dedicated digital children's channel on TV, radio, online and mobile launches today. This new service for children aged between 0-7 is part of the development of services for young people by RTÉ. Available on Saorview, Sky and UPC 600.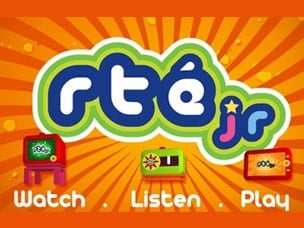 Watch RTÉjr programmes on RTÉ Player