Ukrainian President Volodymyr Zelensky has warned that Russia is building up its troops to take "revenge" on the West nearly a year into Moscow's invasion.
He levelled the warning in Kyiv alongside European Commission chief Ursula von der Leyen, who said the European Union plans to slap Russia with fresh sanctions by the anniversary of the invasion on 24 February.
Mr Zelensky told a joint press conference with Ms von der Leyen: "Now Russia is concentrating its forces. We all know that. It is preparing to try to take revenge, not only against Ukraine, but against a free Europe and the free world."
Ms von der Leyen said existing sanctions are "eroding" Russia's economy and "throwing it back by a generation", estimating that an existing oil price cap alone is costing Moscow around €160 million every day.
"We will introduce with our G7 partners an additional price cap on Russian petroleum products, and by the 24 of February - exactly one year since the invasion started - we aim to have the 10th package of sanctions in place," Ms von der Leyen said.
🇪🇺🇺🇦 We have never been closer.

Today we agreed to integrate Ukraine further into our Single Market and include it in key EU programmes.

We are also working on extending tariff-free access to our market and free roaming. https://t.co/iwkc1wd4xR

— Ursula von der Leyen (@vonderleyen) February 2, 2023
Moscow has criticised the pledges, saying new weapon deliveries will escalate the conflict but not change its course.
In Russia, President Vladimir Putin leveraged a World War II commemoration to whip up support for his army's intervention in Ukraine, comparing the fighting to Nazi Germany's invasion and hinting Moscow could use nuclear weapons.
Mr Putin said Russia was being threatened by German tanks, like during World War II.
"It's unbelievable but true. We are again being threatened by German Leopard tanks," Mr Putin said, adding that Russia had an "answer" to any country that threatened it.
Russian Foreign Minister Sergei Lavrov claimed the EU and specifically Ms von der Leyen had called for Russia to be defeated so its economy would be devastated for decades.
"Is this not racism, not Nazism - not an attempt to solve 'the Russian question'," Mr Lavrov said, evoking Russia's victory against Nazi Germany in World War II.
Over a dozen top European Union officials visited Kyiv to promise military, financial and political aid and show support for Ukraine before the first anniversary of Russia's invasion.
But unwilling to admit a country at war, the EU is set to dash Ukraine's hopes of being swiftly allowed membership, underlining the need for more anti-corruption measures.
Members of the EU's executive European Commission met members of the government today.
Tomorrow, European Council President Charles Michel will meet President Volodymyr Zelensky.
The first such gathering in Kyiv since the war began last February follows new Western pledges of arms deliveries to help Ukraine resist an expected new Russian offensive.
EU officials said talks would include discussion of more arms and money for Ukraine as well as more access for Ukrainian products to the EU market, helping Kyiv cover energy needs, sanctions on Russia, prosecuting Russia's leadership for the war and extending an EU no-roaming mobile calls zone to Ukraine.
"It is a very strong signal that we are in Kyiv during the war. It's a signal to the Ukrainian people. It's a signal to Russia. It's a signal to the world," said a senior EU official.
---
Read more:
Challenges to Ukraine's hopes for speedy EU membership
---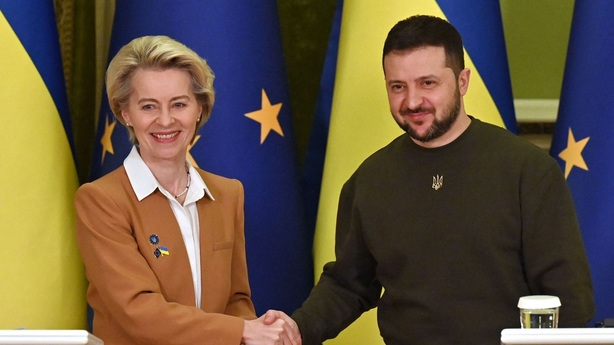 The EU's top diplomat, Josep Borrell, announced a doubling of the number of Ukrainian troops to be trained by the EU to 30,000 this year and promised €25 million for demining areas recaptured by Ukraine.
"Europe stood united with Ukraine from day one. And will still stand with you to win and rebuild," Mr Borrell, who said he had met Prime Minister Denys Shmyhal, wrote on Twitter.
The EU's top officials for migration, agriculture, economy and justice were also in the Ukrainian capital.
The EU has already earmarked almost €60bn in aid to Ukraine, including nearly €12bn of military support and €18bn to help run the country this year, but refuses to offer a fast track to membership.
"Some may want to speculate about the end game but the simple truth is that we are not there yet," an EU official said.
Just arrived in Kyiv for the EU-Ukraine summit. The European Commission will meet @ZelenskyyUa @Denys_Shmyhal and govt ministers: agenda covers EU accession, sanctions, reconstruction, energy & financial support, corruption, how to try Russia for the crime of agression pic.twitter.com/TWAdZ9fqRT

— Tony Connelly (@tconnellyRTE) February 2, 2023
EU officials have listed multiple entry requirements, from political and economic stability to adopting various EU laws.
The EU is set to underline its commitment to supporting Ukraine's "further European integration" after giving it membership candidate status last June and will decide on further steps once all conditions are "fully met", according to a draft joint statement seen by Reuters.
Kyiv has cracked down on high-level corruption in recent days but the EU says Ukraine must build a credible track record over time to shed its reputation for endemic graft.
Ukraine's calls for long-range rockets or fighter jets are set to be left unanswered by the EU this week, officials say, and it appears unlikely that looming new EU sanctions on Russia will meet expectations in Ukraine.
Additional reporting AFP/Reuters