Russian President Vladimir Putin leveraged a World War II commemoration to whip up support for his army's intervention in Ukraine, comparing the fighting to Nazi Germany's invasion and hinting Moscow could use nuclear weapons.
Mr Putin has used World War II to promote his political agenda in recent years, while the Kremlin has sought to give cult status to Moscow's victory in what Russians call the Great Patriotic War.
Arriving in the southern city of Volgograd for commemorations to mark the 80th anniversary of the Soviet victory at the Battle of Stalingrad, achieved at enormous cost, Mr Putin sought to boost support for his assault on Ukraine.
He compared Russia's so-called "special military operation" in Ukraine to the war against Nazi Germany in 1941-1945 and claimed Russians were ready to go "until the end".
"Again and again we are forced to repel the aggression of the collective West," Mr Putin said in the city on the Volga River formerly known as Stalingrad.
"We aren't sending tanks to their borders but we have something to respond with, and it won't be just about using armoured vehicles. Everyone should understand this," he added.
"A modern war with Russia will be completely different," he said.
Since sending troops to pro-Western Ukraine last February, Mr Putin has repeatedly threatened to use nuclear weapons against the West if the conflict escalates.
"It's unbelievable but true. We are again being threatened by German Leopard tanks."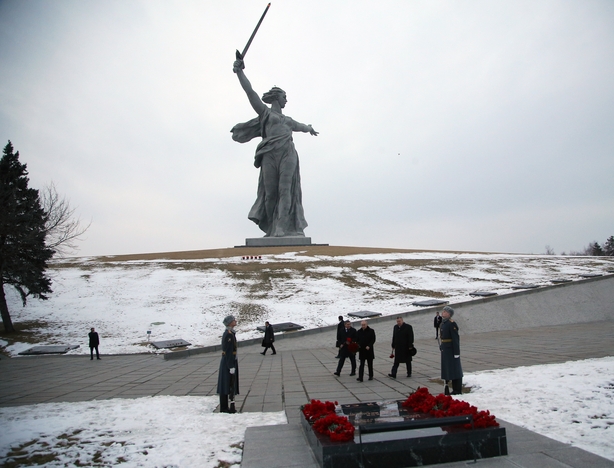 "Readiness to go until the end, to do the impossible for the sake of the motherland, for the sake of truth was - and is - in the blood, in the character of our multinational people," the Russian leader said.
He spoke after laying flowers at the city's legendary landmark - a hilltop memorial to the battle that includes the towering 85-metre sculpture of a woman with a raised sword known as "The Motherland Calls".
The commemorations in the southern Russian city come as the Kremlin looks to step up its offensive in Ukraine, bolstered by tens of thousands of reservists mobilised last autumn.
Russian missile destroys Ukrainian apartment building
Rescuers combed debris in a city in eastern Ukraine, where an overnight Russian missile strike destroyed an apartment building and damaged nine others, killing at least three people.
The police force said the apartments in the city of Kramatorsk were hit by an Iskander-K tactical missile at 9.45pm local time. Earlier reports had described it as an attack with a rocket.
"Ten apartment buildings were damaged, one partially collapsed. Search and rescue work, which continued all night, is still under way," police said in a statement.
The dead include a husband and wife and a 61-year-old pensioner, whose daughter was still believed to be missing. Eighteen people were also wounded.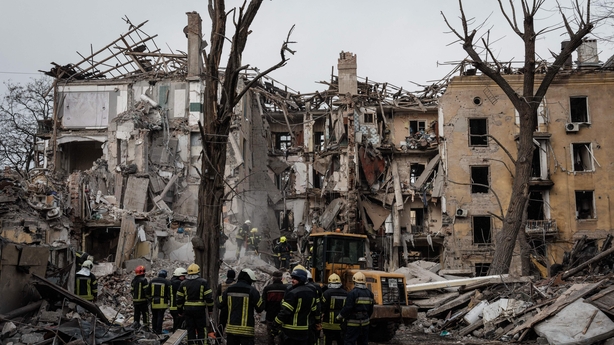 Hours later, regional governor Pavlo Kyrylenko said two more strikes had also targeted the city centre, leaving at least five people wounded and more than a dozen buildings damaged.
Kramatorsk is close to the front line in eastern Ukraine and many residents have fled or regularly take shelter in cellars, which may have saved lives compared with similar attacks elsewhere.
A missile strike on an apartment block in the central city of Dnipro two weeks ago killed at least 44 people.
---
---
"This is not a replay of the past, it is the daily reality of our country - a country with absolute evil on its borders," President Volodymyr Zelensky wrote on the Telegram messaging app.
Rescuers were digging through mounds of debris at the site of the first strike, where residents sorted through scattered personal belongings.
Apartment interiors were visible amid the blasted-out walls from the neighbouring building.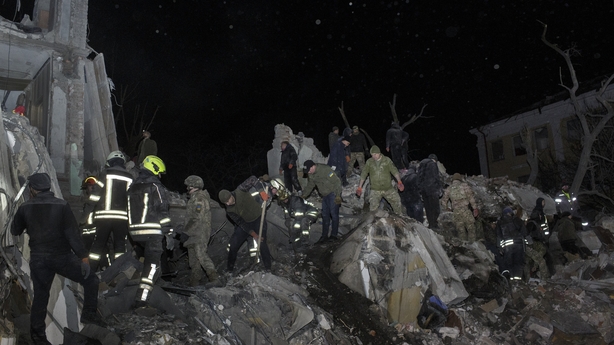 "This is the centre of the city. Only civilians live here, which is why any attempts to justify this are futile at the very least," Mr Kyrylenko told Reuters at the scene.
Resident Nataliia Khyzhniak, who was being treated at a local hospital, said she had been preparing for bed when the missile struck.
"They (the doctors) sowed up my back and pulled out shrapnel and glass," she said from her hospital bed.
Moscow denies intentionally targeting civilians.
In a separate tweet early today, Mr Zelensky wrote: "The only way to stop Russian terrorism is to defeat it. By tanks. Fighter jets. Long-range missiles."
He also urged EU leaders during talks in Kyiv to slap more sanctions on Russia.
The West has imposed sweeping sanctions on Russia since its invasion of Ukraine on 24 February last year, aiming to cripple its ability to wage a war that has devastated Ukrainian cities and towns, killed tens of thousands of people and forced millions to flee their homes.
Mr Zelensky called for more sanctions, saying the pace had "slightly slowed" of late and that Moscow was adapting to them.
"This is a joint European task to reduce Russia's ability to evade sanctions. And the faster and better this task is accomplished, the closer we will be to defeating the aggression of the Russian Federation," he said.
Ukraine, which last week secured promises of battle tanks, wants allies to supply fighters and missiles. Washington is expected to include longer-range rockets in its next package of arms as soon as this week.
Last April, Ukraine said 57 people died when a Russian missile hit the train station in Kramatorsk. Moscow denied responsibility, saying the missile was Ukrainian.