They want to avoid a trade war and are determined to press on with their support for a real war in defence of Ukraine.
Those are the two big takeaways from the state visit of the President of France to the US.
Emmanuel Macron is the first foreign leader to be accorded this honour by US President Joe Biden, and both sides seemed determined to have a show of unity by each giving something to the other.
More explicit support for the firm Western line on Russia and Ukraine from the French leader and admission that the industrial subsidy regime in the Inflation Reduction Act needed to be finessed to overcome European concerns from the Americans.
The first diplomatic present came from the visitor.
President Macron has been under fire from some quarters in the US for being in direct contact with President Vladimir Putin, as he seeks a negotiated end to the war.
A statement a few months ago by Mr Macron said that the West should not seek to "humiliate" Mr Putin did not go down well in Washington or Kyiv.
During the state visit the French President strove to make clear his position.
He said France "would never urge Ukrainians to make a compromise that will not be acceptable to them".
He said the only way to lasting peace is a solution that is acceptable to Ukraine. Only when the Ukrainians are ready, he said, would France move to support peace talks.
He also stressed the French military contribution to Ukraine, promising more in co-operation with the US.
"Our discussion this morning was an opportunity to confirm the initiatives we will be taking once again in the coming weeks and month to strengthen our support to the Ukrainian troops and to enable them to resist," he said.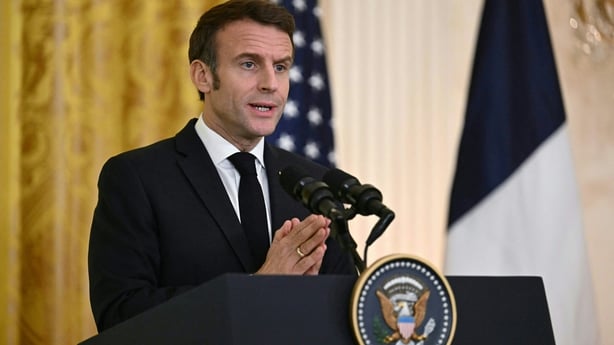 Mr Macron announced he will host an international conference in ten days' time to raise funds for Ukraine's civilian population.
"We also agreed to continue to work together to support the Ukrainian people to help them resist because we can clearly see today that the Russian war effort is very much targeting the civilian infrastructure, bringing even more violence to try and make the Ukrainian people desperate and make it impossible for them to survive this winter," he said.
President Biden said he would not talk to President Putin, but the Americans do find it useful that the French provide a route into the Kremlin through President Macron's contacts.
Mr Biden did make a policy change in setting out his terms for talking to the Russian leader, if he wants a way out, and wants to talk about that, then Mr Biden would meet him.
The American gift was a statement by Mr Biden that the industrial subsidies regime in the Inflation Reduction Act – Mr Biden's flagship economic policy enacted into law in August – could be "tweaked" to ease European concerns that they were protectionist – only subsidising US companies and production in the US.
The IRA (as it is known in Washington) had been causing growing concern in Europe as companies and governments feared it was going against previous policy directions, which had sought to reshape industrial policy to reduce dependence on critical goods and components being imported from the far East, and particularly from China.
Covid-19 exposed the supply chain fragility that the western economies have allowed to evolve over the past three decades. Now, both the US and EU are determined to ensure their own supply chains for critical components like microprocessors.
They are also trying to reshape industrial policy by investing in cleaner technologies for energy and transport.
The war in Ukraine has accelerated concerns over European dependence on Russian energy. The energy crisis caused by the Russian invasion of Ukraine has hit Europe hardest, as has the refugee crisis caused by the war. Any hint that the Americans might be trying to take advantage economically would fall on already frayed nerves in Europe's political and business leadership circles.
President Macron went in with his studs up when he arrived here on Wednesday, declaring the subsidy regime in the act was "super aggressive" against European companies.
He said it could kill European jobs, and could "fragment the West" at a time when unity against the Russian invasion and Chinese assertiveness was of the utmost importance.
President Biden moved to allay these fears in his joint press conference with the French leader the next day with this statement.
"The United States makes no apology - and I make no apologies, since I wrote the legislation you're talking about," Mr Biden said.
"But there are occasions when you write a massive piece of legislation - and that has almost $360 billion for the largest investment in climate change in all of all of history - and so there's obviously going to be glitches in it, and a need to reconcile changes.
"For example, there's a provision in it that says that there is an exception for anyone who has a free trade agreement with us. Well, that was added by a member of United States Congress who acknowledges that he just meant allies. He didn't mean literally free trade agreements. So there's a lot we can work out.
"But the essence of it is, we're going to make sure that the United States continues - just as I hope Europe will be able to continue - not to have to rely on anybody else's supply chain: we are our own supply chain. And we share that with Europe and all of our allies.
"So there's tweaks that we can make that can fundamentally make it easier for European countries to participate, or be on their own. But that is something that is a matter to be worked out. There is no fundamental ... that was never intended when I wrote the legislation, never intended to exclude folks who were cooperating with us. That was not the intention.
"The intention was to make sure we're no longer in a position like when there was a pandemic in Asia, and China decided they're gonna no longer sell us computer chips ... We invented the damn things. So anyway, my point is, we're back in business. Europe is back in business. And we're going to continue to create manufacturing jobs in America but not at the expense of Europe."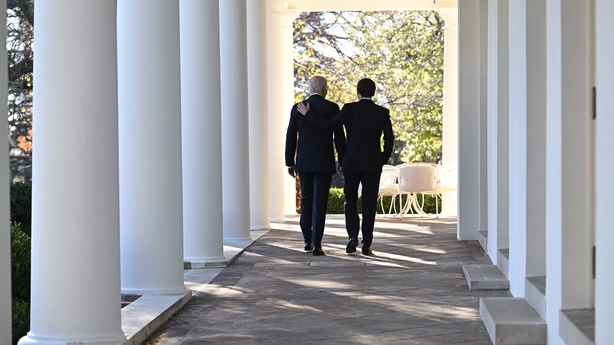 Lots to be worked out, and changing a law that has already been signed off is not easy. But a direct assurance from President Biden setting out clearly a direction of travel will help.
Trying to square off some of the problems will no doubt form part of meetings next week by a European Commission delegation led by Commission vice presidents Margareta Vestager and Valdis Dombrovskis.
They will be in Washington to meet Counterparts Anthony Blinken, the US secretary of state, and Commerce Secretary Gina Raimundo in the Trade and Technology Council, the format for the EU and US to work on common action in trade and technology issues.
President Macron spoke yesterday of the need for the EU and the US to "synchronise our approaches to invest in critical emerging industries, semiconductors, batteries, and hydrogen".
He told President Biden that synchronising this agenda was the best way for him to get more industrial jobs back into the US, and into Europe as well.