G7 leaders meeting in Bavaria have said they will explore a price cap on Russian oil as a way to prevent the Kremlin from benefitting from soaring revenues, according to a closing statement.
Leaders have also said they would look at other ways to cushion the effect of Russia's war on Ukraine on their economies, including by encouraging OPEC countries to increase oil production in order to calm energy markets.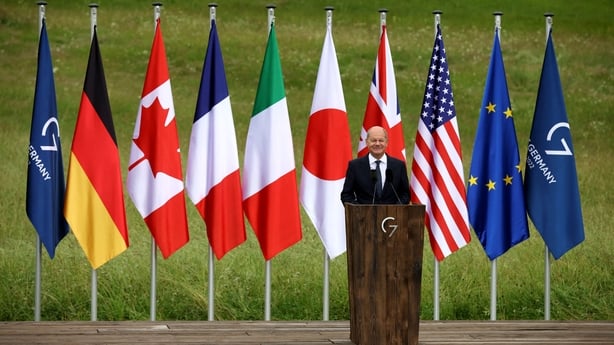 G7 leaders closed their three day summit in the Bavarian Alps by committing to a price cap on Russian oil.
As sanctions on Russia have tightened their grip, one side-effect has been that the global price of oil has increased, paradoxically benefitting the Kremlin through higher revenues.
In a final communiqué, the G7 said they were inviting like-minded countries to agree a price cap, meaning they would only buy Russian oil at or below a certain price.
The Kremlin has said this could prompt the state oil company Gazprom to change the contracts in order to raise the price.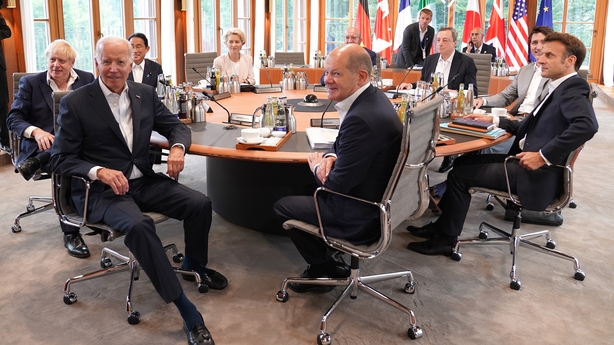 The G7 meeting was overshadowed by the latest Russian atrocity in Ukraine, the bombing of a shopping mall in Kremenchuk, which has so far killed 18 people, with around 40 still missing. Leaders described it as an abominable act.
The G7 leaders condemned "Russia's illegal and unjustifiable war of aggression against Ukraine".
The statement from the leaders said: "We will stand with Ukraine for as long as it takes, providing the needed financial, humanitarian, military, and diplomatic support in its courageous defence of its sovereignty and territorial integrity.
"We are ready to reach arrangements together with interested countries and institutions and Ukraine on sustained security commitments to help Ukraine defend itself and to secure its free and democratic future."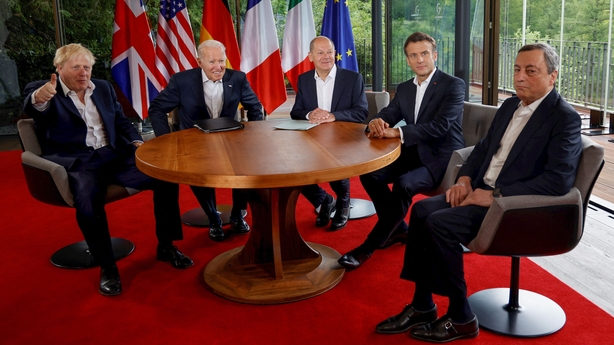 The leaders of the UK, US, Canada, Japan, Germany, France and Italy promised to "continue to impose severe and enduring costs on Russia to help bring an end to this war".
"Beyond its direct implications, Russia's aggression is impeding the global recovery and dramatically worsening energy security and access to food globally.
"To this end, we remain steadfast in our commitment to our unprecedented co-ordination on sanctions for as long as necessary, acting in unison at every stage, and will reduce Russia's revenues, including from gold."
They added: "We will take immediate action to secure energy supply and reduce price surges driven by extraordinary market conditions, including by exploring additional measures such as price caps.
"We reaffirm our commitment to phase out our dependency on Russian energy, without compromising on our climate and environmental goals."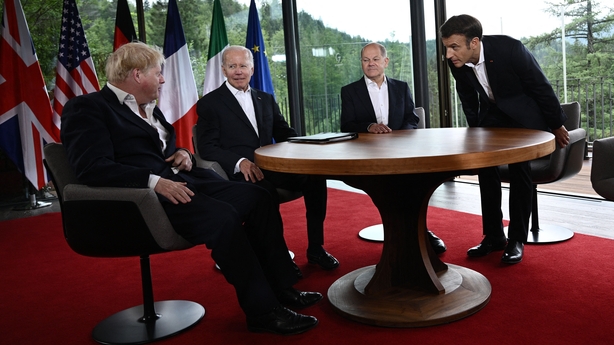 As the summit ended, French President Emmanuel Macron called the attack a war crime. He said Russia cannot and must not win this war.
Mr Macron told the G7 summit that he backed the idea of a cap on Russian oil prices, given how he felt that some were making money out of Russia's invasion of Ukraine, which has driven up energy prices.
"Some producers and speculators are making a lot of money with the current war," said Mr Macron.
Mr Macron added he was very favourable towards a Russian gas cap, which could be easier to implement compared to a Russian oil cap, and that an alliance of buyers needed to be widened for a Russian oil cap to work.
Additional reporting: PA, Reuters