The US Senate has voted in favour of new gun laws, introduced in the wake of the Uvalde school shooting last month in which 19 children and two teachers died.
The measures are aimed at keeping guns out of the hands of dangerous individuals.
The Senate voted 65 to 33 for the measures, designed to make it harder for certain types of people to own guns - after 15 Republicans voted with the 50 Democrat Senators to secure the bill's passage.
It is the first gun control measure to make it through the upper house in almost 30 years.
"This bipartisan legislation will help protect Americans," US President Joe Biden said in a statement shortly after the Senate vote.
"Kids in schools and communities will be safer because of it."
Speaker of the House of Representatives Nancy Pelosi said the lower house will vote on the bill later today and once passed it will be sent immediately to President Biden to be signed into law.
The Bipartisan Safer Communities Act includes enhanced background checks for buyers under the age of 21, along with $11 billion in funding for mental health and $2 billion for school safety programmes.
It also provides funding to incentivise states to implement "red flag" laws to remove firearms from people considered a threat.
And it closes the so-called "boyfriend" loophole, under which domestic abusers could avoid a ban on buying firearms if they were not married to or living with their victim.
"Tonight, the United States Senate is doing something many believed was impossible even a few weeks ago: we are passing the first significant gun safety bill in nearly 30 years," Senate Democratic majority leader Chuck Schumer said after the legislation passed.
"The gun safety bill we are passing... can be described with three adjectives: bipartisan, common sense, lifesaving."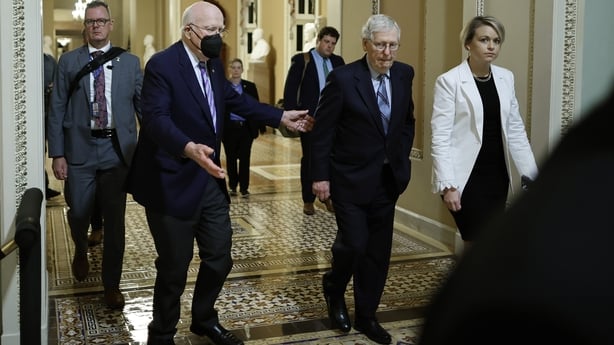 His Republican counterpart Mitch McConnell said the legislation would make the US safer "without making our country one bit less free."
"This is a common-sense package. Its provisions are very, very popular. It contains zero new restrictions, zero new waiting periods, zero mandates and zero bans of any kind for law-abiding gun owners."
The National Rifle Association and many Republicans in both chambers of Congress opposed the bill but it is endorsed by advocacy groups working in policing, domestic violence and mental illness.
The last significant federal gun control legislation was passed in 1994, introducing a national background check system and banning the manufacture for civilian use of assault rifles and large capacity ammunition clips.
But it expired a decade later and there has since been no serious movement on reform, despite rising gun violence.
Mr Biden had pushed for more substantial reforms, including a reinstatement of the ban on assault rifles -- which were used in both the recent Texas and New York shootings - and high-capacity magazines.
But there is a sense of anti-climax around the measures, following yesterday's ruling by the US Supreme Court overturning state laws restricting the right to carry a gun outside the home – and opening the door to new legal challenges to many other gun control laws.
The 6-3 decision struck down a more than century-old New York law that required a person to prove they had a legitimate self-defence need to receive a permit to carry a concealed handgun outside the home.
Democrats warned that the Supreme Court ruling could have dire consequences for gun safety nationwide.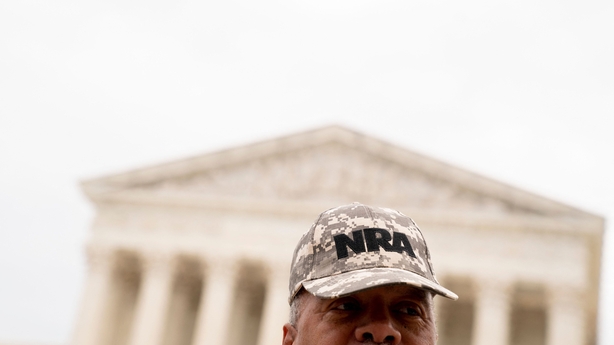 "The Supreme Court got the ruling wrong," Senator Chris Murphy, the lead Democratic negotiator on the gun safety legislation, said in an interview.
"I'm deeply worried about the court's willingness to takeaway from elected bodies the ability to protect our constituents and that has real grave implications for the safety of our country," said Senator Murphy, whose home state is Connecticut, where 26 people were killed in the Sandy Hook school shooting in 2012.
Conservatives defend a broad reading of the Second Amendment, which they say limits most new restrictions on gun purchases.
More than 20,800 people have been killed in gun violence in the United States in 2022, including through homicide and suicide, according to the Gun Violence Archive, a non-profit research group.
The Supreme Court ruling, authored by conservative Justice Clarence Thomas, declared that the Constitution protects "an individual's right to carry a handgun for self-defence outside the home."
"This is a monumental win for NRA members and for gun owners across the country," said Jason Ouimet, executive director of the National Rifle Association Institute for Legislative Action, in a statement.
"This ruling opens the door to rightly change the law in the seven remaining states that still don't recognise the right to carry a firearm for personal protection."
Additional reporting Reuters, AFP