The Taoiseach has said he is opposed to telling Ukraine that it cannot join the European Union, given what he called the transformative impact EU membership has had in Ireland over the past 50 years.
Micheál Martin was speaking during a debate on the theme 'European Unity in a Disordered World?' while attending the World Economic Forum in the Swiss resort of Davos.
European Central Bank President Christine Lagarde, Dutch Prime Minister Mark Rutte and European Parliament President Roberta Metsola also took part in the debate.
"We're celebrating 100 years of an unbroken democracy in Ireland this year and 50 years in terms of accession to the European Union," Mr Martin said.
"And accession to the European Union was one of the most transformative events in modern Ireland, not just economically but in terms of the broader theory of public policy organisation.
"We're very reluctant, I am anyway, to say to another country 'you cannot join'. I find that difficult, given that we've benefited from joining the European Union."
He added that Brexit had strengthened pro-European sentiment in Ireland.
"People just looked at Brexit and said no, we don't want that in any shape or form."
The Taoiseach also held a brief bilateral meeting with Ukrainian Foreign Minister Dmytro Kubela.
Met Taoiseach @MichealMartinTD to thank Ireland for its consistent support of Ukraine. Proposed the Irish side to take a lead in rebuilding one of Ukraine's war-torn regions. Grateful to Ireland for supporting our EU candidacy status 🇺🇦🇮🇪🇪🇺 pic.twitter.com/wrpMVSNKwR

— Dmytro Kuleba (@DmytroKuleba) May 25, 2022
We need your consent to load this rte-player contentWe use rte-player to manage extra content that can set cookies on your device and collect data about your activity. Please review their details and accept them to load the content.Manage Preferences
He later attended a lunch hosted by the Washington Post, where he was joined by US climate envoy John Kerry.
Earlier this week, Ukrainian President Volodymyr Zelensky used the Davos summit to appeal for more weapons and "maximum" sanctions against Russia.
Taoiseach open to change on EU treaties
Taoiseach Micheál Martin has said he would be open to a change in the EU's treaties to allow for more effective decision making, in particular when it came to pushing through sanctions against Russia.
The Taoiseach was speaking in the context of Hungary holding up an EU oil embargo against the Kremlin over the invasion in Ukraine.
Speaking in Davos, Mr Martin said: "There comes a stage when we do need - when all avenues have been exhausted - to take measures or have mechanisms to enable countries to take measures in an extreme situation like this one, where Ukraine is in a fight for its survival as a democratically elected state and [where] people want to make a choice to join the European Union."
He told reporters: "We should be open to the idea of [treaty] change, particularly in the context of enlargement, if we're to bring in additional countries, around the whole issue of governance and how we actually conduct business."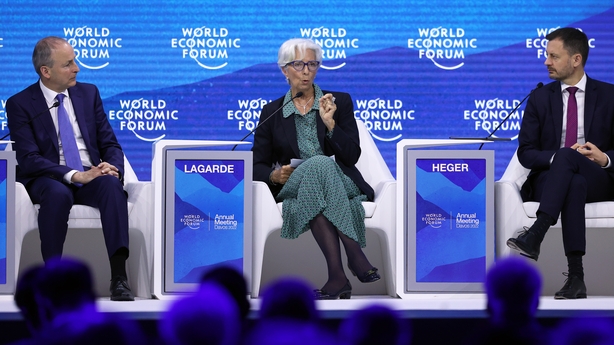 The issue of treaty change to allow the veto to be removed in more policy areas has been raised as part of the Conference of the Future of Europe, which recently concluded under the French Presidency of the EU.
The Taoiseach said the veto was rarely used at European Council or at ministerial level because countries preferred to adopt measures by consensus.
Changing the treaties to extend qualified majority voting (QMV) is something that should be looked at in the EU's foreign policy, including enlargement, he said.
The accession process for a number of western Balkan countries is currently frozen because of the opposition of a number of larger member states.
The Taoiseach said the EU had to be more assertive in the enlargement process, including for Ukraine and Georgia "in the fullness of time".
He told reporters at the World Economic Forum: "Europe can't complain about Russian meddling in its neighbourhood if the European Union stalls and doesn't work proactively.
"I'm simply saying that we're not closing the door to treaty change. We're open to discussions. And I think that's how Europe works. We discuss, we engage on issues… As the world changes - the world never stands still - we can't stand still either."
NI Protocol: 'Frustration across Europe' over UK's threat
Mr Martin said there had been "considerable frustration across Europe" over the UK's threat to introduce legislation to overturn the Northern Ireland Protocol.
"They signed up to an international agreement and then issue statements talking about unilaterally undermining the same agreement. That doesn't sit well.
"The European Union is very anxious to reach a conclusion, to negotiate through the [European] Commission to reach a settlement on the legitimate issues that have been raised in respect of the operation of the protocol in Northern Ireland," he said.
He added that countries do not behave in the manner the UK is currently behaving. "We're for the rule of law, we're for multilateral agreements with good international engagement. Unfortunately, the move by the United Kingdom government flies in the face of that, and that more than anything was frustrating to EU member states.
"There are mixed messages from the UK government: on the one hand they're saying, we're anxious to get involved in negotiations but there's a gun on the table, and on the other hand saying, if we don't get the agreement we want we're going to bring in legislation unilaterally anyway.
"That doesn't create the right atmosphere for negotiations."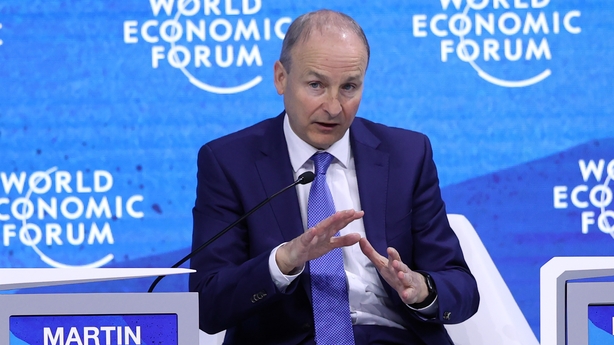 He said the UK and European Commission should get back to technical talks on the Commission's October package of measures to reduce the burden of the protocol.
"That represented a very significant advance on the EU's previous position. It wasn't reciprocated by the UK government. But the UK government should come with detailed proposals particularly around the movement of goods from UK to NI, that's the biggest issue I found in Northern Ireland when I met with unionist parties and with other parties as well."
The Taoiseach said it was "very clear in Northern Ireland… that no one wants to end access to the single market. The trade and business representatives were very clear about the advantages of that. The whole manufacturing sector benefits from it, the meat and dairy sector [benefit] as well as other sectors."
Calls for Ireland to lobby for Ukrainian EU membership
The Taoiseach's comments come as the head of Ukraine's parliamentary committee on integration into the European Union called on Ireland to advocate in favour of Ukrainian membership.
Appearing before the Oireachtas Committee on European Affairs, Ivanna Klympush-Tsintsadze thanked Ireland for its support of Ukraine's bid for candidate status.
However, she also appealed to politicians to reach out to "sceptical colleagues" in other countries.
Speaking from Davos, Ms Klympush-Tsintsadze's said that member countries should not be "hiding behind" legal difficulties.
Her words were echoed by other members of the committee.
Fine Gael's Neale Richmond said that Ireland would like to see Ukraine join the EU "quickly and not in 10 or 20 years ... like other larger states have negatively said," he added, referring to France.
Ms Klympush-Tsintsadze told Mr Richmond that Ukraine was "not starting from scratch" in terms of seeking EU membership and that a process was under way long before the illegal invasion of her country.
However, she acknowledged that further work had to be done, adding that anti-corruption mechanisms have been put in place in her country, but they have yet to be properly tested.
Ms Klympush-Tsintsadze added that rule-of-law also had to be "exemplary" in order to meet EU standards.
She said that "every single day" Ukraine was suffering additional losses in terms of its economy and infrastructure.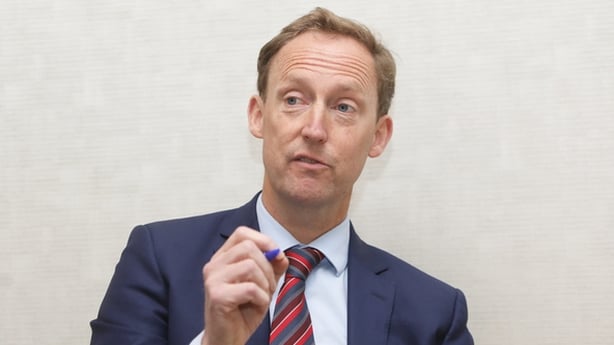 The committee was told that only after the war will the world learn about the scale of damage inflicted.
Fianna Fáil MEP Barry Andrews also attended today's committee hearing and joined calls for Ukraine to be granted EU membership candidate status.
He said that when Ireland joined the European Union, the country was "very poor, not quite as socially progressive as we are now and in a heightened state of tension around conflict on the island of Ireland in 1972. And yet we absolutely blossomed."
Mr Andrews asked if there would be a negative reaction in Ukraine if it is not granted candidate status and if the European Union doesn't approve the sixth sanctions package.
Ms Klympush-Tsintsadze said "it would be extremely difficult to mitigate the negative effect of Ukraine not receiving the candidate status".
She added that she would like to see Ukraine granted NATO membership when the war is over. She told members that she believed Ukraine would ultimately win.
Members also heard from the Ukrainian Ambassador to Ireland, Larysa Gerasko, who said that the number of refugees arriving in Ireland is starting to level off.
Meanwhile, the Tánaiste has told party colleagues tonight that the "prevailing view" from participants at Davos this week, is that the war in Ukraine will go on for some time yet before there is a ceasefire.
Leo Varadkar told the Fine Gael parliamentary party meeting that there was a major effort to get grain out of Ukraine and the surrounding regions, due to fears of food shortages.
The Tánaiste also said that Chief Financial Officers of leading global
Additional reporting Tommy Meskill, Paul Cunningham