Trade negotiators for the European Union and the South American Mercosur trading block have reached agreement on a new free-trade deal.
It paves the way for a significant increase of imports of cheaper beef and other goods from South America.
The Mercosur trade deal has been almost 20 years in the making and involves Brazil, Argentina, Paraguay and Uruguay.
The region has 260 million consumers, making it the fifth largest market outside of the EU.
It is the largest free trade agreement negotiated by the EU to date and follows on from the completion of recent European trade agreements with Canada, Japan, Mexico, and Vietnam.
It comes at a critical time in global trade with the US engaged in trade wars on a number of fronts, including with China, and threatening more.
The Mercosur trade agreement still has to be fully ratified by the European Commission and by the European Parliament in a process that could take up to two years. 
It would see a sharp reduction in import taxes levied on European goods and services exported to the South American block and a reciprocal reduction in taxes on imports from those countries into Europe.
The deal is expected to be very beneficial to Europe's car makers, machinery manufacturers, and the chemical and pharmaceutical sectors, which are expected to grow their exports significantly.
However, the beef sector in Europe is expected to lose out as a result of a significant increase in the amount of cheap South American beef that will be allowed at a very low tariff rate into the European market.
European poultry, sugar, and ethanol producers are also expected to lose out to cheaper imports from South America.
The deal has been heavily criticised by the agricultural community in Ireland, with beef farmers in particular claiming their sector has been sacrificed for the industrial and service sectors who will be the main beneficiaries. 
Minister for Agriculture Michael Creed has said he is "very concerned" at the potential impact of the deal on the Irish beef sector.
Irish Farmers' Association President Joe Healy said this was a bad deal for Ireland, a bad deal for the environment, and a bad deal for EU standards and consumers.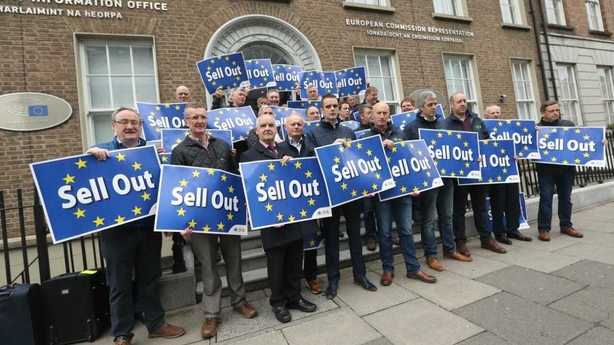 ---
Read more: EU/Mercosur trade deal - What you need to know
---
He said the trade negotiators have concluded a deal that has sold out Irish and European farmers and he called on the Taoiseach to make it clear to Brussels that Ireland will not ratify this deal.
He said that Europe turning a blind eye to double standards and environmental degradation in Brazil is indefensible.
Mr Healy accused the trade negotiators of conducting a backroom deal with big business that kowtows to the likes of Mercedes and BMW in their drive to get more cars into South America.
He claimed the deal is a disgraceful and feeble sell-out of a large part of Ireland's valuable beef market to Latin American ranchers and factory farm units.
The IFA leader said that farmers here adhere to the highest standards on traceability, animal welfare, food safety, and the environment. Farmers in Brazil do not, he said.
#Mercosur #trade deal done! A historical moment. In the midst of international trade tensions, we are sending a strong signal that we stand for rules-based trade. Largest trade agreement 🇪🇺 has ever concluded. Positive outcome for environment & consumers.https://t.co/AE5z78c81J

— Jean-Claude Juncker (@JunckerEU) June 28, 2019
The IFA National Beef Chairman, Angus Woods, pointed out that the beef sector is much more important to Ireland that any other European member state.
The European Commission Joint Research Centre has calculated that the Mercosur trade deal could potentially cost the European beef sector up to €7bn.
The IFA said that on the basis of those figures the cost of the Mercosur trade deal to the Irish beef sector could be between €500m and €750m.
Chief Executive of Bord Bia Tara McCarthy said earlier this week that a Mercosur deal coupled with a hard Brexit would be "an extraordinary double hit" for the Irish beef Industry.
I am satisfied that we have achieved a balanced #Mercosur deal. There will be both opportunities & challenges for EU producers - they will have the time + support from #EU to make any necessary adjustments. EU market access for sensitive products is limited & strictly controlled.

— Phil Hogan (@PhilHoganEU) June 28, 2019
The newly elected president of the Irish Cattle and Sheep Farmers' Association has said the deal is an "absolute disgrace, which completely undermines the EU's moral authority to lead on climate change".
In a statement, Edmond Phelan said the Irish beef sector will take the full brunt of the decision.