As polls opened and then closed on 8 November 2016, few could have predicted the outcome with certainty.
But after one of the most dramatic campaigns in US political history came one of the most dramatic victories.
Despite losing the popular vote by three million, billionaire businessman Donald J Trump swept the electoral college to win the race for the White House.
Fans had waited hours for him in a New York ballroom in the early hours of the morning.
And once the result became certain, the President-Elect and his entire family lined out on the stage.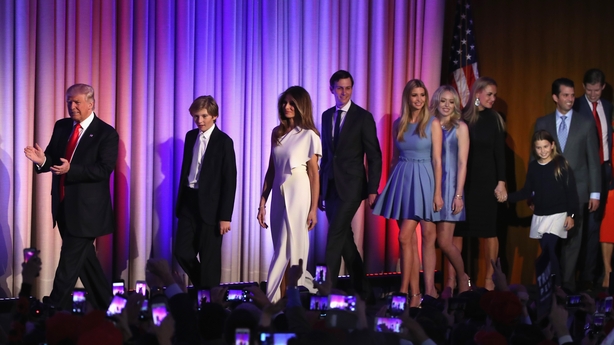 To cheers and chants of USA-USA-USA, he began: "I just received a call from Secretary Clinton. She congratulated us, it's about us, on our victory, and I congratulated her and her family on a very, very hard-fought campaign."
The noise was deafening.
Then followed two-and-a-half months of jostling, as members of the Republican establishment, some of whom had rejected candidate Donald Trump, and rank outsiders hoped for a position in his cabinet.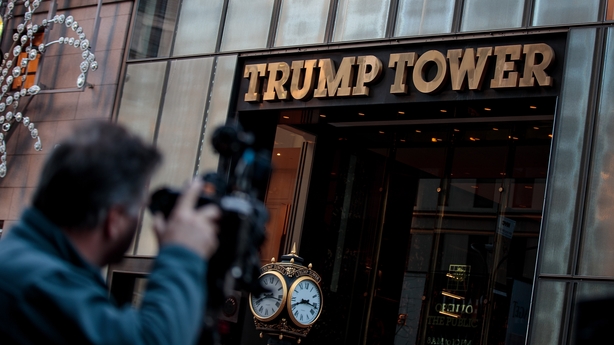 The media staked out the lobby of Trump Tower as the golden elevators opened and closed to reveal who had been for a meeting with the President-elect.
Then on 20 January 2017, Donald John Trump was sworn in as the 45th US President.
Painting a dark picture of America with his inaugural address, he said, of the current state of the US - "this American carnage stops right here and stops right now".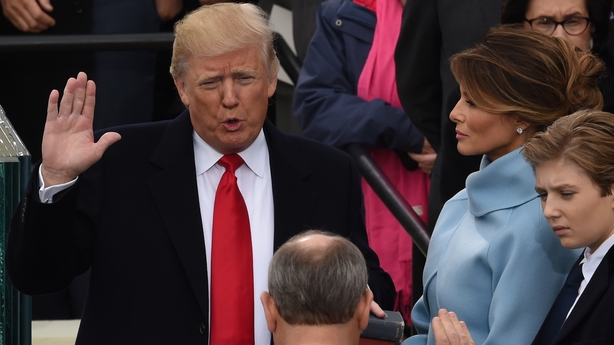 He outlined a policy that has coloured his domestic and world view ever since.
"From this day forward, a new vision will govern our land. From this day forward, it's going to be only America first, America first".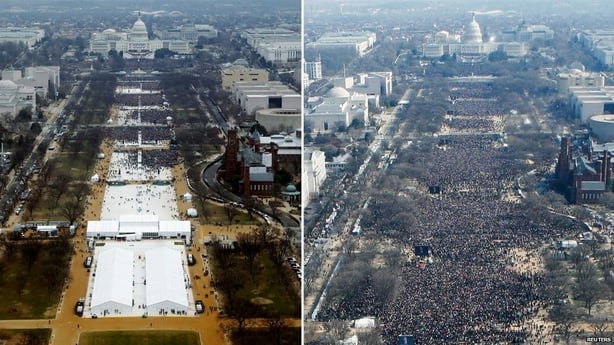 From day one, he has courted controversy, beginning with a now famous dispute over the size of his inauguration crowd.
Despite photographic evidence that showed there were fewer people crammed into the National Mall compared to that of his predecessor Barack Obama, the new ratings-driven president refused to accept the comparison.
He sent out his new Press Secretary, stalwart of the Republican National Committee, Sean Spicer to face down the White House press corps with an emphatic statement.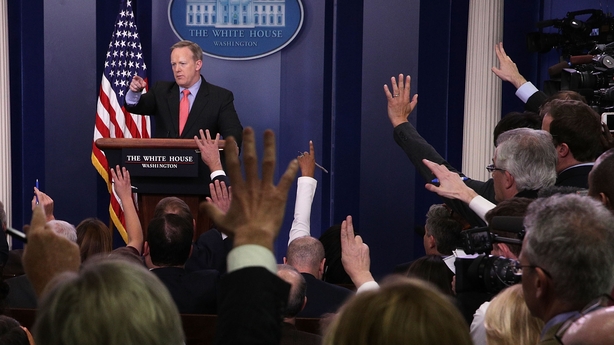 "This was the largest audience to ever witness an inauguration. Period."
Trump's first year – in 140 words
The A-Z of the first 12 months
Over the last nine-and-a-half months, President Trump has struggled to get some of his landmark policies passed.
Multiple attempts at a travel ban against immigrants against majority Muslim nations have been blocked by the courts.
Efforts to repeal and replace the Affordable Care Act, so-called Obamacare, have failed as Republicans on Capitol Hill cannot reach agreement.
Politicians refuse to release funding to build the president's promised wall along the Mexican border.
Already improving employment rates and stock prices have continued to rise under President Trump, as he pushes for the first reform to the US tax code since the Reagan era.
He has rolled back many corporate and environmental regulations, much of which attracted criticism.
He has announced he will end protection against deportation for young people brought to the US illegally as children, although says he wants to find a solution to protect them.
On the foreign policy, the president dropped the so-called Mother of All Bombs on a suspected Islamic State cave compound in Afghanistan and bombed an air strip in Syria in response to an alleged chemical weapons attack.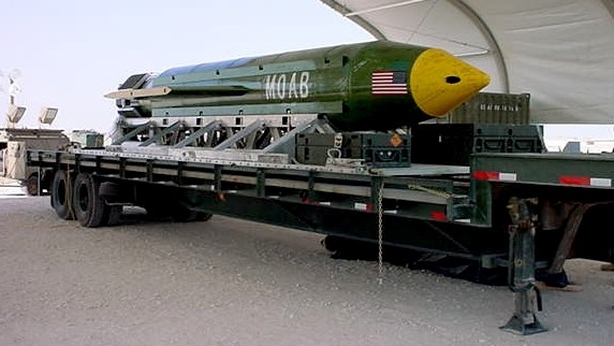 He has overseen an escalation of tension between North Korea and the US as Pyongyang has launched several intercontinental ballistic missiles, and engaged in a war of words with Kim Jong-un.
While on a supposed summer break at his resort in Bedminster, New Jersey, he said this:
"North Korea best not make anymore threats to the United States. They will be met with fire and fury like the world has never seen".
The quote sent shivers down the spine of foreign policy watchers, and escalated the rhetoric between the two leaders which has seen an exchange of insults between President Trump and the man he refers to as "Rocket Man".
And things have not been quiet in the White House either.
For those few people knocking me for tweeting at three o'clock in the morning, at least you know I will be there, awake, to answer the call!

— Donald J. Trump (@realDonaldTrump) September 30, 2016
The president has continued his love of Twitter, regularly tweeting a stream of statements before breakfast time, many of which have contradicted stated administration policy.
The president has also lost several key members of his team including his Press Secretary Sean Spicer, Chief of Staff Reince Priebus, Special Adviser Steve Bannon, Director of Communications Anthony Scaramucci, while he fired his National Security Adviser Mike Flynn and FBI Director James Comey.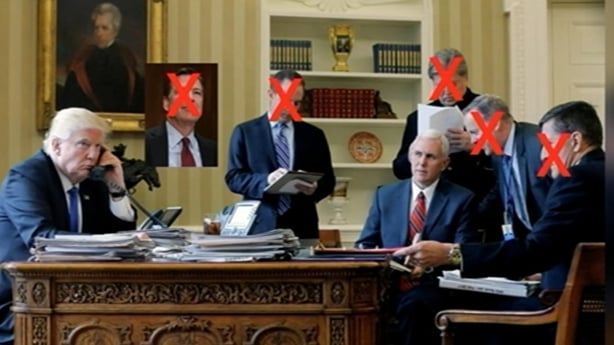 And through all of this, a shadow hangs over last year's victory as special prosecutor Bob Mueller continues to probe whether Russia interfered in the election, and whether there was collusion from within the Trump campaign.
The president is not marking the anniversary of the victory with the rallies he loves so much, but rather with a 12-day trip to Asia.
In his address to the parliament in South Korea, he warned North Korea not to underestimate the US and "do not try us" as he vowed that the US would defend itself and its allies against Pyongyang's nuclear threat.
While it may be only a year since Election Day and with another three to the next one, President Trump has already started fundraising for his re-election campaign in 2020.