Featuring high IQs, travel bans and slogans, Bannon, the Mooch and Gorsuch, a look at the 12 months since Donald Trump's election win.
---
A is for 'America First'
"America First, America First" - it is Donald Trump's most sacred mantra.
---
B is for Ban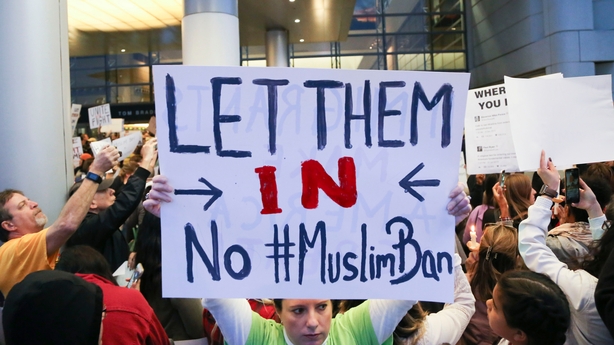 As in travel ban. Out of the blue, on 27 January, Trump signed an executive order imposing a 90-day ban on the arrival of people from seven Muslim majority countries and a 120-day ban on all refugee arrivals.
Chaos immediately broke out at US airports, with some travellers being detained upon arrival and security officials unsure how to implement the travel ban.
Nationwide, Americans staged protests against a measure widely criticised as discriminating against Muslims.
Trump said the order was designed to keep terrorists out of the US.
The ban was quickly blocked in court, as was a modified version issued in March that removed Iraq from the list of targeted countries.
The third iteration of the ban, which added citizens of North Korea and some Venezuelan government officials, was supposed to come into effect in mid-October. But again the courts stepped in to block it.
Refugee admissions are to resume, except for people from 11 "high-risk" countries, most of which are Muslim majority.
---
C is for Climate Change
Donald Trump: US to withdraw from Paris climate agreement but begin negotiations to 'make a deal that's fair' pic.twitter.com/q4aNd7t84V

— RTÉ News (@rtenews) June 1, 2017
On 1 June, Trump shocked the world when he announced that he was pulling the US out of the Paris climate change accord, arguing it would hurt the US economy.
He dismissed appeals from environmental groups, foreign leaders and industry that he stick with the 195-nation accord to fight global warming.
Framing the decision as part of his America First campaign, Trump said the accord was bad for the US economy and American workers, and gave other countries an unfair advantage.
"I was elected to represent the citizens of Pittsburgh, not Paris," Trump declared.
"We're getting out," he said. "And we will start to renegotiate and we'll see if there's a better deal. If we can, great. If we can't, that's fine."
---
D is for Dreamers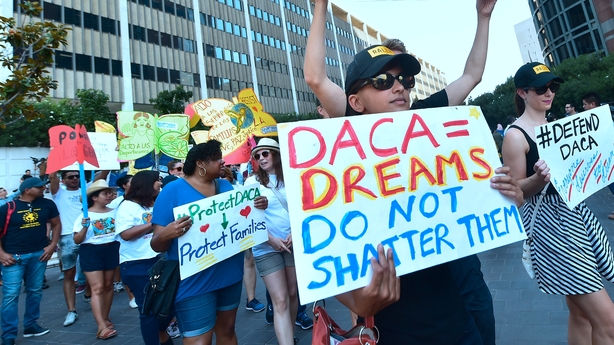 A term for hundreds of thousands of immigrants brought to the US illegally as children and until now protected from deportation under the so-called DACA programme, which Trump is phasing out.
---
E is for Exclamation Point
Perhaps Donald Trump's favourite punctuation mark? It is often found at the end of his myriad tweets.
"@AmandaJ1981: Watching episode 1 of the new season of The Apprentice in Melbourne, Australia! It's Boardroom time!! Love this show!!"

— Donald J. Trump (@realDonaldTrump) January 12, 2015
---
F is for 'Fake News'
"Fake news" is how the US president describes the output of mainstream media.
He consistently accuses the media of not giving him credit when he deserves it and of treating him unfairly by chasing what he considers non-stories - such as, he says, Russia's alleged interference to help him win election.
Coming up Trumps - The term 'fake news' has been named Collins' Word of the Year 2017 pic.twitter.com/jL6WVotQ27

— RTÉ News (@rtenews) November 2, 2017
---
G is for Gorsuch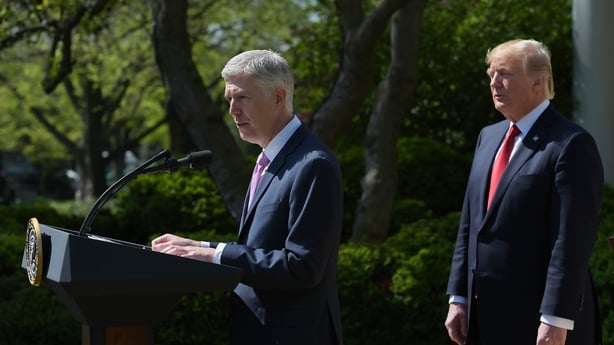 It is the last name of Neil Gorsuch, the conservative judge that Trump nominated to the US Supreme Court.
Judge Gorsuch was confirmed by the Senate after a year of political arm-wrestling in what many see as one of Trump's chief victories since taking office.
---
H is for Health Care
A central plank of Trump's campaign was repealing Barack Obama's signature health care law that gave coverage to millions of Americans who lacked it.
Mr Trump largely watched from the sidelines, albeit loudly, as his divided Republican Party tried repeatedly - and failed - to come up with an alternative.
H is also for Handshakes - there have been plenty of memorable ones this past year.
US President Trump and French President Macron just shared an awkwardly long handshake during Bastille Day celebrations in Paris pic.twitter.com/uyBo1FkknU

— RTÉ News (@rtenews) July 14, 2017
---
I is for Ivanka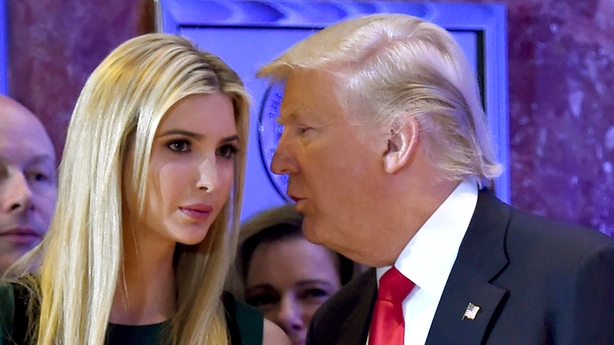 Mr Trump's eldest daughter was once seen as a potentially moderating influence on her unpredictable father, and perhaps a force to empower women.
She has since set the record straight, calling such expectations "unrealistic".
---
Jobs, Jobs, Jobs
Trump promised, upon taking office, that his pro-growth economic policy will create 25 million of them over a decade.
While that may be a stretch, the administration boasts that the jobless rate has fallen to a 16-year low under its watch.
---
Kellyanne Conway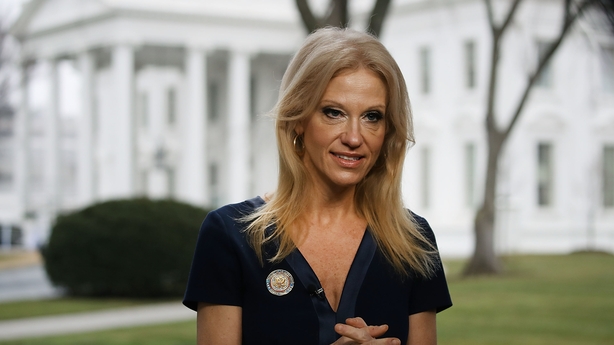 The senior Trump aide who, just days after the inauguration, gave the first sign that Trump's White House may take liberties with objective reality.
Ms Conway coined the term "alternative facts" to defend exaggerated attendance figures at Mr Trump's swearing-in ceremony.
---
Love
"Love fest", anyone?
It was Trump's way of describing a meeting with Republican politicians, the same day one of them accused him of debasing the nation and another said he would leave Congress to disassociate himself from Trump and his behaviour.
---
Mooch (The)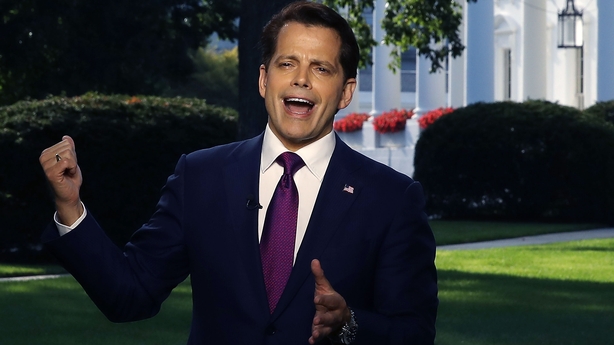 The Mooch - nickname of Anthony Scaramucci.
The New York financier lasted ten days as Trump's communications director until he strolled through the revolving door of a White House criticised as chaotic and riven by infighting.
---
Nukes
Donald Trump vows new North Korea threats will be hit with 'fire' https://t.co/iO2SHp7H9S pic.twitter.com/m7jiX5uWHp

— RTÉ News (@rtenews) August 8, 2017
North Korea has them and tests them, and Trump has threatened to destroy that country if it threatens the US or its allies in Asia.
Iran was feared to be developing them, until world powers reached a landmark 2015 accord curbing its nuclear drive, only to see Trump ignore advice from his allies and threaten to tear up the accord.
---
Outbursts
Setting the tone of his presidency, Trump has publicly humiliated his own attorney general, for instance, and locked horns with everyone from war widows to black American football players to a judge of Mexican heritage.
---
Puerto Rico
Puerto Rico was hit by a ferocious hurricane in September in what became a PR nightmare for Trump's administration and its disaster response.
It was exemplified by an image of the president tossing rolls of paper towels to survivors during a visit to the US island territory.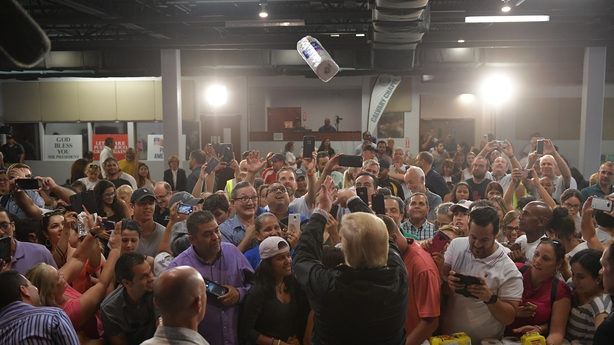 ---
(I)Q
Sorry losers and haters, but my I.Q. is one of the highest -and you all know it! Please don't feel so stupid or insecure,it's not your fault

— Donald J. Trump (@realDonaldTrump) May 9, 2013
Trump voiced confidence his IQ is higher than that of Secretary of State Rex Tillerson, who reportedly called Trump a moron, preceded by the 'F word', for expressing interest in a huge increase in the US nuclear arsenal.
---
Russia
Trump abruptly fired FBI director James Comey on 9 May, sacking the man leading a probe into whether the Trump campaign colluded with Russia in an effort to defeat Hillary Clinton in the November election.
Trump first claimed that he was displeased with how Comey handled a probe into Clinton's use of a private email server as secretary of state under then president Barack Obama.
But he later acknowledged publicly he had the Russia probe in mind when he fired Comey.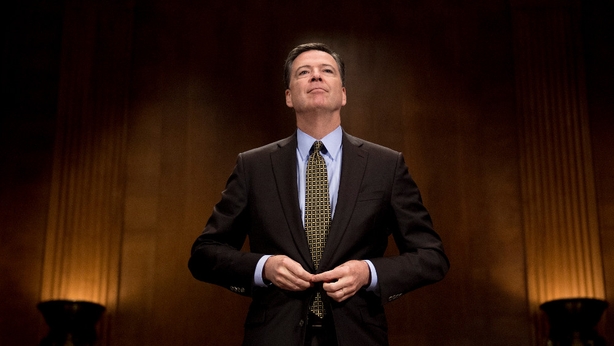 The sacking led to the Justice Department's appointing of a more powerful, independent counsel, Robert Mueller, to head the investigation into Russian election meddling, which Trump routinely dismisses as "fake news".
On 30 October, the Mueller-led probe yielded its first indictments: against ex-campaign manager Paul Manafort and a one-time business partner Rick Gates, and a former Trump campaign aide, George Papadopoulos, who has pleaded guilty to lying to the FBI about Kremlin-related contacts.
---
Steve Bannon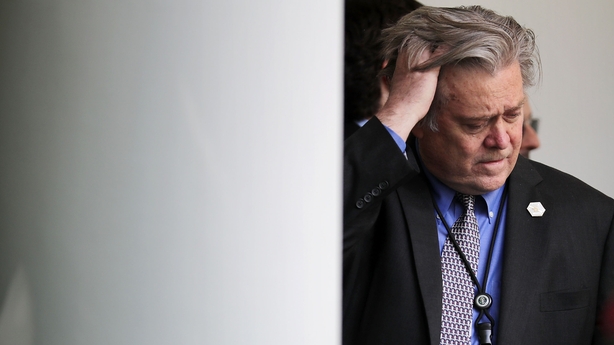 Bannon was among the most provocative members of Trump's inner circle.
He was the former chief of Breitbart, a popular conservative news website that faced criticism for fueling the so-called "alt-right" movement that includes racist, anti-Semitic and anti-immigrant elements.
Bannon left the White House as it was reeling from the fallout over Mr Trump's equivocal response to a white supremacist rally in Charlottesville.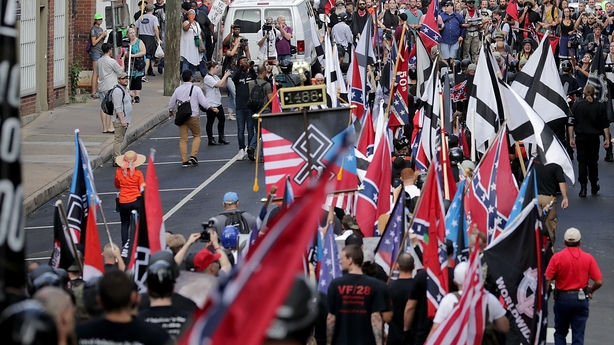 ---
Twitter
For those few people knocking me for tweeting at three o'clock in the morning, at least you know I will be there, awake, to answer the call!

— Donald J. Trump (@realDonaldTrump) September 30, 2016
Trump's favourite conduit for reaching his political base, talking himself up and attacking enemies real and perceived, at any time of day or night.
He has got more than 40 million followers!
---
USA
"USA-USA-USA" - a frequent chant at the campaign-style rallies Trump still holds.
---
Voters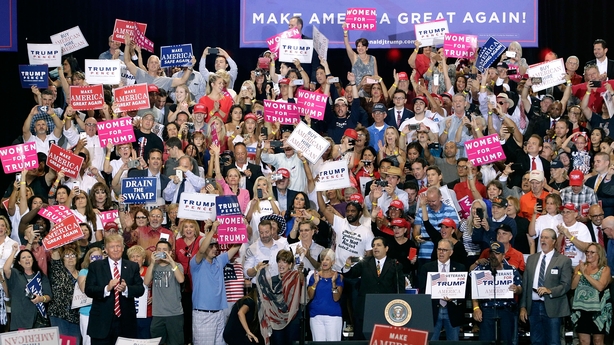 Donald Trump's fired-up base propelled his insurgent bid for the White House.
Polls suggest they still stand behind their man despite the turbulence of his first year.
---
Wall
The wall - a multi-billion dollar barrier Trump wants to build on the border with Mexico with the stated goal of keeping out drug traffickers and undocumented foreigners who Trump says steal US jobs.
---
Xenophobia
Intense fear of foreigners, a charge levelled against the Trump administration for its anti-immigrant stance, and notably as part of legal challenges to its travel ban.
---
'Yuge'
A phonetic rendering of Trump's way of saying the word "huge".
---
Zero
Another staple of Trump speak, a way to add negative emphasis, such as his assertion there was "zero collusion" between his campaign Russia.