Books of Condolence have opened in cities and towns across Ireland for the victims of the Manchester bombing.
Members of the public can sign the books at the Mansion House in Dublin and at the Atrium, City Hall in Cork.
President Michael D Higgins and his wife Sabina, as well as Taoiseach Enda Kenny signed a Book of Condolence this morning.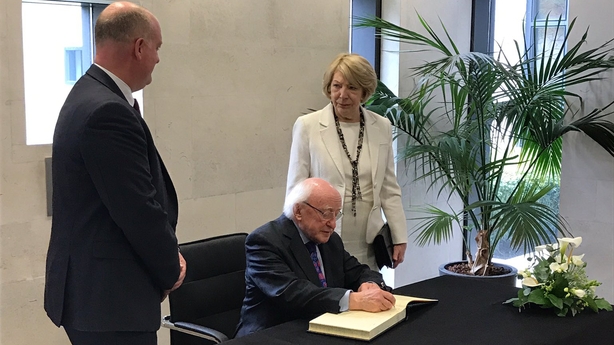 We mourn the loss of gaiety & innocence taken so savagely from you -we understand your grief, admire your courage & stand by you & with you. pic.twitter.com/2rsRAtwYy4

— Enda Kenny (@EndaKennyTD) May 24, 2017
Books of condolence have also been opened by Sligo County Council at County Hall, Riverside in Sligo and at Teach Laighne in Tubbercurry.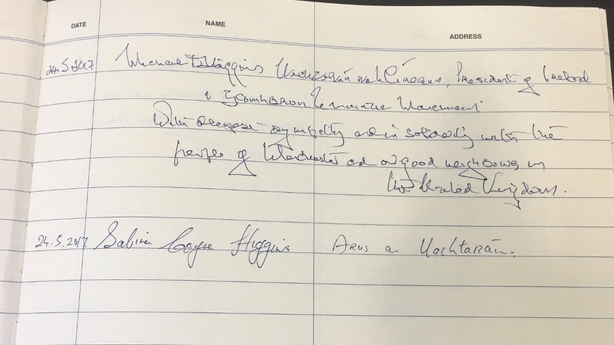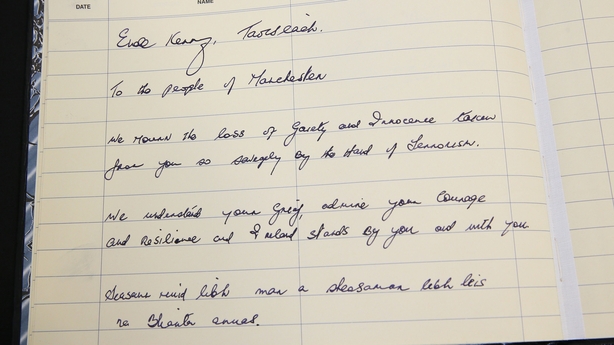 Meanwhile, Greater Manchester Police said it is "confident" it knows the identity of all the people who died in the bombing on Monday night.
Chief Constable Ian Hopkins also confirmed that one of the victims was a serving police officer.
The attack at a concert by US singer Ariana Grande left 22 people dead and 59 injured.
Twenty of the injured are said to be in "critical care" in hospitals across Manchester with people suffering from horrific injuries including major organ damage and potential loss of limbs.
The latest victim was named as Nell Jones, a pupil at Holmes Chapel Comprehensive and Sixth Form in Cheshire.
---
---
Thousands gathered for vigil in show of defiance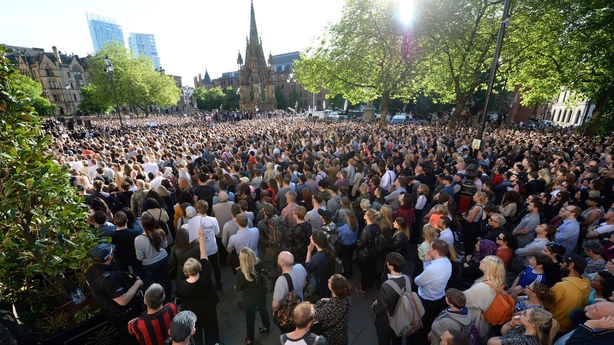 Thousands of people gathered in the centre of Manchester in a show of defiance yesterday evening, declaring they will not be afraid in the wake of the terror attack.
The crowd erupted into applause as the vigil began, and Lord Mayor of Manchester Eddy Newman said it was a chance to "express solidarity" with the victims.
He thanked the emergency services, prompting a rapturous response from the emotional crowd.
The square later fell silent as they remembered the lives of those who died.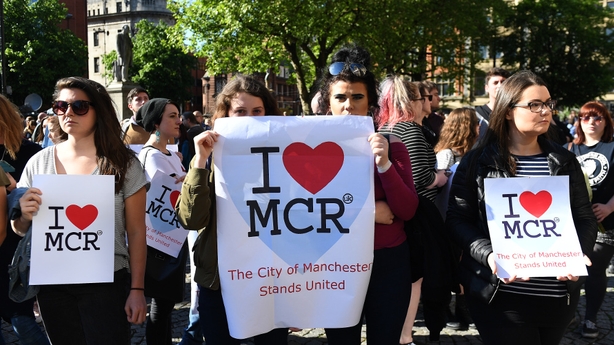 Poet Tony Walsh performed a touching ode to Manchester called This Is The Place, which sparked ripples of laughter, lightening the mood as the sun beamed on the Town Hall.
He described the city as "ace", hailed its "brilliant music" and said Mancunians "make people laugh" and "welcome".
Thousands of mourners went silent at yesterday's vigil as Poet Tony Walsh read his poem "This is the place" #Manchestervigil pic.twitter.com/PoFtCnu4Xm

— RTÉ News (@rtenews) May 24, 2017
In a poignant moment he referred to the "Mancunian way to survive" and "northern grit", and said: "In the face of a challenge we always stand tall."
Members of the public wept as they laid flowers and lit candles.
Many of the 59 people hurt in the attack were treated for life-threatening injuries.
Twelve of those rushed to hospital were children.