The father and a brother of the bomber who killed 22 people at a concert venue in Manchester have both been arrested in the Libyan capital, Tripoli.
The younger brother of Salman Abedi was arrested on suspicion of links with the so-called Islamic State, a spokesman for a local counter-terrorism force said.
The force, known as Rada, detained Hashem Abedi, who was born in the UK in 1997, yesterday.
Rada later said he was planning a "terrorist act" in the Libyan capital, without giving further details.
The attacker's father, Ramadan Abedi, was also arrested in Tripoli by the counter-terrorism force.
A spokesman for the Libyan authorities said that one of Salman Abedi's final acts before the murders was to ring his mother.
The spokesman said: "His brother felt there was something going on there in Manchester and he thought his brother would do something like bombing or attack. So after that, he told us, 'Having internet, I see the attack in Manchester and I knew that's my brother'."
The spokesman told BBC's Newsnight that Libyan authorities were aware of Salman Abedi going to Tripoli on 18 April and believed he stayed for two or three weeks.
He revealed that Hashem Abedi had been investigated for about a month-and-a-half over suspicions that he was linked to IS.
"We were not quite sure about this, but when we arrested and we asked him, he told us, 'I have ideology with my brother'. Hashem told us, 'I know everything about my brother, what he was doing there in Manchester'."
British police have confirmed that 22-year-old Salman Abedi was not acting alone.
"It's very clear that this is a network that we are investigating," Greater Manchester Police Chief Constable Ian Hopkins told reporters.
The developments came as the investigation was hit by further leaks to the US media, with the New York Times releasing crime scene pictures appearing to show bomb fragments and the hiking backpack used to conceal the explosive.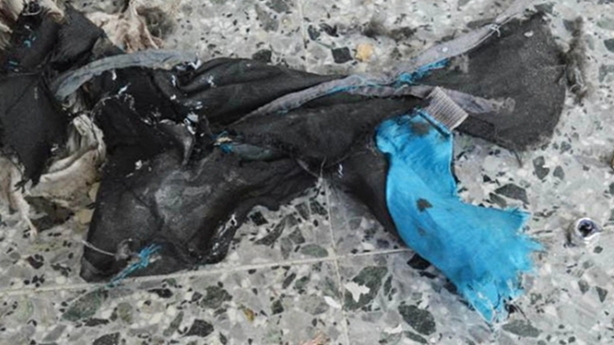 The National Police Chiefs' Council said the "unauthorised disclosure of potential evidence" to US media about the Manchester bombing investigation "undermines our investigations and the confidence of victims, witnesses and their families."
Prime Minister Theresa May announced last night that the terrorism threat level was being raised to "critical" - the highest alert level - meaning that an attack is thought to be imminent.
It is the first time the most serious rating has been reached for nearly a decade.
The move reflects fears that a "wider group of individuals" may have been involved in the attack, including the bomb-maker who provided Salman Abedi with his deadly device.
Six men and a woman have been arrested in the days following the attack.
We need your consent to load this rte-player contentWe use rte-player to manage extra content that can set cookies on your device and collect data about your activity. Please review their details and accept them to load the content.Manage Preferences
Salman Abedi was born in Manchester in 1994 to parents of Libyan origin, according to US sources citing British contacts.
Asked about reports that he had recently returned from Libya, Interior Minister Amber Rudd said she believed that had now been confirmed.
French Interior Minister Gerard Collomb said British investigators had told French authorities that Salman Abedi had probably travelled to Syria as well and that he had "proven links" to Islamic State.
---
Read more:
---
As Mr Collomb was speaking in France, Ms Rudd was asked by the BBC about the fact that information about Salman Abedi, including his name, had come out from the United States and whether she would look again at information sharing with other countries.
"Yes, quite frankly. I mean the British police have been very clear that they want to control the flow of information in order to protect operational integrity, the element of surprise, so it is irritating if it gets released from other sources and I have been very clear with our friends that should not happen again."
Islamic State said it was behind the attack, but there appeared to be contradictions in its account of the operation.
Earlier today, Ramadan Abedi denied that his son was linked to militants or the bombing.
He told the Associated Press his family "aren't the ones who blow up ourselves among innocents".
He described his son as having sounded "normal" when he last spoke to him five days ago, adding that his son had visited Libya a month-and-a-half ago.
Defence Secretary Michael Fallon told BBC News: "We need to establish as quickly as we can whether he [Salman Abedi] was part of a wider network and whether anybody else in that network had access to the explosives that he used on that terrible night.
"That is an ongoing investigation, it is an extremely urgent investigation, and it is a very fast-moving one - there have been developments today."
He refused to comment on where the investigation was going on in light of reports that the bomber had links to Syria, but said it was "very important to establish whether he was part of a wider network and whether other attacks on the British mainland are likely".