Six men are being held for questioning in connection with the Manchester concert bombing as a huge investigation into the attack gathers pace.
The latest arrest was at an address in Nuneaton, Warwickshire, where a man was detained following searches connected to the attack.
"These searches are connected to Monday's attack on the Manchester Arena, but this is a fast-moving investigation and we are keeping an open mind at this stage," the Greater Manchester Police force said in a statement.
A woman arrested on Wednesday evening following an armed raid on a block of flats in Blackley, in the north of Manchester city, has been released without charge.
Three men were detained after police executed warrants in south Manchester on Wednesday morning.
A fourth man was arrested in Wigan in connection with the attack on Wednesday afternoon. Police said he was carrying a package when he was arrested.
A total of seven people have now been detained in the UK as part of the inquiry into the atrocity after a 23-year-old man was arrested in the south of the city on Tuesday.
Searches carried out in Nuneaton pic.twitter.com/MYzehrc1Jj

— G M Police (@gmpolice) May 24, 2017
In Libya, the father and younger brother of the bomber Salman Abedi have been arrested.
Britain is on critical terror alert with military troops set to bolster police forces amid fears Abedi did not act alone.
The military will be providing armed guards for key locations across London including Buckingham Palace, Downing Street, the Palace of Westminster and embassies, Scotland Yard said.
Three more men arrested in Manchester in connection with Monday's suicide bomb attack https://t.co/WDxr2aDItm pic.twitter.com/Gd0r8jL23P

— RTÉ News (@rtenews) May 24, 2017
---
Read More: 
---
Prime Minister Theresa May this week raised the threat level to the highest possible rating, for the first time in nearly a decade, meaning another atrocity is expected imminently.
She said a "wider group of individuals" could have been involved in the Manchester Arena blast rather than just suicide bomber Abedi.
Interior Minister Amber Rudd, in a BBC interview, said it seems likely that the Manchester bomber was not acting alone.
French interior minister Gerard Collomb said Abedi is believed to have travelled to Syria and had "proven" links with the so-called Islamic State terror group.
Monday night's attack at a concert by US singer Ariana Grande left 22 people dead, including an eight-year-old girl, and dozens injured.
Of the 59 people injured, 20 are said to be in critical condition.
Counter-terrorism agencies have mounted a massive inquiry into the outrage, which was the worst terrorist attack since 52 innocent people were killed in the 7 July bombings in London in 2005.
Mrs May vowed that the "spirit of Manchester and the spirit of Britain is far mightier than the sick plots of depraved terrorists".
Among the first victims to be named were eight-year-old Saffie Roussos from Leyland and teenagers Olivia Campbell, 15, from Bury and Georgina Callander from Chorley.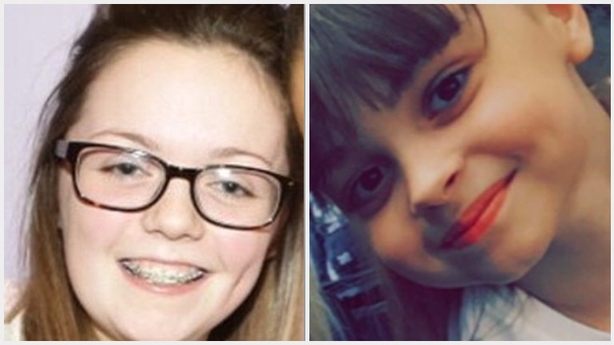 The self-proclaimed Islamic State group said it was behind the attack, which involved a home-made device packed with nuts and bolts that exploded in the venue's foyer as thousands of young people were leaving the concert.
Abedi, born in Manchester of Libyan descent, was known "up to a point" to the intelligence services, Ms Rudd has said.
The 22-year-old studied business at Salford University but dropped out before completing his degree.
Abedi was named after armed officers carried out a raid and controlled explosion at an address in south Manchester where he was registered as living.
Mrs May said Operation Temperer - allowing military personnel to take to the streets - is now in force.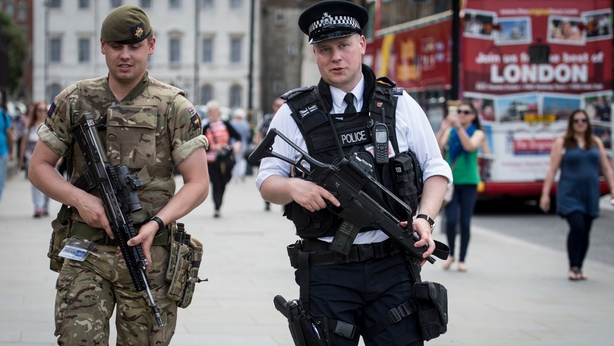 The country's senior anti-terror police officer said there were "gaps in our knowledge" about Abedi which had led to the increased threat level.
Metropolitan Police Assistant Commissioner Mark Rowley said: "We are moving at pace, we are making arrests, we are doing searches but - not unsurprisingly - there are still gaps in our knowledge.
"Whilst we are chasing those gaps down, on a precautionary basis, based on that judgment, JTAC (the Joint Terrorism Analysis Centre) have made this judgement about the threat level and we will respond in our policing stance to that decision."
Greater Manchester Police Deputy Chief Constable Ian Pilling said the raised level will support the "significant" resources the force has in place.
He also praised the "tremendous strength and resilience" shown in Manchester yesterday, adding: "We need this to continue in the difficult days ahead."