So Nikki Haley becomes, as expected, a contender for the Republican Presidential nomination. She is the second into the field, the first to challenge Donald Trump.
Right now, the Republican presidential primary contest is a field of two. Others will join Trump and Haley, but so far they are biding their time.
Although some are having difficulty concealing their ambition, such as Trump's former Secretary of State Mike Pompeo, who is publicising his book far and wide (and drawing praise for his weight loss).
Then there is New Hampshire Governor Chris Sununu, one of the most frequent guests on national network TV programmes, out of all the 50 Governors TV producers have to choose from.
And of course the Florida Governor, Ron De Santis. He too has not declared, but early on attracted the nickname Ron De Sanctimonious from Trump, indicating to the world that he is the one Trump fears most. Apparently.
There are seven or eight others mentioned in dispatches as potential primary candidates. Although the more that enter the field, the more it advantages Trump who, some pollsters say, can still count on about a third of the Republican voter base, a huge advantage in a crowded field.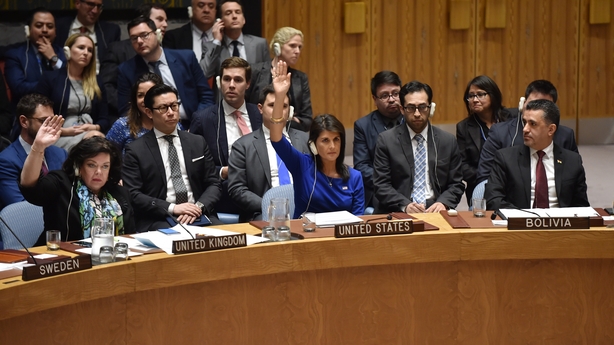 But other polls suggest that in a multi-candidate field, Trump would not get to the 50% + 1 mark needed for the nomination. So he has to smash down the candidates as they arise, a discouraging prospect for prospective candidates.
So can Nikki Haley make a difference? She is certainly a strong and credible candidate. She has government executive experience as a two term Governor of South Carolina, a state that had, and still has, a very strong record of economic growth based on industry and inward investment.
Haley has serious foreign policy experience as US Ambassador to the United Nations, sitting on the UN security council for two years. And she is highly rated as a communicator, and as a stump campaigner, someone who gets out and engages with the voters and sells policy well.
She got the UN job from Donald Trump, and appeared to have a good working relationship with him, getting a very cordial Oval Office send off when she stepped down as ambassador, unlike many who went through the revolving doors of the Trump White House.
The 51-year-old has said in interviews that she had a very good working relationship with the president, saying in her interactions with him she found him to be truthful, to be a good listener, and a good working partner.
Trump said in a recent video interview aboard his aircraft that when Haley told him she was considering a run for president, he told her "you should do it".
And he has not (yet) given her an insulting nickname. Some see that as a sign that he doesn't rate her as a challenger.
Or perhaps he is keeping his options open for a vice-presidential running mate. Or maybe there is nothing to be gained from getting into the trenches of party infighting too early.
And besides, Trump has other, more pressing matters, such as the publication on Thursday of the findings of a Georgia grand jury hearing on whether he should be prosecuted for attempting to subvert the result of the 2020 Presidential election in that state (remember the recorded phone call looking for votes?).
But in the campaign launch video today, Haley calls for generational change and sets out the limits of her loyalty to Donald Trump, without ditching Trumpism. She said that in seven of the last eight presidential elections, Republicans have lost the popular vote, and that has to change.
Get excited! Time for a new generation.

Let's do this! 👊 🇺🇸 pic.twitter.com/BD5k4WY1CP

— Nikki Haley (@NikkiHaley) February 14, 2023
She doesn't mention Trump, but says "Washington" has let the voters down, and does name Joe Biden, before stating "it's time for a new generation of leadership to rediscover fiscal responsibility, secure our border, and strengthen our country, pride and purpose".
She appears to want to hang onto the Trump legacy, whilst at the same time tacking to policy formulas that appeal to a broader base, such as condemning Trump over the 6 January attack on the Capitol (though she also opposed impeaching him over the incident).
Over a picture of her at the UN Security council, she says "I don't put up with bullies", adding that when you kick back at a bully, it hurts them more when you are wearing heels.
Her home state, South Carolina, is number three in the Republican Primary series. It is where the early field of runners is severely cut down. She is well known there, and this week is going to New Hampshire and Iowa, the other two early primary states.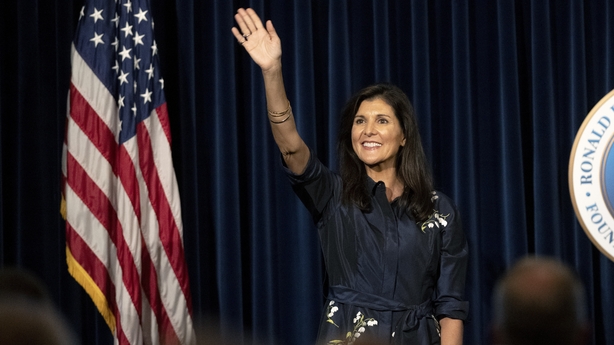 She is attractive to Republican fundraisers, so money will not be a problem (though money is really not a decisive factor in presidential contests – ask Jeb Bush).
Last week, the Wall Street Journal reported that political action funds connected to the Koch family have agreed not to support Trump, so a credible challenger will be well supported financially.
But her upfront appeal to changing political generations, pitting her against 76-year-old Donald Trump and 80-year-old Joe Biden, is something that resonates with voters of both parties, and independents.
An emerging Republican field of 40 to 60 somethings looks to be in better political health than the Democrats, where Biden is weighing up another run, and there is no obvious challenger (or substitute).
The best defence line any Democrat consultant has come up with for having such an elderly leader? Joe Biden is only nine months older than Mick Jagger.