Former South Carolina Governor Nikki Haley is challenging her one-time boss Donald Trump for the 2024 Republican presidential nomination, according to a video she released.
"I'm Nikki Haley and I'm running for president," Ms Trump's former United Nations ambassador said in the video, first reported by Axios.
The daughter of two Indian immigrants, Nimrata "Nikki" Randhawa was raised in Bamberg, South Carolina as a Sikh, but now identifies as Christian.
She is married to a South Carolina National Guard officer and has two children.
Ms Haley has gained a reputation in the Republican Party as a solid conservative who has the ability to address issues of gender and race in a more credible fashion than many of her peers.
She has also pitched herself as a stalwart defender of US interests abroad, having served as US ambassador to the United Nations under Mr Trump from 2017 to 2018.
During that time, the United States pulled out of the Iran nuclear deal, which was signed under Barack Obama and was highly unpopular among Republicans.
---
Analysis - Haley a strong and credible challenger for Trump
---
Get excited! Time for a new generation.

Let's do this! 👊 🇺🇸 pic.twitter.com/BD5k4WY1CP

— Nikki Haley (@NikkiHaley) February 14, 2023
---
Who is Nikki Haley
Here are key facts about Nikki Haley's life and political career.
Daughter of immigrants
Ms Haley, 51, has gained a reputation in the Republican Party as a solid conservative who has the ability to address issues of gender and race in a more credible fashion than many of her peers.
She is the daughter of two immigrants from India who ran a clothing store in rural South Carolina, and has spoken occasionally about the discrimination her family faced in a state where only 1.9% of residents are of Asian descent.
Ms Haley graduated from Clemson University in 1994 with a degree in accounting and helped expand her parents' clothing business.
She took on leadership roles in several business organisations before winning a seat in the South Carolina state legislature in 2004. She is married and has two children.
South Carolina governor
Elected governor in 2010, Ms Haley became the first woman to hold that post in South Carolina and the second person of Indian descent to serve as a state governor in the US.
She received national attention in 2015 when she signed a bill into law removing the Confederate battle flag from the grounds of the South Carolina state capitol following the murder of nine black churchgoers by white supremacist Dylann Roof.
She also appointed a potential presidential rival, Tim Scott, to the US Senate in 2012.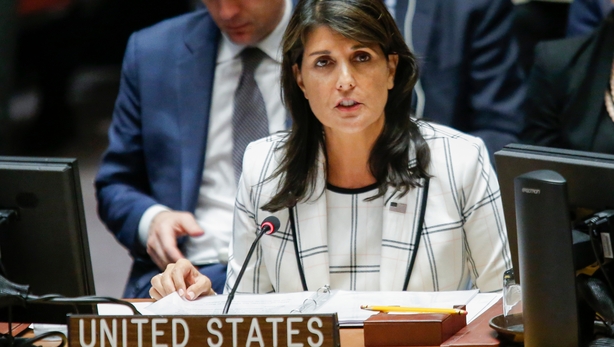 UN Ambassador
Ms Haley endorsed several rivals to Mr Trump in the 2016 Republican presidential nominating contest, and occasionally tangled with him during the primaries.
But she went on to serve as his ambassador to the UN, where she gained a reputation as a vocal defender of US interests.
Relationship to Trump
Since leaving the Trump administration in 2018, Ms Haley has distanced herself from the former president several times, only to later soften her rhetoric, saying he has an important role to play in the Republican Party.
She criticised mr Trump after his supporters attacked the US Capitol on 6 January 2021, in an attempt to overturn his 2020 election loss to Democrat Joe Biden, but later sought to make amends with him.
While she has criticised Republicans for falsely casting doubt on the results of the 2020 presidential election, she campaigned during the 2022 midterms on behalf of multiple candidates who supported Mr Trump's false election fraud claims.
She has also previously said she would not run for president if Mr Trump decides to run again - a stance she has now reversed. She did not attend a recent Trump rally at the South Carolina state capitol.