The Galway County Coroner has concluded in his verdict that a 26-year-old Donegal man died as a result of brain injuries after the perforation of his small bowel following a systems failure at Letterkenny General Hospital that led to medical misadventure.
Dr Ciaran McLoughlin said there seemed to be no satisfactory method in the hospital so that a patient could be transferred safely and securely from the care of one consultant to the care of another.
He said John Paul McCloskey was never under the care of a physician consultant when he was admitted to the hospital in Letterkenny in October 2016.
Dr McLoughlin complimented a nurse and a night manager at the hospital for their vigilance and behaviour when John Paul became seriously ill on 20 October.
The coroner said there is a need for somebody to be in charge and for somebody to take responsibility.
He suggested that under the old ward sister arrangement there might have been more vigilance about something like this happening.
Afterwards Mr McCloskey's mother Angela said she forgave all concerned for what happened, saying: "my poor John will now rest in peace".
She had earlier told the coroner's court that she was appalled by the way John Paul was treated.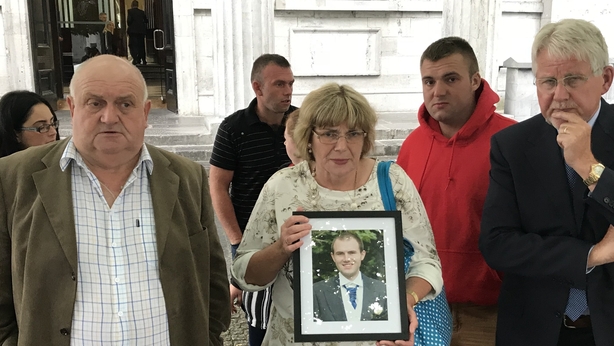 Mr McCloskey was admitted to Letterkenny General Hospital on 11 October 2016 complaining of vomiting and diarrhoea but was not operated on and died in Galway University Hospital on 20 October from septic shock after he suffered a perforated bowel.
The inquest was told that, after he was admitted to hospital, he was to be transferred to the care of a gastroenterologist.
The on-call consultant physician said she assumed this had taken place but in a statement presented to the inquest the gastroenterologist said he was never made aware of the case.
He was going away to a conference two days later and was only made aware of the case when he came back several days later.
At the inquest, Ms McCloskey said the last time she spoke to her son he said "I don't know what's happening to me mummy. I wonder did our lord suffer as much on the cross as I am suffering right now?"
She said after this conversation she demanded to see a doctor and sought an explanation about his care but it was too late.
Her son was then unconscious and never regained consciousness.
We need your consent to load this rte-player contentWe use rte-player to manage extra content that can set cookies on your device and collect data about your activity. Please review their details and accept them to load the content.Manage Preferences
Dr McLoughlin asked surgical staff at Letterkenny General Hospital why they did not take over the care of Mr McCloskey when asked repeatedly to do so by medical staff at the hospital.
The coroner said Mr McCloskey had a bowel obstruction that was visible on a CT scan, but surgical staff did not take over his care when initially asked to do so.
Two members of the hospital's surgical staff told the inquest they both examined Mr McCloskey and he showed little abdominal pain so they declined to proceed with surgery at that stage.
Dr McLoughlin said Mr McCloskey had no dedicated physician at the hospital and there seemed to be a mix up or delay in the treatment he received.