Neil Feighery and his partner Áine are just two of the unlucky ones.
Building a new home outside Tullamore in Co Offaly, Mr Feighery watched his twin brother's progress through all of 2019 and early 2020.
He made the reasonable assumption that the cost of building his own new home in the same county would be similar in terms of the overall budget.
"Instead of that, we have seen our house building costs rise by 30% or more in the last 12 months," he said.
"Everything has gone up by a staggering rate, from the price of a bag of cement, to the timber on the roof, to the steel.
"Now our bill to build a house comparable to my brother's is heading for more than €70,000 above our expected budget."
The blocks are still being laid on the ground floor of the house that Neil Feighery is building, but the Offaly man points to a pile of steel supporting beams on the ground nearby.
"In less than a year, we are paying over 30% more for those steel components - and we're still not finished the build."
Half an hour away in Athlone, builders providers' store owner Michael Ganly confirms everything that Neil Feighery said about the escalation in prices.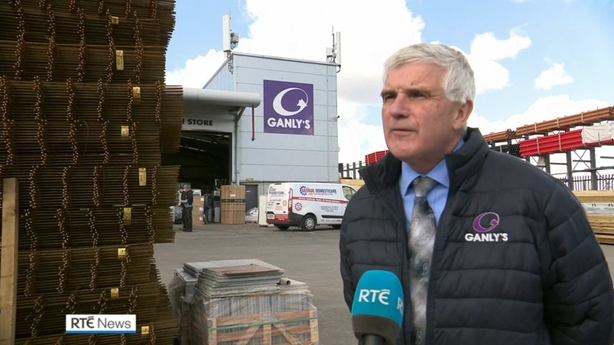 "It is simply incredible what has happened. The problems with sourcing timber are already well documented.
"The price increase there since before the pandemic is an astonishing 80%, steel prices have gone up by over 30%, and even plastics are costing 50% more in many cases," Mr Ganly told RTÉ News.
The shutdown in manufacturing in the Irish economy and much of the world's trade is blamed for the extraordinary escalation in prices.
Michael Ganly explained that building commodities are now being rationed. And the bad news is, there is no sign of an improvement on the horizon.
"The demand for building supplies has ramped up again, but the manufacturing has not," said Mr Ganly.
"While nobody wants to see a recession, prices are going to remain as they are, or perhaps go even higher, if the demand continues ."