Cicero once wrote that "of all forms of injustice, none is more flagrant than that of the hypocrite who, at the very moment when he is most false, makes it his business to appear virtuous."
It was in the end the hypocrisy which did for British Prime Minister Boris Johnson.
As the public remembered the incredible hardships endured during the Covid pandemic, the talk of parties and drinks in Downing Street elicited public anger and party discontent.
It was a glimpse of that elusive "normality" which people had sacrificed. That those lockdown lapses came from the very man who asked them to endure the deprivations of pandemic control measures was eventually a step too far.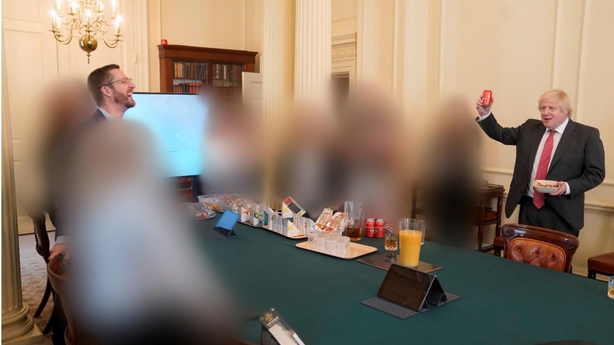 But it took a long time nonetheless, and the fact that many other politicians might have fallen on their sword at a much earlier point is testament to Boris Johnson's tenacity or truculence, depending on your view of him.
Fiercely ambitious, he has long been known as a man who can withstand things which other politicians couldn't, or wouldn't.
Mr Johnson's premiership teetered on the edge for months, as a series of self-inflicted crises looked to have damaged his leadership beyond repair. Within those crises, he rallied, able to muster support and carry on. Eventually though, a party worn down by a constant drip feed of drama, decided he was no longer worth the risk.
Boris - for he is one of the few politicians with enough brand recognition to be known by just his first name - never hid his aspirations. When asked as a child what he wanted to be when he grew up, Alexander Boris de Pfeffel Johnson is said to have replied "world king".
It was a level of ambition he carried with him throughout his life, as his parents moved from New York, where he was born, back to the UK, and then to Washington DC for his father's work.
It was a chaotic early life and as author Tom Bower notes in his biography on Johnson, 'The Gambler', the impact of his parents' divorce when he was a teenager would be significant.
"The pain", said Rachel (Boris Johnson's sister), "made him reckless". Recklessness was something he would often be accused of in both his journalistic and political career, but it also arguably made him more willing to take risks which often paid off for him.
He attended Eton and Oxford where he was a contemporary of another British prime minister, David Cameron. The two men were members of the Bullingdon Club, a private all-male dining club at the university known for its boisterous events. A club photograph taken in 1987 of Cameron and Johnson in formal dress would haunt both of them, with David Cameron often describing his embarrassment when it appeared during election campaigns or the inevitable discussions about his rivalry with Johnson.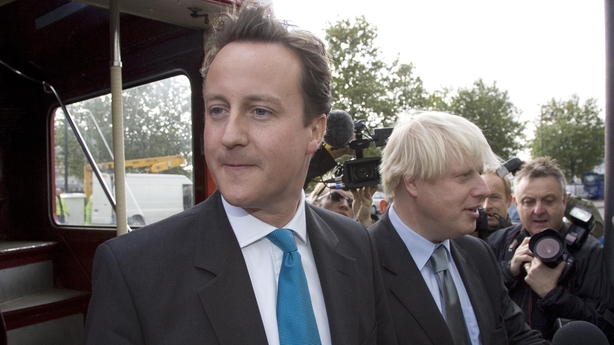 That rivalry peaked when Boris Johnson came out in favour of the Leave side in the Brexit referendum.
During his time as a journalist and a stint in Brussels as a European Correspondent, he was well known for his Eurosceptic stories.
Whether it was articles about the EU banning curved bananas or suggesting that the Berlaymont building would have to be demolished because it had been dangerously constructed, his stories often raised guffaws in the UK and raised the ire of EU officials who dismissed them as utterly false.
Johnson worked for both The Times and The Daily Telegraph, where his former boss Max Hastings would deliver a withering criticism of his former employee as he stood on the verge of becoming Prime Minister.
"I have argued for a decade that.....he is unfit for national office because it seems he cares for no interest save his own fame and gratification".
Writing in the Guardian in June 2019, Mr Hastings said: "I have a hunch that Johnson will come to regret securing the prize for which he has struggled so long, because the experience of the premiership will lay bare his absolute unfitness for it".
We need your consent to load this rte-player contentWe use rte-player to manage extra content that can set cookies on your device and collect data about your activity. Please review their details and accept them to load the content.Manage Preferences
Mr Johnson's often casual relationship with the truth would follow him from journalism into politics where, having been elected a Conservative Party MP in 2001, he was fired from his shadow cabinet position when his party leader Michael Howard discovered that Boris Johnson had lied to him about having had an extra marital affair.
While it damaged his political career in the short term it did not stop him becoming a popular TV guest known for his quick wit and clever turn of phrase on shows like Have I Got News For You.
That talent, as well as the ability to throw himself with abandon into situations many politicians would have avoided, served him well when he ran to be Mayor of London in 2007. From ziplining across a wire holding a Union Jack in his hand to cycling around London to waves from supporters, he developed the reputation as an "everyman", endearing himself to the public and going on to win a second term as mayor.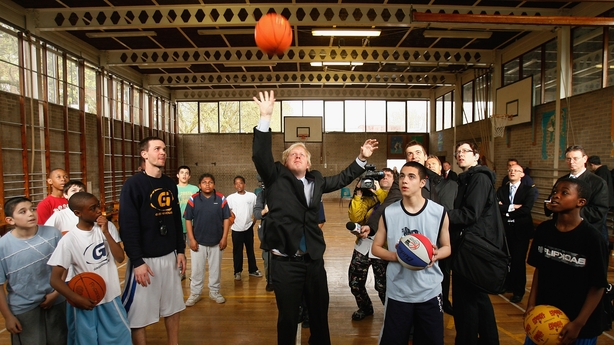 But amongst the highs, there were also lows, such as the criticism he received for staying on holidays during the London riots in 2011. He was booed by some when he arrived back into the UK capital to visit the scene of some of the worst damage.
But in spite of two terms as Mayor of London, his political touchstone would be Brexit. It brought him into direct competition with his old rival David Cameron who backed the Remain side. Having admitted that he was not sure he would support Leave or Remain, Boris Johnson's eventual decision to back an exit from the EU was seen by many on the Leave side as pivotal to their eventual success.
Perhaps his greatest strength was his ability as a campaigner, able to connect with voters across the socio-economic spectrum. Some were wary about his reasons for backing leave, suggesting he had done it in the belief that remain would win the vote, but his support of the leave campaign would earn him votes in the future from Tory eurosceptics if he chose to run as Tory party leader.
In the end the leadership contest would happen sooner than he had anticipated, as David Cameron announced his decision to stand down in the wake of the Brexit result.
Boris Johnson announced his candidacy for the vacant role, but it was scuppered by one of his closest allies, Michael Gove, who suddenly entered the contest.
Mr Gove declared that he had been forced into running because he simply did not believe Boris Johnson was not up the job. It was an almost Shakespearean move which took everyone by surprise, not least Johnson, who immediately withdrew from the race once it was clear he did not have the support to win.
To the surprise of many, the eventual winner, Theresa May, brought Mr Johnson into her Cabinet as Foreign Secretary as she sought to balance her government with those who had both backed and rejected Brexit.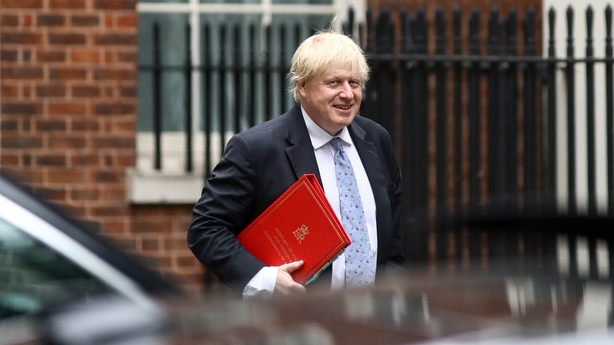 She was attempting to placate both sides of a bitter and rancorous divide, but as her premiership wore on the futility of that became obvious. Years of instability followed as neither faction felt content with the political path ahead.
When Theresa May's premiership came to an end, Boris Johnson was seen as the inevitable successor, with many in his party believing he was the only person who could deliver them from the quagmire of Brexit discussions and negotiations which were by that point weighing down every aspect of British political discourse.
Their belief in Boris Johnson's political skills seemed justified when he returned the Conservative Party a whopping 80 seat majority in the 2019 election, giving it it's best election victory since Margaret Thatcher in 1987.
He promised much as he began his terms as Prime Minister. He would "get Brexit done", massively increase spending in the NHS and infrastructure, and level up inequalities between the South and the North of England.
But as Theresa May's promises to the electorate were undone by the dominance of Brexit in her time, the arrival of the Covid pandemic just weeks after Boris Johnson won such a decisive majority would change everything. The virus dominated the political agenda and at one point left Boris Johnson in an intensive care ward battling for his life.
British Prime Minister Boris Johnson moved to intensive care after Covid-19 symptoms worsen. @seanwhelanRTE brings the latest from London https://t.co/Qb9XkOccsk pic.twitter.com/KoEGA2ZusO

— RTÉ News (@rtenews) April 6, 2020
He faced intense criticism for the way in which he handled aspects of lockdown, with some suggesting late decisions had cost lives, as the UK experienced one of the highest death tolls in Europe from the virus.
Aside from the health and economic repercussions, there was also the politics. Embarrassing revelations that his chief advisor Dominic Cummings had potentially breached Covid guidelines with a trip to Durham with his family dominated headlines for weeks, but Mr Johnson stood by his colleague. The revelations angered the public, though of course in hindsight, we know there was so much more yet to be revealed.
Having spearheaded a hugely successful vaccination programme, it seemed as if Boris Johnson might see the pandemic through to the other side. But by then Mr Johnson and Mr Cummings had fallen out in a spectacular fashion, with the former advisor giving a day of evidence to MPs about the machinations in Downing Street as the pandemic hit, including allegations that he heard the Prime Minister say "let the bodies pile high" as Johnson argued against a lockdown.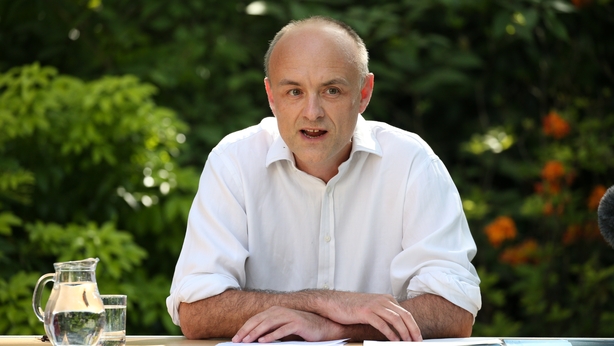 Then, before Christmas 2020, allegations emerged of a party in Downing Street during lockdown. There were denials, then newspaper revelations of more events. Then an apology from the Prime Minister. Then further revelations.
A Cabinet Office inquiry headed by Sue Gray couldn't fully report because a police inquiry had been launched in the interim.
The "update" Ms Gray did issue did little to allay the fears of nervous Tory backbenchers dealing with anger from their constituents over the incessant palace intrigue coming from Downing Street. She spoke of "failures of leadership" and revealed several further events were under investigation, including in the Prime Minister's own flat.
He eventually received a fixed penalty notice fine for breaching Covid rules, the first ever sitting British Prime Minister found to have broken the law in office. But in another demonstration of how quickly Boris Johnson could adapt circumstances when he needed it most, his supporters soon began to talk of how he had only received one fixed penalty notice, and not several as had been considered possible at one point.
He sought to use the publication of the full Sue Gray report as an opportunity to "draw a line" under the incidents. But that was easier said than done.
Many MPs in his own party reported anger from their constituents and eventually the threshold of 54 Conservative MP letters was reached calling for a vote of confidence in the party.
In June, the result of that vote saw him retain his leadership with a vote of 211 to 148. But it meant that 40% of his own parliamentary party did not support his leadership. Mr Johnson viewed it as a resounding victory. Others were convinced it had marked the beginning of the end of his premiership.
Two Conservative Party bye-election losses the same month June caused many in Mr Johnson's party to doubt whether he was the man they wanted leading him into the next general election.
A further crisis followed allegations of sexual impropriety against MP Christopher Pincher, who Mr Johnson had promoted to the Whips Office. Questions followed about what Mr. Johnson knew and when.
A senior civil servant accused the Prime Minister of being less than truthful in his recollections and another apology followed. But by then two senior Ministers had resigned. As Chancellor Rishi Sunak and Health Secretary Sajid Javid left their roles they accused Mr Johnson of ineffectual leadership and a lack of adherence to the rules of public office.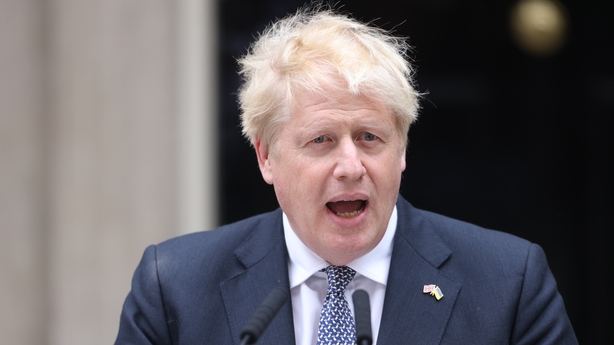 Inevitably, the dye was cast. Such a scathing assessment from those who had served in his Cabinet was something from which not even Mr Johnson could bounce back.
A man whose unique selling point was being a sure-fire vote winner was now seen as a political liability. That, in the end, meant there would only be one outcome, albeit taking longer than some had anticipated.