British Prime Minister Boris Johnson has said he "overwhelmingly" believes he should remain in office despite public anger at the "bitter and painful" conclusions of the inquiry into parties at No 10 Downing Street during the coronavirus lockdown.
An official inquiry into gatherings at Downing Street and Whitehall during Covid-19 restrictions has said the "senior leadership" in British Prime Minister Boris Johnson's government must "bear responsibility" for the culture which led to coronavirus lockdown rules being broken.
The report by Sue Gray said the public would be "dismayed" by a series of breaches of coronavirus rules in No 10 and Westminster.
It examined 16 gatherings during 2020 and 2021 and Ms Gray repeated her finding from an interim report that there had been a failure of leadership.
Speaking at a press briefing this afternoon, Mr Johnson said he recognised that people are "indignant" over the damning findings of Sue Gray's inquiry, but defied fresh calls to resign.
He said he takes "full responsibility" for the scandal but sought to play down his personal involvement in the gatherings detailed in the report by the senior official.
"I understand why people are indignant and why people have been angry at what took place," Mr Johnson told reporters.
But when asked if he had ever considered resigning, he responded: "I overwhelmingly feel it is my job to get on and deliver.
"No matter how bitter and painful that the conclusions of this may be - and they are - and no matter how humbling they are, I have got to keep moving forward and the government has got to keep moving.
"And we are. We will get on and continue to do the tough things."
Asked if he considered resigning over the 'shaming dossier' that is the #SueGrayReport, British Prime Minister Boris Johnson says 'I really think given everything that is going on right now, it's my job to get on and serve the people of this country' | https://t.co/M1TvnpXJNv pic.twitter.com/SShvcwvWGK

— RTÉ News (@rtenews) May 25, 2022
Mr Johnson said he had felt it was his "duty" to make an appearance at the farewell events.
He also said he had begun making inquiries about which staff had been rude to security and cleaning staff, and that he had apologised to them personally.
"On the behaviour of staff and alleged rudeness, I don't know who is specifically guilty of that," he told reporters.
"In the course of my apologies today, I began to make some inquiries and I will, of course, continue them.
"As I said earlier on, I think it is utterly intolerable for people to be rude to hard-working staff.
"At the very least, they should apologise but I don't yet have the names of those who were responsible."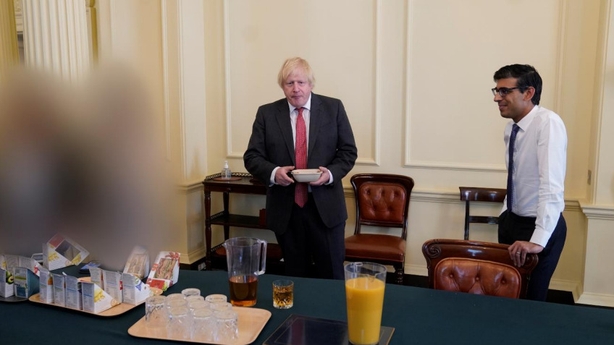 Ms Gray said Covid regulations were breached by a large number of individuals "even allowing for the extraordinary pressures officials and advisers were under, the factual findings of this report illustrate some attitudes and behaviours inconsistent with that guidance".
"The events that I investigated were attended by leaders in government. Many of these events should not have been allowed to happen," she said.
---
Johnson survives 'partygate' but scandal not over yet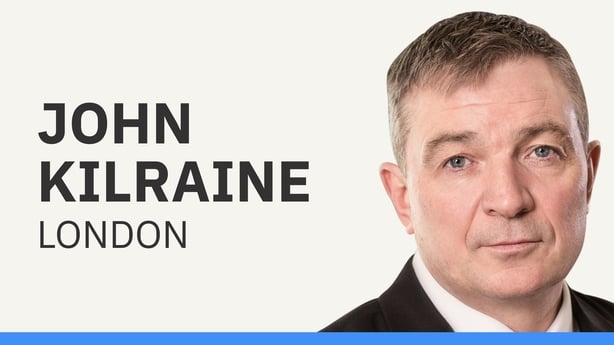 It seems as if Boris Johnson has survived the 'partygate' scandal - at least for now.
It is remarkable considering that while he was Prime Minister, Number 10 Downing St became the building to receive the most fines for Covid breaches in the whole of Britain. This, combined with the fact that opinion polls show most people do not believe him.
It is generally conceded that things would have been different if recent photos had been published in January when Mr Johnson was being excoriated in the House of Commons culminating with former Brexit Secretary David Davis telling him "in the name of God, go".
However, Sue Gray's report has come late in the day. After a passage of time along with the Ukraine war, the cost of living crisis and the lack of obvious successor, it seems that despite the fairly damning findings there is no huge appetite for a leadership heave. Read more analysis
---
The Metropolitan Police has issued 126 fines for rule breaches in No 10 and Whitehall, with the British Prime Minister receiving a single fixed-penalty notice for his birthday party.
But senior civil servant Ms Gray condemned the wider culture that had been allowed to develop under Mr Johnson's leadership.
She said some of the more junior officials who attended parties "believed that their involvement in some of these events was permitted given the attendance of senior leaders".
"The senior leadership at the centre, both political and official, must bear responsibility for this culture," Ms Gray said.
"I found that some staff had witnessed or been subjected to behaviours at work which they had felt concerned about but at times felt unable to raise properly."
She also said there were "multiple examples of a lack of respect and poor treatment of security and cleaning staff" during the events, which was "unacceptable".
"Many will be dismayed that behaviour of this kind took place on this scale at the heart of government," she said.
"The public have a right to expect the very highest standards of behaviour in such places and clearly what happened fell well short of this."
We need your consent to load this rte-player contentWe use rte-player to manage extra content that can set cookies on your device and collect data about your activity. Please review their details and accept them to load the content.Manage Preferences
Johnson denies lying to MPs
Mr Johnson had denied lying to MPs over the scandal but admitted it was not correct when he told Parliament earlier that the rules had been followed at all times.
He claimed to have been "vindicated" by Ms Gray's inquiry even though he has been fined for attending the birthday party thrown for him in the Cabinet Room in June 2020.
Mr Johnson has faced repeated claims that he knowingly misled Parliament - something which would normally result in the resignation of a minister - in his denials of wrongdoing while England was under coronavirus lockdown.
'Serious failure'
Ms Gray said that at least some of the gatherings in question represented a serious failure to observe not just the high standards expected of those working at the heart of government, but also of the standards expected of the entire British population.
One event in June 2020 involved excessive alcohol consumption, a fight and one attendee being sick, the report stated.
"The event lasted for a number of hours. There was excessive alcohol consumption by some individuals. One individual was sick. There was a minor altercation between two other individuals," the report said.
On another occasion on 15 May 2020, Mr Johnson brought the cheese and wine pictured in a garden gathering from his flat, according to the report.
Ms Gray wrote that the Prime Minister and advisers had a lengthy meeting in his office following a press conference before moving into the garden.
"The Prime Minister brought cheese and wine from his flat. The outdoor part of the meeting lasted for 40 minutes to an hour and they were briefly joined by the Prime Minister's wife, during which time the photograph was taken. Martin Reynolds subsequently returned to the office to continue working," she wrote.
"The Prime Minister remained in the garden until around 19.20. There is a further group of four individuals sitting at a table on the terrace. It has not been possible to identify these individuals, but there is no reason to suggest that this was anything other than a further work meeting."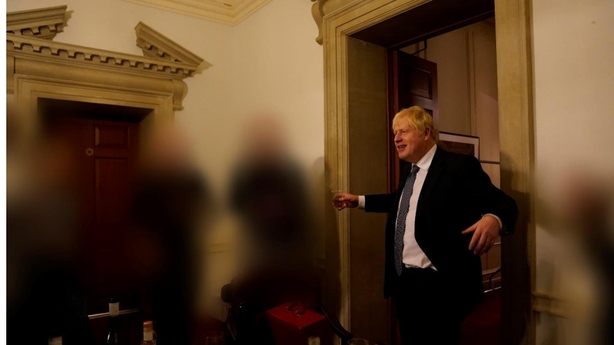 A leaving do for No 10 communications chief Lee Cain occurred when "Wine Time Friday" in Downing Street would normally take place, the report said.
Ms Gray said she was told the event on 13 November 2020 was not pre-planned and that Mr Johnson had joined the gathering on his way to the Downing Street flat.
The Prime Minister made a leaving speech and was among those pictured drinking alcohol at the event.
The report also said that Mr Cain warned Mr Reynolds and Dominic Cummings the 'Bring Your Own Booze' party on 20 May 2020 was "somewhat of a comms risk" and urged for the event to be cancelled, the report says.
According to the investigation, Mr Cain sent an email to Mr Cummings and Mr Reynolds which said: "I'm sure it will be fine - and I applaud the gesture - but a 200-odd person invitation for drinks in the garden of No 10 is somewhat of a comms risk in the current environment."
The report adds: "Lee Cain says he subsequently spoke to Martin Reynolds and advised him that the event should be cancelled. Martin Reynolds does not recall any such conversation. In addition, Dominic Cummings has also said that he too raised concerns, in writing. We have not found any documentary evidence of this."
According to an earlier, shortened version published in January, Ms Gray's investigation analysed events from 15 May 2020 to 16 April 2021.
The full publication into the parties was sidelined as the Metropolitan Police conducted its own partygate probe, dubbed Operation Hillman.
The force concluded its investigation on 19 May, with 126 fines being issued in total to 83 people.
Yesterday, Mayor of London Sadiq Khan wrote to the acting head of the Metropolitan Police Stephen House to explain the force's decisions over the investigation after pictures emerged of Mr Johnson drinking at a gathering for which he was not fined.