Britain's environment minister Michael Gove has confirmed he will enter the race to become the next leader of the Conservative Party following the resignation of Theresa May.
Speaking outside his home in west London, the Environment Secretary said: "I can confirm that I will be putting my name forward to be prime minister of this country.
"I believe that I'm ready to unite the Conservative and Union Party, ready to deliver Brexit, and ready to lead this great country."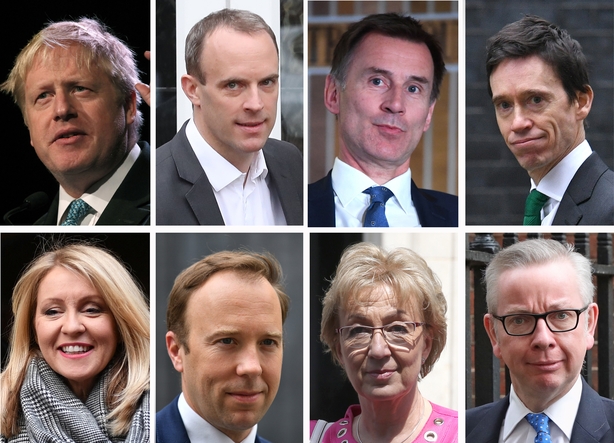 The prominent Brexiteer said he will join an already crowded field after Jeremy Hunt, Esther McVey, Dominic Raab and Andrea Leadsom threw their hats into the ring.
Mr Gove's intervention is likely to cause concern to current front-runner Boris Johnson.
A fall out between the two former allies in the 2016 leadership contest helped destroy both men's chances of the top job.
Mr Gove is posing as a self-styled "unity candidate". 
Asked if he thinks he can beat Mr Johnson, Mr Gove said: "I'm entering this contest because I want to put forward a positive set of ideas about how we can bring our country together.
"I believe I'm ready to unite this country and ready to unite the Conservative and Unionist Party, and I'm looking forward to a contest of ideas."
Ms McVey has said there will be no further extensions and the UK will leave the EU on 31 October, with or without a deal.
She also insisted there will be no hard border on the island of Ireland if there is a no-deal Brexit.
When challenged that the EU is planning to implement a border in the event of no-deal, she said it would be "invisible".
The former minister said technology is available to set up an "invisible border" between Northern Ireland and the Republic.
She added: "If there's no deal we know that the EU isn't going to put up a border, we know Ireland isn't going to put up a border.
"There will be an invisible border, the technology already exists to be able to put that in place." 
Mr Raab promised to keep a no-deal Brexit on the table while he tries to negotiate a better settlement.
The former Brexit secretary told the BBC's Andrew Marr on Sunday that the negotiations need to be more resolute than before.
He added: "I would fight for a fairer deal in Brussels with negotiations to change the backstop arrangements, and if not I would be clear that we would leave on WTO terms in October.
"We need to go out and be absolutely resolute in the way we weren't last time.
"It is achievable, but it will need some good will on the other side too."