Further details have been released from yesterday's RTÉ exit poll which suggests that Michael D Higgins is on course for a second term as President of Ireland.
The RED C poll gives the clearest indication about what will emerge once the people's votes are counted today.
Mr Higgins looks set to be re-elected as president with the poll measuring his support at 58%.
It also suggests that more than 70% of the electorate have voted to remove the reference to blasphemy in the Constitution.
A further breakdown of this research gives an insight into what most influenced voters' decisions.
The most important factor for those voting for Mr Higgins was his track record and experience, and his suitability to represent Ireland abroad.
We need your consent to load this rte-player contentWe use rte-player to manage extra content that can set cookies on your device and collect data about your activity. Please review their details and accept them to load the content.Manage Preferences

For Peter Casey, who the poll suggests has received the backing of 21% of voters, the main factors were his stances on social and political issues and what was termed an ability to stand up for ordinary people.
Given the intense focus during the campaign on spending at Áras an Uachtaráin, only 2% of voters overall said that the finances of the presidency was the most important factor when deciding which candidate to vote for.
The candidates' track record and experience was the most important issue for voters in deciding who to give their first preference to, followed by their suitability for the role, and their stance on political and social issues.
More voters thought that the candidates ability to stand up for ordinary people was more important than their knowledge of the constitutional role of the President in deciding their vote.
The poll has suggested that Mr Higgins is more popular among female voters and young people, as well as those in Dublin.
More than 43% of people who voted for Michael D Higgins did not give a second preference vote, according to the poll.
Overall, 34% of voters did not give a second preference.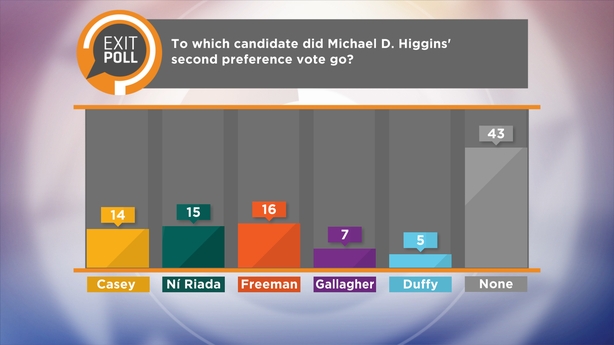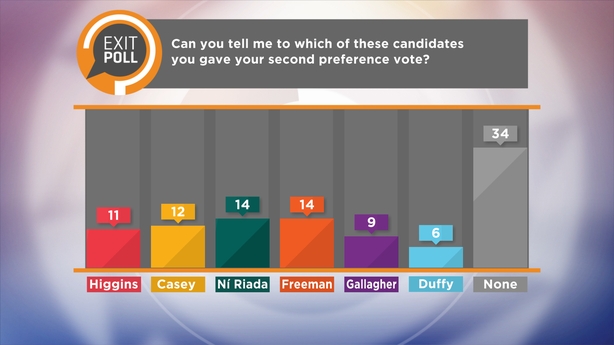 ---
Read more: 
---
Mr Higgins was popular with people living in urban areas in general, and among Fine Gael and Labour supporters.
Mr Casey was more popular among male voters. He was also popular with older people, farmers, people in rural areas, and among Fianna Fáil voters.
Liadh Ní Riada was slightly more popular with young people and those less well off.
She was more popular with people in Munster and Connacht, and with Sinn Féin voters.
However, much of the Sinn Féin vote went elsewhere - to Mr Casey and Mr Higgins.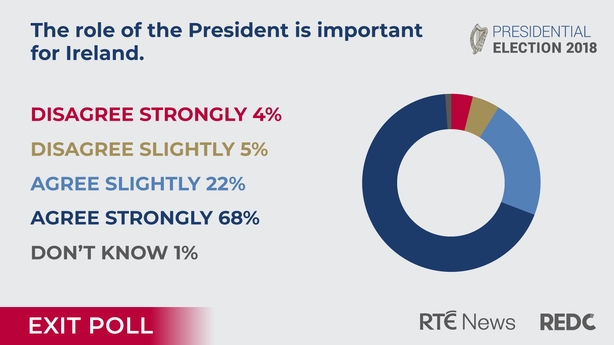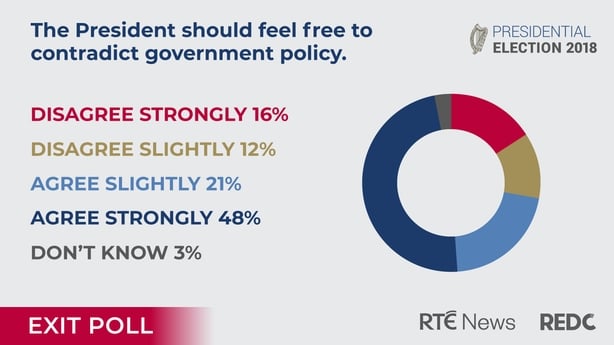 Overall, 89% of voters said they thought the Presidency was important for Ireland, while 69% said they believed the President should feel free to contradict Government policy.
More than 61% of voters said they believed the term of office should be reduced from seven to five years. 
60% of voters said they thought the role of the office was good value for money.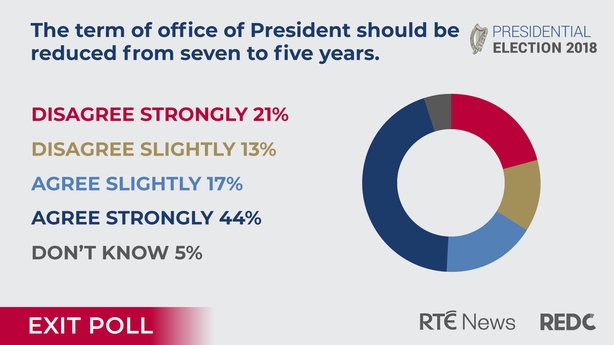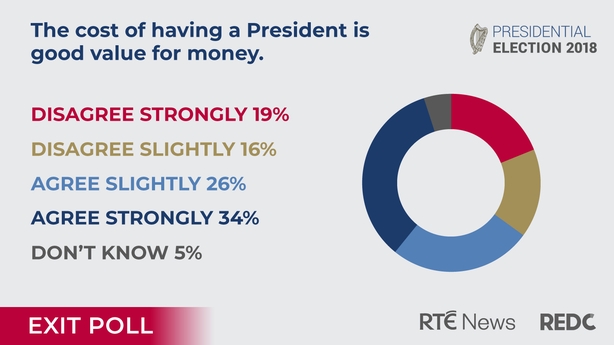 The less high-profile campaign over the last month has of course been the blasphemy referendum.
However, 98% of voters polled said they were aware of the referendum on Blasphemy before going to the polls.
The poll found that just a third of voters said they fully understood all the issues raised in that referendum.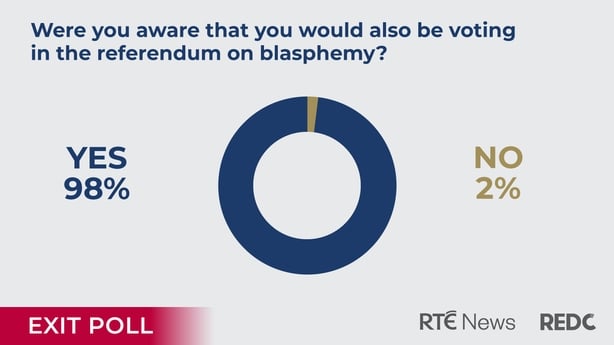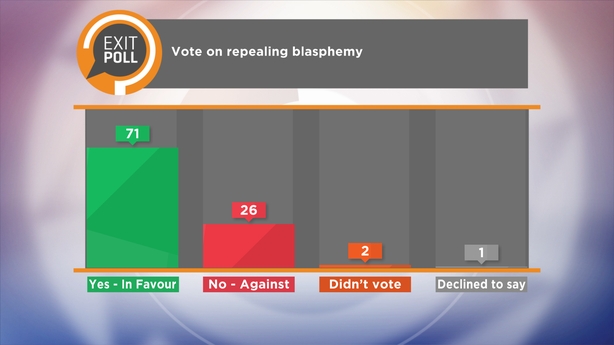 Voters were also asked about how they would vote if a General Election was to be held in the morning.
35% of voters said they would vote for Fine Gael, while 22% of voters said they be voting for Fianna Fáil.
Sinn Féin was on 15%, while Independents would receive 9% of the votes, and 7% of voters opted for the Labour party.
4% of voters said they would vote for the Green Party while 3% said they would vote for the Social Democrats. Solidarity-PBP and Independents 4 Change are both on 2% while the Independent Alliance were on 1%.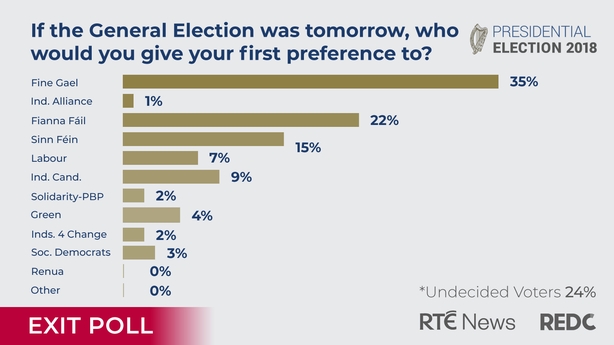 Voters were also asked about whether RTÉ should stop, or keep, broadcasting the Angelus.
Overall, 68% of voters said they would keep with the Angelus, while 21% said they would stop it, with 11% refusing to say.