Michael D Higgins has been elected for a second term as President of Ireland, with a total of 822,566 votes (55.8%).
The result was officially declared at Dublin Castle this evening.
In his acceptance speech, President Higgins spoke of the great honour that had been bestowed upon him.
He said: "The people have made a choice as to which version of Irishness they want reflected at home and abroad.
"It is the making of hope they wish to share rather than the experience of any exploitation of division or fear."
He said his version of Ireland is one which draws on traditional genius and contemporary creativity.
"The presidency belongs not only to any one person but to the people of Ireland.
"I will be a president for all the people, for those who voted for me and those who did not.
"I am so proud of this country, I am proud to be a president for all of you and with all of you, and I look forward with joy and hope to all that we will achieve together."

Watch: 'I hereby declare Michael D Higgins elected to the Office of President of Ireland' pic.twitter.com/HMh86lPsUz

— RTÉ News (@rtenews) October 27, 2018
The turnout of 1,492,338 voters represented 43.9% of the electorate, which was down 12.2% from the 2011 Presidential Election.
Mr Higgins is the first president to be re-elected to serve a second term in office since Éamon de Valera in 1966.
Patrick Hillery and Mary McAleese were re-elected without a contest in 1983 and 2004.
Independent candidate Peter Casey finished second on 342,727 votes.
He polled more than 23% of the vote nationally, some distance ahead of the other four candidates.
Businessman Seán Gallagher secured 94,514 votes (6.4%), Sinn Féin's Liadh Ní Ríada was third on 93,987 votes (6.3%), followed by Joan Freeman on 87,908 (6%) and Gavin Duffy 32,198 (2.2%).
Taoiseach Leo Varadkar said the Presidential Election was a historic victory and a very strong endorsement for Mr Higgins.
Earlier, the Taoiseach congratulated Mr Higgins in a tweet.
Congratulations @MichaelDHiggins. Really happy that you will continue to be our President for the next 7 years

— Leo Varadkar (@campaignforleo) October 27, 2018
---
Read more:
Still turning up - Michael D Higgins elected for second term
Full results, including constituency breakdowns
Presidential Election stories
---
The Taoiseach said in terms for the strong vote for Mr Casey there were different elements to it, and some of it was certainly anti-Traveller sentiment, which he could not condone.
However, he said some of it was also people making a protest at various things, and that when people registered a protest the Government had to listen to that.
Asked whether the RTÉ exit poll figures showing 35% support for Fine Gael gave him a taste for a General Election, the Taoiseach said it did not.
The RTÉ exit poll conducted by Red C also suggested Michael D Higgins was on course to be re-elected President, with the polling figures suggesting he would receive 58% of the first preference votes.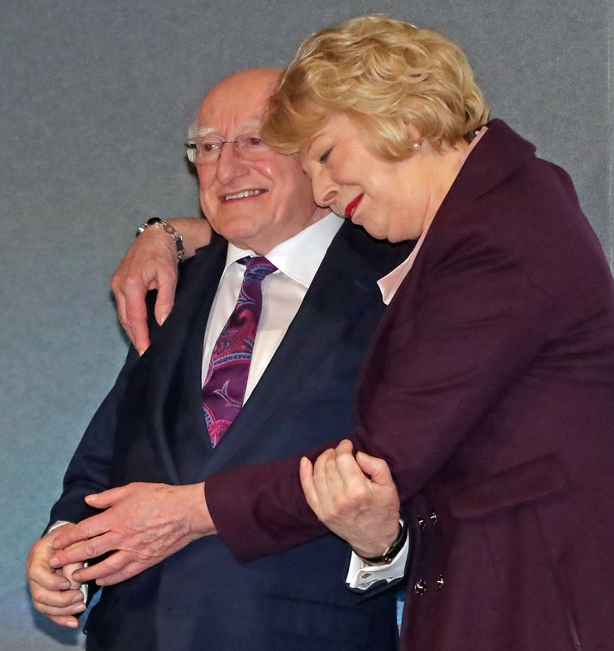 There were 3,474 people interviewed for RTÉ's exit poll on a random basis outside 138 polling stations across the country between 7am and 9.30pm yesterday.
Fianna Fáil Leader Micheál Martin congratulated Mr D Higgins on his victory.
He said his re-election was a testament to the way he has represented Ireland, at home and overseas, with dignity, respect and charisma over the past seven years.
"President Higgins' decisive victory with 820,566 first preference votes, representing nearly three in five of all voters, shows just how well he has connected with the people of Ireland.
"As Ireland seeks to commemorate the 1918 General Election, the War of Independence and indeed, the Civil War, I believe that President Michael D Higgins is the best person to lead us through this time that may prove difficult for some," he said.
Fianna Fáil leader Micheál Martin says Peter Casey achieving a "significant vote" in the election "has to be acknowledged". #Aras18 pic.twitter.com/sRcDBAUrA9

— RTÉ News (@rtenews) October 27, 2018
Sinn Féin leader Mary Lou McDonald TD said: "The people have spoken and delivered a huge mandate for Micheal D Higgins.
"With this mandate comes the responsibility to speak out on behalf of citizens, with a changed relationship with government and the opportunity to chart a new course of the Presidency with greater transparency and accountability.
"Ireland is changing; the next election should include votes for citizens in the north and abroad; the President should use his renewed mandate to represent all the people as we move towards Irish Unity."