A farmer in the midlands is celebrating a "one in a million" incidence of the birth of six lambs from one ewe on his farm near Birr in Co Offaly.
The event on the farm of Mervin and Lythia Hardy is one of the rarest ever to have taken place in a flock in this country.
Mr Hardy says the three-year-old Texel Cross ewe on the farm was mated to a Charollais ram and the mother gave birth to six lambs on her own over a seven-hour period on one day over the Christmas holidays.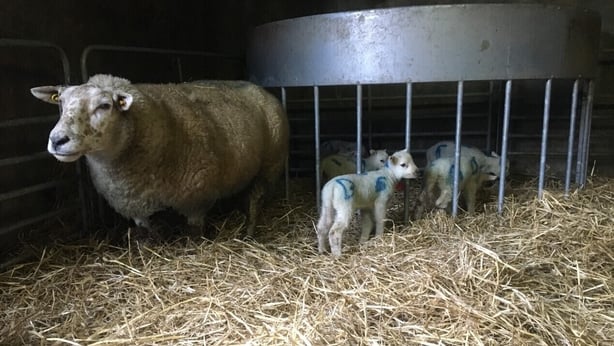 The family and their neighbour Michael Dolan, who works with Mr Hardy at the Grennan Feed Mill in Offaly, have named the lambs Carol, Ivy, Holly, Prancer, Lancer and Rudolf.
For a ewe to have one or two baby lambs is the normal expectation in a flock.
Three or four lambs is seen by most farmers as a bonus, but the chances of six births by the one mother on one occasion is as rare as one in a million.
The Hardys say they will retain the three new female lambs as breeding ewes on the farm and probably sell the three male lambs in due course as rams.