From the air it may look like a spaceship has crash-landed in the midlands countryside, but dozens of jobs as housekeepers, lifeguards, chefs, and gardeners are still on offer at the country's largest ever purpose-built holiday village in Co Longford - where 760 people began working in new roles this week.
"We have been blown away by the response from the public," General Manager of the new Center Parcs Longford Forest resort Daragh Feighery told RTÉ News.
He was speaking after an exclusive look behind the scenes at the park, which is built on the 400-acre forestry site located between Mullingar and Ballymahon.
The new forest village is attracting workers who previously were facing long daily commutes, according to Center Parcs management, and despite the fact that a significant portion of the workforce are starting on the minimum wage.
"We offer a range of options to people setting out on their new careers and we invest in our staff who are interested in progression," Mr Feighery said.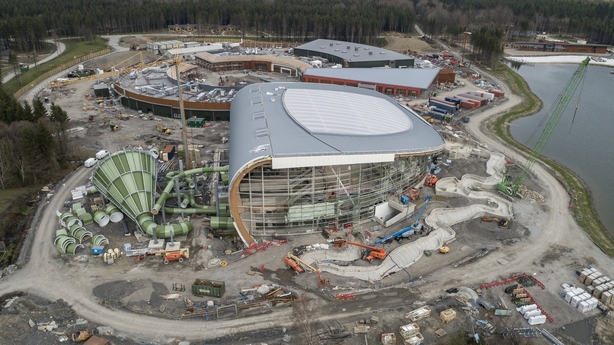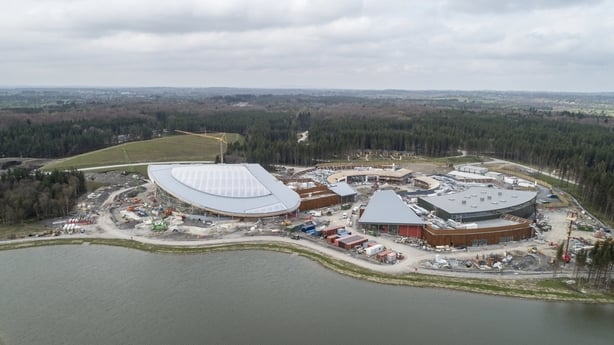 He repeated the claim that the company has not experienced any difficulty in recruiting.
"Our housekeepers are coming in already by bus from Mullingar and Longford every day," Mr Feighery said.
"And we have developed several routes so as to collect as many people as possible en route. We now have 85% of the staff recruited and we are well on the way to reaching our target."
Center Parcs said two years ago that the new €300m investment would lead to a site that would employ more than 900 workers when operational.
The race to finish the internal environs of the park is still on with dozens of construction workers and staff still focused on adding landscaping, sports facilities, and the finishing stages of Ireland's largest indoor swimming pool complex.
Center Parcs holds midlands recruitment drive
Center Parcs' investment in the site is one of the largest ever recorded in Irish tourism.
When the new park opens in mid August, it will have 466 lodges in a two, three and four-bedroom format, a 31-bed apartment complex and 100 leisure activities.
Mr Feighery has rejected suggestions that the park will have a big turnover of staff while it beds in.
"That's a fair assumption," he said. "But our experience is that we are saving people journey time in their new jobs.
"I have met people here already who were travelling daily to Dublin from Athlone and one staff member who was leaving at 6.30am in the morning to start work in the city centre at 9.30am."
Longford Forest is due to open in mid August, which is in line with the target set after Taoiseach Leo Varadkar turned the sod nearly two years ago.
It was built at a cost of €233m and the company, which is headquartered in the UK, was acquired last year by Canadian investment company Brookfield Asset Management in a deal believed to be worth €2.7 billion.