Westmeath County Council has won its legal case to have the cattle herds of three farmers ejected from a cow park near Edmondstown.
Judge Sinéad Ní Chúlacháin ruled that the council was within its rights to secure the court order since the trust that provided the three farmers with access to the land ceased in 2003.
Afterwards Mags Glennon, whose brother Pat was one of the farmers using the land since 1977, said they were disappointed by the ruling and that they had been given six weeks to have their cattle removed from the land.
During the hearing, another farmer told the judge she considered the property to be "the peoples' land".
Ann Harte gave evidence alongside her neighbours, Patrick Glennon and Frank Smith at a sitting of the Circuit Court in Athlone.
Mrs Harte said that farmers had looked after the land as if it was their own since 1977.
She said she did not accept that Westmeath County Council became the owners of the cow park after the trust ceased in 2003, but she admitted she kept paying an annual rent to the county council.
Mr Glennon admitted he was in a car that blocked access to the land in "a dawn raid" in 2014 when the council tried to remove their cattle from the cow park.
The three farmers claimed the trust, which has allowed them to use the land for four decades, was never formally extinguished.
However the court was told the Department of Agriculture notified them in 2003 that there could not be multiple herds grazing on the same land because of concerns over disease.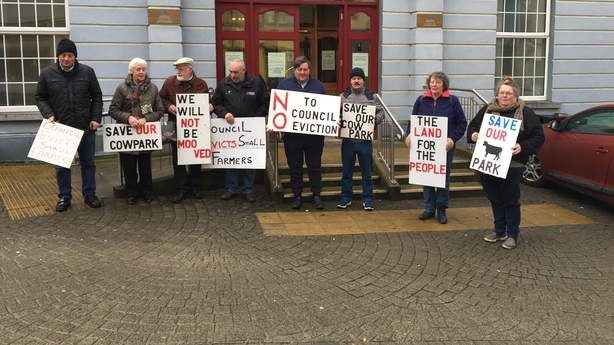 Before the case began, the farmers and their neighbours staged a vigil outside Athlone courthouse.
Cow parks are common all over the country, traditionally offering grazing lands to local people who do not have land of their own.