An independent assessment has described the Government's overall environmental performance last year as a "mixed bag", highlighting a "gap between ambition and action" and a "slow pace of implementation".
The report, which was commissioned by Friends of the Earth, noted that slippage on climate and energy commitments was not offset by improved progress on nature and transport commitments.
It also said that a lack of effort to address water quality was deeply concerning.
The Programme for Government contains nearly 300 commitments related to climate, nature and biodiversity, waste and the circular economy, water and the marine, air quality, transport, buildings, energy, and agriculture.
For the second year in a row, Friends of the Earth has commissioned a panel of academic experts to analyse the performance and produce a score card.
This year's experts were Dr Cara Augustenborg from UCD, Dr Diarmuid Torney from DCU and Dr Paul Deane from MaREI at UCC.
They analysed a compendium of data compiled by Rebecca Bailey and Peter Setevenson from UCD's Environmental Policy Programme,
The purpose of this compendium is to summarise the most up-to-date status of all environment or climate-related commitments in Ireland's 2020 Programme for Government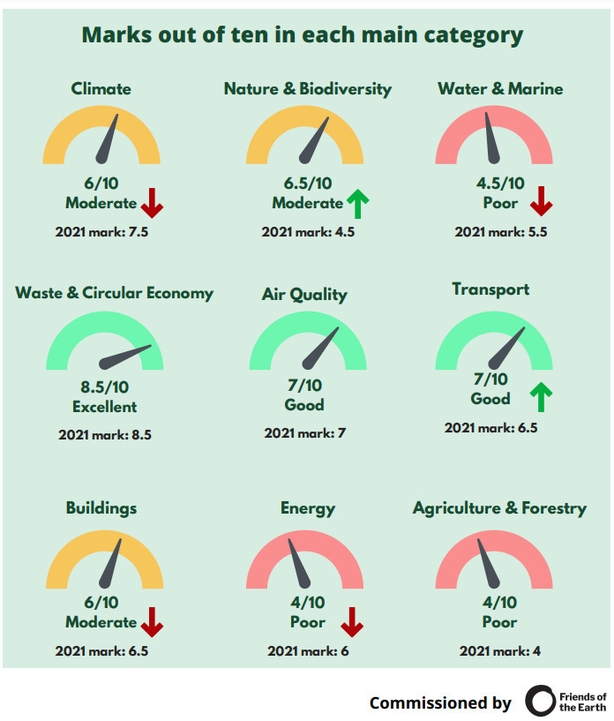 Their assessment was that although there was some slippage from an overall grade of "C plus" to a grade "C", moderate progress was nevertheless made.
The most notable improvements included national waste and the circular economy initiatives, the prioritisation of active and sustainable transport infrastructure, electric vehicle infrastructure, electric busses, rural mobility, greenways, and e-scooter legislation.
However, the report said those gains were outweighed by disappointing scores for climate action as Ireland's greenhouse emissions continued to rise while climate adaptation plans were sorely lacking.
The government scored poorly in relation to energy due to delays in plans to achieve renewable energy targets, particularly offshore wind, and planning restrictions for solar panels, as well as delays in addressing the growing demand for energy from data centres.
Commenting on the report the Chief Executive of Friends of the Earth, Oisin Coghlan, said: "We are in a climate emergency and the Government needs to start acting like it. They did it for Covid and Ukraine, but they just aren't doing it for climate."