Taoiseach Micheál Martin has warned Irish consumers of a "new era" of high energy prices because of Russia's war on Ukraine.
Hailing the deal reached by EU leaders last night to ban imports of two thirds of Russian oil, the Taoiseach has described a "watershed" moment which will force Ireland to accelerate offshore wind energy.
Arriving at the second day of an EU summit in Brussels, Mr Martin warned of "rocky territory" in the coming years when it comes to high energy prices.
This was due to a confluence of factors, such as climate change, the war in Ukraine and the EU's strategic plans to wean Europe off Russian oil and gas, known as RePowerEU.
Taoiseach Micheál Martin has warned Irish consumers of a "new era" of high energy prices because of Russia's war on Ukraine. | More: https://t.co/oTcDUyJ9QS pic.twitter.com/0wHZXPCiZv

— RTÉ News (@rtenews) May 31, 2022
"We are at a watershed moment in terms of the European Union's dependency on Russian oil and gas," the Taoiseach told reporters.
"RePowerEU will bring about a more sustained and fundamental break with that dependency on oil and gas.
"If you dovetail that with our climate change agenda it is a watershed moment for fossil fuels in general, which will make for fairly rocky territory over the next couple of years in terms of pricing around fossil fuels.
"We cannot get away from that," he warned.
We need your consent to load this rte-player contentWe use rte-player to manage extra content that can set cookies on your device and collect data about your activity. Please review their details and accept them to load the content.Manage Preferences
The Taoiseach said: "We will do everything we can to alleviate the pressures on consumers, but if you look at the RePowerEU initiative and communication it's very, very clear that if you reduce permanently Europe's dependence on Russian gas and oil, that has implications for the global market over time.
"It will be challenging. There's no point in saying anything other than that," Mr Martin said.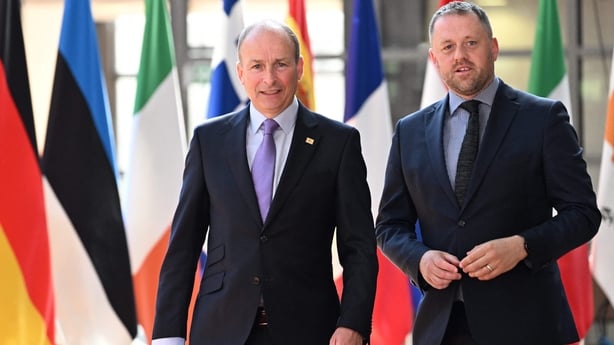 Cost of living
Asked if the Government would introduce any tax measures to help consumers with the cost of living, the Taoiseach said the Government had brought in €2.5bn of measures to alleviate the pressures on people.
"In the context of the budget, I did say we would explore with social partners how Ireland will take a more strategic response, which could embrace a range of approaches, including pay, investment and social services, budgetary measures at the time of the budget, which relates to both tax and expenditure.
"But all that is to be explored and has to be discussed in Government in the context of what's available to us in terms of the budgetary framework, and the one key certainty is the uncertainty that's ahead of us in respect of the impact of this war on the economy."
The Taoiseach said Ireland was not heavily dependent on Russian oil but the embargo would affect the overall market and prices would go up.
He said it wasn't clear by how much, but the Government had to be honest with people about the new reality.
Asked if Ireland could impose a windfall tax on energy companies, as had been announced in the UK, Mr Martin said Ireland's situation was different.
"We will assess that ... and what makes sense overall in terms of a sustainable market for us in Ireland.
"We import a lot of fossil fuels. We're not exactly masters of our own destiny in that regard.
"The most important thing we can do as a country is double down on renewables and really get timelines around offshore wind. That's the big game changer for Ireland over the next decade."
He said by the mid 2030s Ireland should be in a position to be a net exporter of energy "as opposed to a chronic importer of fossil fuels".
The Taoiseach said the Government had initiated exploratory discussions with the social partners on how to manage what he described as a "unique and very challenging set of circumstances which has created very difficult cost-of-living issues for people on the ground".
He said talks with unions would focus on pay, but also on childcare, education, health and housing so that "we can arrive at an agreement that doesn't make the situation worse from an inflationary point of view".
The Taoiseach said the EU's sixth sanctions package, agreed last night, would account for a "very significant" volume of Russian oil and that would hit the Kremlin.
"Clearly there were significant challenges for some member states which had to be taken into account," he said.
"Since the beginning of this war, the actions of [Russian President] Vladimir Putin have united Europe like never before."
However, each new round of sanctions brought greater difficulties and divisions.
Russian ambassador criticises Taoiseach remarks
Mr Martin said he was in no doubt that President Putin had deliberately planned an energy and a food security crisis in deciding to invade Ukraine.
"There is no doubt in my mind that part of Putin's strategy was to create an energy crisis and then to create a food crisis," he said.
"We are facing food security and famine across the Middle East and Africa."
Russia's ambassador to Ireland Yuriy Filatov criticised the Taoiseach's remarks and in a statement said the EU was to blame for food shortages and rising energy prices.
Mr Filatov also accused Europe and the US of being responsible for the war in Ukraine.
He said: "It is unfortunate that the Taisoseach does not even question certain erroneous assumptions about Russia.
"It would help to admit something that by now is common knowledge – that all along it had been EU sanctions against Russia, as well as mistaken financial and economic policies by the European governments that significantly distorted world energy and food markets in recent months.
"Attempts to shift the blame to others will not help to solve these problems."
The ambassador said the EU and US had patronised what he described as the "ultranationalist anti-Russian regime" in Ukraine.
He said the military conflict there was the result of the West's "policy of avoiding political settlement in Donbas, their insistence on NATO expansion and their refusal to discuss with Russia security guarantees."
"All that they in turn are now trying to portray as Russia's responsibility. It is the West's responsibility and it will have to face the consequences of its shortsightedness.
"Regrettably, it might be slow in coming – the results of the EU summit once again point at the acute deficit of common sense and rationality among European political leaders."
Speaking in the Dáil, Minister for Public Expenditure and Reform Michael McGrath said the Government will be as "fair" as it can be in addressing the rising cost of living and will agree the "appropriate budgetary stance" as part of the Summer Economic Statement.
Speaking during Leaders' Questions, People Before Profit's Richard Boyd Barrett described Government efforts so far as "a drop in the ocean".
Mr McGrath responded by saying that such a description was unfair, and that €2.4bln worth of budgetary interventions so far represented "a major decision".
Mr Boyd Barrett said that an inflation rate of 8.2% would reduce people's purchasing power, and accused the Government of acting like a "helpless, innocent bystander".
'Difficult for so many'
Meanwhile Minister for Finance Paschal Donohoe has said that the Government realises "how difficult" higher energy prices are for many people.
We need your consent to load this rte-player contentWe use rte-player to manage extra content that can set cookies on your device and collect data about your activity. Please review their details and accept them to load the content.Manage Preferences
He told RTÉ's News at One that the Government had previously indicated that its forecast for inflation may change as the year goes on.
Mr Donohoe also insisted that the Government is looking to accelerate the plans in place to increase energy security and to "increase the share that renewable energies provide of our total energy mix".
"We did indicate in our forecasts, which we published in April, that it was possible due to the intensified effects of the war in Ukraine, that our inflation forecast may change as the year goes on and in the forecasts that we published a few weeks ago, we did indicate that as possible, and we published a second scenario," he said.
"But amidst the discussion of forecasts and scenarios the key thing is is the government appreciates how difficult these higher energy prices are for so many and that's why we've brought in a range of measures to help some measures that are targeted and other measures then to help all with the rising cost of energy," he added.
Mr Donohoe said that this includes proposals for seven new wind farms , options for solar energy and smaller renewable energy generators.
He said that while Government puts in place supports to assist people with rising costs, it needs to ensure that there is sufficient funding for vital public services.
"The money that we are using to reduce costs through temporarily reducing taxes is the same money that we have to have available to pay for better support for our hospital for our skills, which also citizens need and justifiably expect," he said.
There is also a "need for better and improved public services for many", he said.
He added that Government must "heed the need for caution regarding how we spend our country's money to to where we are with corporate tax the level of our national debt".
Additional reporting by Tommy Meskill