The overall cost of a scheme to fix issues in homes affected by mica could reach up to €3.2 billion.
The figure is given in a draft report carried out by a working group on the defective concrete blocks grant scheme.
The working group was set up by Minister for Housing Darragh O'Brien.
It put the current cost of the scheme at €1.4 billion, but said that was based on homeowners' final submissions, the estimated costs of changes requested could rise by €1.8bn to €3.2bn.
The report stated that this is on the basis of capital works and associated costs only.
It said this figure does not take account of the potential costs for other items homeowners have sought, such as compensation and the inclusion of all non-residential buildings affected in the scheme.
The report said that homeowners on the working group advised that the average size of home affected is 2,400sq.ft with "many homes" between 3,000-4,000sq.ft.
The Department of Housing estimates that 6,600 homes may require remediation works as a result of defective concrete blocks.
This figure includes the potentially eligible private homes in Donegal and Mayo, as well as 1,000 social homes and an estimate for homes in other local authorities that may come into the scheme.
The working group agreed to put a number of issues forward for consideration as improvements in the Scheme.
This includes a 100% grant only for remediation options that involve repairs to the existing home, rather than the complete demolition to foundation level of the home.
---
Few answers for homeowners in draft report
---
Minister O'Brien will take this draft report to the three coalition party leaders for consideration before any recommendations are brought to Cabinet.
Taoiseach Micheál Martin said that the draft report on mica redress will be considered by the coalition leaders and no decision has been made.
Mr Martin spoke with Minister O'Brien this morning, who told him that the report contains submissions from various working groups.
Mr Martin said that significant progress had been made on a number of fronts in terms of upfront costs, rental costs and the certification of houses that have been renovated and will be renovated in the future.
---
RTÉ Brainstorm: What is mica and why is it so problematic for Irish homeowners?
---
The report only covers defective homes in Donegal and Mayo.
Clare has formally applied to be part of the scheme. However, no decision has yet been made.
Homeowners in Limerick, Tipperary and Sligo have also raised concerns, but no formal applications have been made.
We need your consent to load this rte-player contentWe use rte-player to manage extra content that can set cookies on your device and collect data about your activity. Please review their details and accept them to load the content.Manage Preferences
---
Yesterday, Minister for Finance Paschal Donohoe said the Government accepted that it needed to respond in a "more comprehensive and enhanced way".
Campaigners protested again at Leinster House over their demand for a 100% redress scheme.
Report 'vague and lacks detail'
A representative of the Mica Action Group has said the report of the working group is "vague and lacks detail" and does not reflect the significant contribution made to the group by affected homeowners.
Speaking on RTÉ's News at One, Eileen Doherty said it does not make any recommendations and "this is not a paper that we have signed off on ... it's lacking in detail, and depth and is very vague".
She said the report makes no reference to the need for a public inquiry into the controversy and makes clarifications rather than recommendations.
In terms of remediation cover, Ms Doherty added: "It would seem they aren't going to recommend 100% so we would absolutely not support that.
"If this is a document presented to Government in order for them to make an informed decision on this critical issue it is lacking a reflection from the homeowners themselves ... of the huge amount of work they have put in over recent months.
"We must see 100% delivered for all remediation options."
She said the minority of homes impacted by defective mica are large homes and the majority are of an average size.
"Why should families have to pick up bills for an issue that was completely out of their control for something caused by the State?"
Ms Doherty said the Government has got to provide redress as "lives are on pause" and "otherwise we are asking families who have done nothing wrong to provide for this".
She added that investment properties and holiday homes are excluded in the report and this is also not acceptable.
Ms Doherty said that the pyrite redress scheme of 2013 covered those types of homes and the same needs to happen in this case.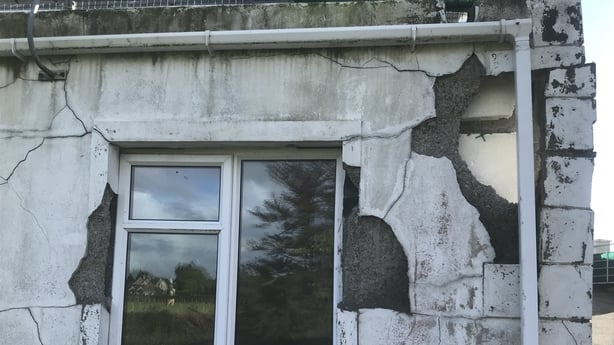 The Donegal Mica Action Group said it was very disappointed with the report, which it said it was not reflective of the body of work that it carried out on the working group.
The report lacks detail and seems to focus on the least cost options, according to its PRO Michael Doherty, who said those options would see the State spending "good money after bad".
The cap of €275,000, he said, would leave behind 80% of affected homeowners.
Mr Doherty said that engineers have raised significant concerns including the issue of not testing foundations and, as a result, the Exchequer could end up spending billions of euro building on questionable foundations.
Homeowners affected by the defective blocks are adamant there has to be 100% redress, he added.
Mr Doherty confirmed that Donegal Mica Action Group is going ahead with a major protest in Dublin next Friday.
Additional reporting David Murphy, Sandra Hurley, Tommy Meskill, Eileen Magnier