Campaigners calling for an improved redress scheme for homeowners affected by mica have demonstrated outside Leinster House.
Some of the defective blocks that have caused such devastation to thousands of homeowners were on display at the protest.
One of the campaigners, Paddy Diver, showed off some of the crumbling blocks in a van.
Before close of business today, homeowners are set to receive the report of the working group that has been examining the issue since summer.
Campaigners insist that nothing short of 100% redress will be acceptable to them.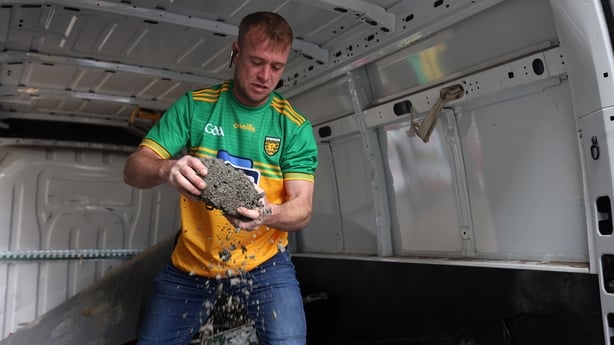 Minister and Agriculture and Donegal TD Charlie McConalogue met the protesters on Kildare Street.
He said the Government would work to bring forward an enhanced scheme in the next few weeks and people needed 100% redress.
Earlier, the Minister for Finance said the Government accepted that it needed to respond in a "more comprehensive and enhanced way".
Speaking on RTÉ's Morning Ireland, Paschal Donohoe said it was about "finding a way of doing that" which will meet their needs, but he also stated there were issues to consider, including the cost.
The Minister for Finance Paschal Donohoe says the Govt accepts that it needs to respond in a "more comprehensive and enhanced way" to homeowners affected by the Mica issue | Read more: https://t.co/NC2WzTqnb8 pic.twitter.com/HgzkEv8ipq

— RTÉ News (@rtenews) September 30, 2021
He said the national debt currently stands at €234 billion and very soon it "will be so much bigger than we anticipated."
Mr Donohoe said the Government already has a huge deficit for this year and a national debt that is "so much higher than would have been expected".
Several sources have indicated to RTÉ News that one option being considered could see affected homeowners receive compensation for repairs of up to around €350,000.
Further costs such as rent, storage and medical expenses for things like mental health could be claimed on top of this capped figure.
This proposal is still in its early stages and the matter is likely to be considered further by Minister for Housing Darragh O'Brien before it is discussed by the Government party leaders.
Discussions will also have to take place with Mr Donohoe and the Minister for Public Expenditure before a memo goes to Cabinet within three weeks.
Spokesperson for the Mica Action Group Michael Doherty said the figure of €350,000 is not enough.
It "will be like a lead balloon", he said, adding that that figure would leave 40% of affected people behind.
"I don't think anything that leaves 40% of our affected homeowners behind could be acceptable to anybody and that is what this figure does," he said.
Mr Doherty said they have figured out by using the same barometer that insurance companies use the amount it would cost to replace the homes.
He reiterated their message that anything less than 100% redress is not enough. His comments come after last night's meeting between Minister O'Brien and mica campaigners.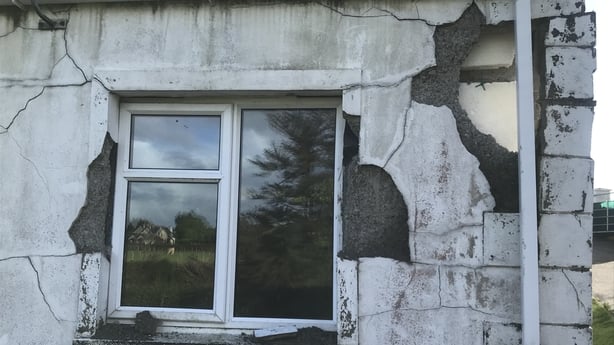 Separately, Fine Gael TD for Donegal Joe McHugh said that putting a rebuilding price cap on the mica redress scheme would be "a crude instrument" and that a €350,000 cap "won't fly" for homeowners.
Speaking on RTÉ's Today with Claire Byrne programme, Mr McHugh said that the only cap on costs that would work would be on a square-footage basis.
He stressed, however, that no figure has yet been agreed by Government and said it is unfortunate that numbers are being touted ahead of an agreement.
The mica action group have taken "a very responsible position" to figuring out the rebuilding costs in conjunction with the Housing Agency, Mr McHugh added.
He said that the scheme must consider that many people built their own houses at a considerable cost and put their "life efforts and life savings" into their homes.
Elsewhere, Director General of the Construction Industry Federation Tom Parlon has said that he believes that many of the houses affected by mica were self-builds.
When asked if members of the federation were involved in the construction of these homes and if so would they have a role in contributing to compensation, Mr Parlon said: "First of all, my understanding is a lot of those homes are self-builds, but builders who build homes they buy a product, for example blocks is one of the most basic ones, and they expect that those blocks are fit for purpose.
"In this particular case that wasn't the case, the mica is a regional issue. It was largely in north Donegal that had happened. But generally, you know, a builder depends on getting a product that is fit for purpose.
"Normally they have a CE mark or, you know, whatever other certification, they all have now and you're obliged through all your paperwork that every item that you put into a house or any construction project is fully certified.
"But that wasn't the case at the time, but the builders depended on buying good quality stuff that was fit for purpose, and they weren't to know at that time either. But largely, I understand, and I could be corrected on this but they were largely self-build homes."
When asked what is the federation's view on where the resolution lies, Mr Parlon said: "Well, obviously we have a lot of sympathy with the people there that are affected by the defective blocks.
"Clearly regulations have changed and been tightened up a lot since."