The Minister for Finance has said the Government could lose around €2.2bn a year in corporation tax revenue, if today's G7 agreement on corporation tax reform is implemented.
Paschal Donohoe was speaking after the meeting of finance ministers from the seven leading industrial nations in London.
He said the Department of Finance had already built in expectations of lost corporate tax revenue into Budget plans.
The minister added that even with losses of this level, he expected the Government could balance its books in the coming years.
Mr Donohoe attended the meeting in his capacity as President of the Eurogroup.
"Ireland could lose up to a fifth of our overall corporate tax revenue"

.@paschald has said the Government could lose around €2.2bn a year in corporation tax revenue if today's G7 agreement is implemented, but adds this has been built into budget plans | https://t.co/WQQhbWKnSR pic.twitter.com/EEQI6fPxvW

— RTÉ News (@rtenews) June 5, 2021
Speaking to RTÉ News, he said: "The modelling we have been doing indicates it could affect up to one fifth of our corporate tax revenue.
"But we have been planning for this, so those kinds of revenue losses are already included in our budgetary calculations, so that even with those losses our projections show an ability of the Irish economy to return to a position of fiscal balance in the coming years."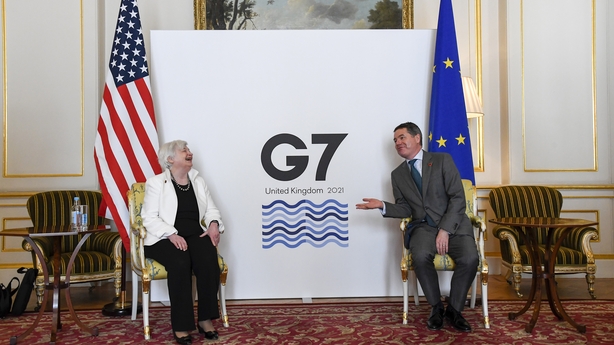 Mr Donohoe also said he believed Ireland would continue to be an attractive location for foreign direct investment even after a reform of this magnitude is implemented.
A senior official from the OECD said he expected work to intensify over the next few weeks to finalise a detailed agreement for a G20 meeting in Italy next month.
Today's meeting throws the weight of the US behind a proposed minimum effective corporate tax rate of 15%.
This would apply to companies with a turnover of more than €750m a year.
It also includes a mechanism for sharing out some tax revenue in countries where sales are actually made, not where profits are booked.
I look forward now to engaging in the discussions at @OECD. There are 139 countries at the table, and any agreement will have to meet the needs of small and large countries, developed and developing. (2/2)

— Paschal Donohoe (@Paschald) June 5, 2021
---
Read more
What is a global minimum tax and what will it mean?
---