The Children's Ombudsman has said that more effort needs to be made to ensure Ireland's education system reflects wider society.
Niall Muldoon says there's a need for diversity amongst teachers.
In her final report exploring the topic of racism in Ireland, Social Affairs Correspondent Ailbhe Conneely looks at integration in the education system.
Conor McNamara loves being Irish.
"I love everything about it, from the Guinness to the spuds," he says.
He is fluent in the language and wears his fáinne with pride.
He points out he was "integrated into Irish culture" from a very young age.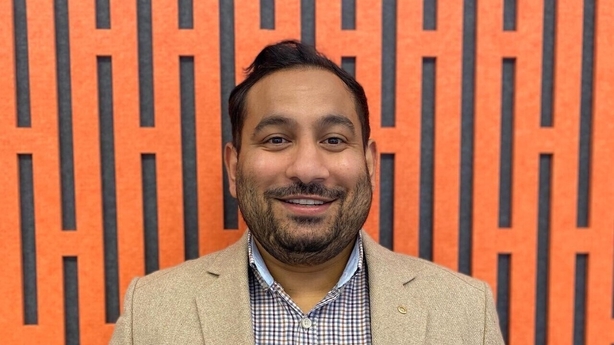 That's because Conor and his twin brother Fergal were adopted by their parents in Tipperary town from Romania, when they were 10-months-old.
Both are Roma by birth.
They went to a Gaelscoil, played traditional music and GAA and idolised Seán Óg Ó hAilpín as children.
"He was a massive inspiration to me," Conor says, "one, because he was a gaeilgeoir and two, he and his brothers looked like my brother and I. So, he really inspired me and made me think, I can be a GAA star, I can be successful, I can be anything I want to do and even though I look different, I can still be as Irish as anyone else".
Conor and Fergal both became teachers.
Conor works in Bishopstown Community School in Co Cork.
Here, when students look around the class, they see different colours and cultures among their peers.
They are lucky too that when they look at Mr McNamara, they have a teacher that also looks different.
Conor's experience was different when he was a pupil.
"We were in the minority in terms of physical appearance. Not how we felt in our souls or in our hearts, because we felt Irish, but definitely we knew we looked different".
He says today, children can look around the classroom and see they have "a point of reference".
Conor says it will take more time for those generations to "go through the system".
Right now, he says there's a discrepancy in relation to what is in front of teachers and what is in front of students.
For students who are from minority backgrounds, it's important for them to see people who are also from different backgrounds at the top of the classroom.
Mariam Malu Tiku, who is the President of the Student Council at Bishopstown Community School, says Mr McNamara is the "physical embodiment of working hard, beating whatever stigmas one may face being different".
She says it's very important to see him in the position he's in as a teacher.
"It gives you a lot of inspiration for opportunity in your own life".
Yakub Packo has decided he wants to become a teacher following his Leaving Cert.
He describes the school as being like a family, which he says comes from having a range of different backgrounds and cultures in the building.
Through the school's career guidance, there's recognition of the value students like Yakub could bring to classrooms in the future - like what Mr McNamara is bringing to their classrooms today.
The teachers have shared their educational journey with the students to help encourage them.
The Principal of Bishopstown Community School, Edwina Godstein, says there are different students from very different backgrounds in the school who are taught the concept of tolerance, understanding and mutual respect.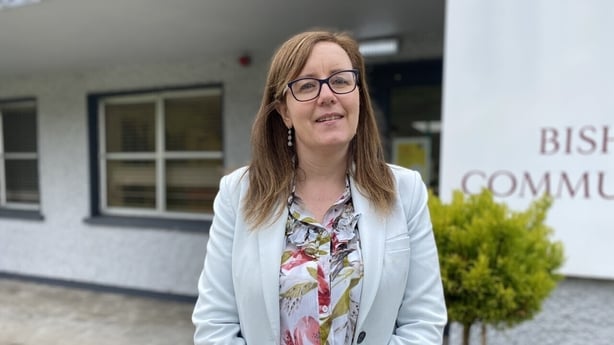 "If you give respect, you receive respect and that's how we value each person here."
The school has been fortunate to have had some staff members from different countries in the past, including a substitute teacher from Nigeria, a teacher from South Korea and an SNA from Poland.
They currently have a teacher who is deaf and Conor joined the school this year.
Ms Godstein points out that Mariam, as Chairperson of the Student Council, is constantly conversing with her about representation of people of colour in all of the roles within the school.
"So, I suppose more needs to happen in that area and for its students to be able to identify with those particular role models," she says.
By witnessing role models from all backgrounds in the education system, the Children's Ombudsman believes this will lead to a more equal society.
---
Racism in Ireland: Team Ireland urges public to 'call it out'
Racism in Ireland: Calls to tackle online hate speech
---
Niall Muldoon has highlighted that children in direct provision have experienced racism in school from both pupils and teachers.
In a report he published last year he found a clear lack of awareness about the reality of asylum seeking, and the war and the horror that children had gone through.
"They put a lot of that at the door of teachers and parents who don't understand, and don't try to understand it," he says,
"That's really an issue for a lot of the children".
Dr Muldoon says there needs to be recognition for the value that comes from diversity in schools, particularly among teachers.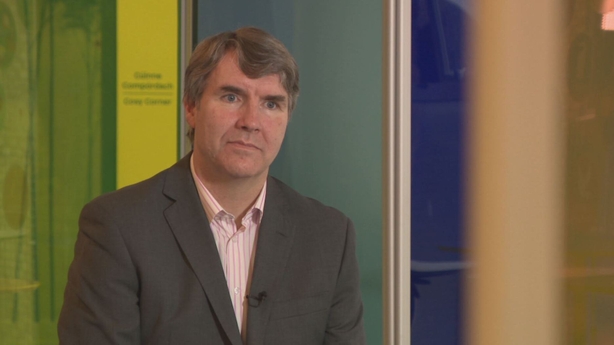 According to the Department of Education, a migrant teaching project was established at Marino College in Dublin in 2017 to increase the participation of immigrant internationally educated teachers in the Irish primary and post-primary education sectors.
However, it appears to be taking time for those teachers to filter through the system.
One initiative that has proved highly successful was established by the Irish Traveller Movement in 2009.
The Yellow Flag Programme promotes inclusion and challenges racism.
It acknowledges the potential for black and minority ethnic, including Traveller and Roma, students to feel less connected, secure and part of the school community.
The eight-step programme is incorporated into the running of a school over a period of 12-24 months with the involvement of students, parents, teachers, staff and diverse representatives from the local community.
In 2019, an independent audit showed that 70% of teachers and staff had a better understanding of racism; and 81% of schools had integrated intercultural education into the formal curriculum.
Overall, the programme was rated high for its support for schools in responding to issues of racism and cultural diversity, including in the curriculum.
Migrant parents also reported feeling recognised, included and empowered as a result of their interaction with the programme.
Of all schools who received Yellow Flag status, 81% reported they had integrated intercultural issues into the formal curriculum as a result of their engagement.
It is hard work for those who are behind the programmes, but it's rewarding.
However, can we expect schools to resolve inequalities or is it a responsibility of wider society?
Professor of Migration and Social Policy in UCD Bryan Fanning doesn't think so.
"I think it's a wider job for Government, I think it's a wider job for local leadership, it's a wider job for localities," he says.
Ultimately, he believes Ireland is at a very good starting point of addressing racism, because there are a lot of positives in Irish society.
"At the same time, we're very good at brushing problems under the carpet at times, and I would hate to think that this generation will be castigated as the generation that pushed the problem of racism under the carpet".