The Minister of State with responsibility for disability has said the situation where people with a disability under the age of 65 had no option but to live in nursing homes due to a lack of State support is shameful.
Anne Rabbitte was speaking on RTÉ's Drivetime following a report by the Ombudsman that said younger people living in nursing homes have "wasted lives" and are not getting proper support from the State.
In a report published today, Peter Tyndall said it is inappropriate for people with a disability under the age of 65 to live in nursing homes and many did not give informed consent to be placed there long term.
The publication of the report - 'Wasted Lives: Time for a better future for younger people in nursing homes' - coincides with European Independent Living Day.
Following complaints to the Office of the Ombudsman, Mr Tyndall carried out 28 visits with people directly affected who told him they had no option but to live in nursing homes due to a lack of State support.
Mr Tyndall said: "One of the people we met during the investigation said that he had wasted the best years of his life in an institution.
"Another, who had suffered his injuries in an assault, said the person convicted would one day leave prison - he had no prospect of leaving the nursing home."
The Ombudsman said there is no system to record the number of people affected and many residents told him that, at the time of their admission, they believed their stay in a nursing home was temporary.
Mr Tyndall said some younger people with disabilities said they did not give informed consent about being placed in nursing homes on a long-term basis.
Speaking this evening, Ms Rabbitte said "our system of transitioning people from acute settings to alternative methods of supporting them has not been adequate".
She said she is looking to address that inadequacy and is working with Minister for Health Stephen Donnelly and Minister of State for Mental Health and Older People Mary Butler to ensure that what has gone on in the past does not continue.
Ms Rabbitte said she was shocked when she heard this that people were given the understanding that they were being temporarily transitioned to use a nursing home while other alternative accommodation was being found for them and they were there years later.
---
Read more: Woman paralysed from injury lived in nursing home for 12 years
---
The report makes a number of recommendations including a national survey to identify affected individuals and a budget dedicated to each Health Service Executive area to improve their quality of life.
It also recommends the HSE and Department of Health draw up strict guidelines for staff involved in processing applications for the Nursing Home Support Scheme to ensure there is fully informed consent.
The scheme provides financial support for people who need long-term nursing home care.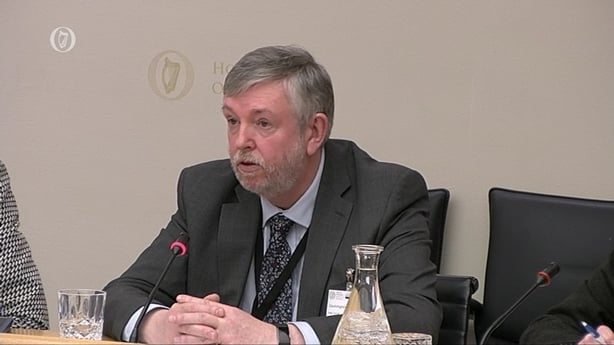 Amongst the cases highlighted in the report is that of 48-year-old Mark, who has been in a nursing home for nine years after suffering a stroke.
He said he does not recall filling in the form for the Nursing Home Support Scheme and that he was not given any option other than a nursing home.
Mark said there are no activities for younger people in the nursing home and he has no choice as to when he eats, what time he gets up, or what time he goes to bed.
He told the Ombudsman that a local charity found him a home but his support package from the HSE is insufficient, so he can only stay there for one day a week.
Mr Tyndall's report notes that four of the people he spoke to during his investigation died during the pandemic and the report is dedicated to their memory.
Speaking on RTÉ's Morning Ireland, he said a detailed picture of those aged under 65 and living in nursing homes needs to be drawn up and a plan to meet their needs has to be implemented urgently.
Mr Tyndall said it needs to be understood "who they are, what are their requirements, wishes and preferences" and to put those wishes into practice.
He said progress is being made, with a pilot project to take 18 people out of nursing homes getting under way.
Mr Tyndall said the funding system is biased towards institutional care and this also needs to change.
There is a statutory scheme for nursing home support but no statutory scheme to support people to live in the community, although the Government has now committed to look at this, he added.
Minister Stephen Donnelly said the Programme for Government commits to eliminating the practice of accommodating young people with serious disabilities in nursing homes.
He said: "For those younger people living in nursing homes, including those mentioned in the Ombudsman report, alternative solutions are needed to give them more independence and choice in their daily lives".
HSE says work ongoing to address issue
The HSE said in a statement that it is fully committed to the UN Convention on the Rights of People with a Disability and the implementation of Sláintecare.
"For some people, and based on assessed need, Nursing Home interventions are appropriate and where the required clinical supports are available and best met," the statement said.
"However, the HSE agrees that this must be the subject of a care and case management approach that facilitates structured reviews and where the will and preference of the individual is of paramount importance."
The HSE added: "Work has been ongoing in the HSE to address nursing home care of people under 65 who wish to live elsewhere."
Minister of State Rabbitte said that an additional €100m investment has been secured for new measures in the specialist disability services.
"This includes €3m which will support a pilot project by the HSE which aims to facilitate 18 people currently placed in nursing homes to move to more appropriate housing options in the community."
She said work is under way to identify the number of people with disability living in nursing homes who wish to access an alternative support service in the community.
Minister Rabbitte said: "The first moves are expected to commence in the second half of this year".