Julia Thurmann moved into a nursing home when she was 34-years-old after acquiring a neurological spinal cord injury.
She remained there for 12 years.
The German-native moved to Ireland in 2002 after she got a job in the Hertz car rental company. She was excited taking the chance to live and work in a new country but it did not go to plan.
One evening Julia suddenly felt unwell and her housemate took her to Beaumont Hospital where she fell into a coma for three weeks.
When she woke up she was paralysed.
Julia spent a year in the National Rehabilitation Hospital and, with nowhere else to go, she went to a nursing home.
"It was a horrendous experience, dealing with the injury, being in a wheelchair and then in a nursing home. It was overwhelming," she said.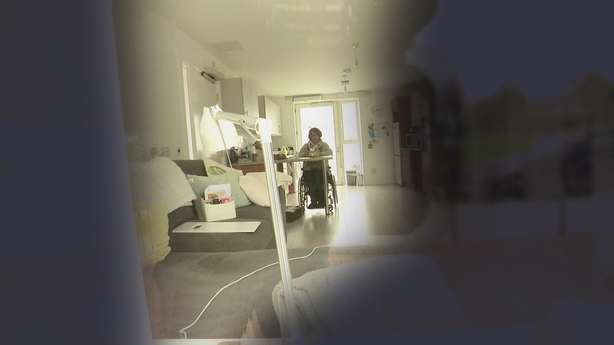 ---
Younger people's lives 'wasted' in nursing homes - report
---
The staff were her lifeline, chatting with them when they had free time.
"Initially I gave up on myself, I ate a lot, frustration eating. I gained a lot of weight."
After a few years, Julia said she regained control of her life slowly and tried to leave the nursing home.
She wrote to TDs and politicians while one year rolled into the next.
Julia said she was lucky she had her job to go to three days a week but she felt like an imposter.
While her work colleagues spoke about how they spent their weekend, she would be describing how a resident had died and was taken away in a hearse.
Finally, her dream came true and she moved into her own home in Swords in north Dublin last June.
She lives alone but a personal assistant calls to the house twice a day.
"I can do normal things now, like fry an egg when I want to and cook for myself," she said.
"Even mundane tasks like hoovering I enjoy."